Nowadays, you must have heard the term ' HR compliance'. This is because compliance is essential not just for the successful business, but also to avoid severe fines and criminal charges. However, a responsibility to remaining compliant implies nothing if you don't know what it is. Therefore, in this article, we'll take you through everything you need to know. Not to mention, we'll also discuss all the roles and responsibilities of the HR Compliance Officer.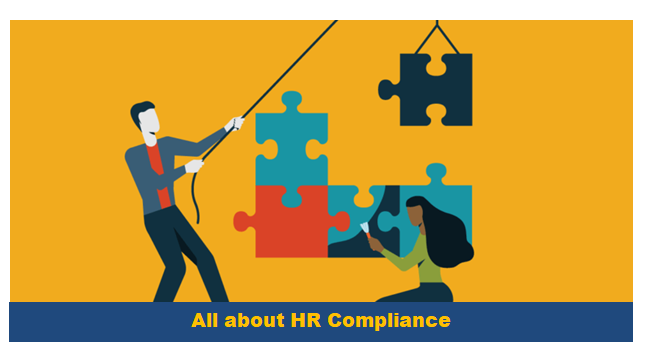 Since enterprises strive to become more and more efficient and productive, hence the importance of becoming skilled and competent HR is becoming the need of the hour. For any association to attain long term prosperity, it should engage its faculty and try to resolve any issues. Not to mention, they should try to resolve it as soon as the problem arises or it will have a negative impact on the establishment. Therefore, HR compliance is a vital part of this.
What does HR compliance mean?
HR Compliance is the commitment of the business to follow the working standards set out by employment law. Further, this affects the systems, policies as well as documentation. Also, it implies that the employees must receive all entitlements in their employment contract.
All institutions must abide with the employment law, rules and regulations irrespective of where they are based. To accomplish, this HR needs to follow a proactive approach to assure that the system meets all of its legal obligations. On a daily basis, this implies being accountable for meeting all health and safety necessities. Not to mention, it also ensures that staff receives their contractual and statutory workplace entitlements. In addition, this includes the following fair recruitment policies, anticipating and tackling workplace discrimination and guaranteeing staff are paid what they are owed.
Moreover, HR compliance entails staying on top of any employment law changes; gender pays reporting and rules for employing foreign workers.
Why is HR compliance important?
HR compliance is crucial because neglecting legal necessities will either be unlawful or illegal. Not to mention, this can commence to industrial conflicts or tribunal claims. And, in some cases, allowing a worker to work during the first week after childbirth, such lapses are considered a criminal law matter. Though, it can be challenging for an association to guarantee that all their legal duties are being met. Therefore, to ensure compliance, it is essential that HR are appropriately resourced to fully understand the organisation's obligations and are able to identify areas where further action and/or training is required.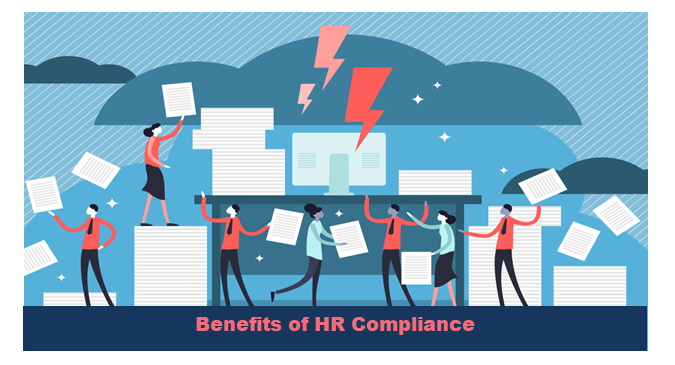 Here are a few benefits of HR Compliance-
First of all, it makes sure that the firm is aligned with the regulations set forth by the Labor Standards Act, which oversees overtime pay and the minimum wage for most professions.
Secondly, this also guarantees that the company or hiring practices aren't a festering lawsuit
Subsequently, it also makes sure that the business manages benefit programs and compensation properly as compensation laws are constantly changing.
Last but not least, this helps employers understand compliance obligations and meet them through an interactive model. On-time Execution; Audit trails; Automated notification.
Who is responsible for ensuring HR compliance?
Since, it is the task of an HR Compliance officer to guide, strategise and execute policies and schemes to satisfy compliance demands. However, the individual accountable for guaranteeing HR compliance differs according to the structure of the business and the specific legislation. But, mostly the charge will eventually lie with the owner, chief executive or HR Director. Also, in case any legal action is driven it will ordinarily be these people who will be responsible.
In the same vein, HR compliance officer involves everyone in the company, e.g. fire safety training. Moreover, HR must execute policies and procedures that must be followed. Further, this will assure all commitments are met. In addition, managers should also be trained and equipped with all the policies and procedures associated with any situation. Most importantly, staff should be well acquainted with their responsibilities as well as behaviour. Not to mention, they should know where to go for support or to raise complaints.
Skills required to become an HR Compliance Officer
To become an HR Compliance Officer, the candidate must possess the following skills.
First thing first, proven experience as a Compliance Officer or Compliance Manager.
Secondly, experience in risk management
Subsequently, knowledge of legal requirements and controls (e.g. Anti-Money Laundering, or AML)
After this, familiarity with industry practices and professional standards
Further, excellent communication skills
Moreover, integrity and professional ethics
In addition, business acumen
Not to mention, teamwork skills
Furthermore, attention to detail
Also, BSc/BA in law, finance, business administration or a related field
Last but not least, get yourself professionally certificated.
A little heads up for all you, the last one is the most important one. So, make sure you get certified from a reliable certification body. And is you ask us, we highly suggest Vskills. They offer an HR Compliance Professional Certification. So, do check them out as it is a certification body and comes with various benefits that you will definitely enjoy later in your professional career.
Now, let's not deviate and further understand the roles and responsibilities of an HR Compliance Officer.
Comparing Compliance Officer and Compliance ManagerJob Roles
The role of a compliance officer is to remain up to date about all general labour law compliance and issues. Also, the HR compliance officer is accountable for assuring that employees and partners are in place to address compliance issues. Moreover, they are also responsible for understanding compliance laws, as well as offering sufficient information to managers and employees about all the laws.
On the other hand, the role of a compliance manager is to assure that the association adheres to legal standards and in-house policies. Not to mention, they are also liable for implementing regulations in all aspects, at every level. Moreover, they are answerable for providing guidance on all compliance affairs.
Roles and Responsibilities of the HR Compliance Officer
Now that we've discussed the difference between an HR compliance officer and an HR compliance manager; role. Let's, now take a look at the rules and responsibilities of the HR compliance officer at any institution.
Create an Employee Handbook
First of all, they should create an employee handbook. This is an excellent method to assure that each and every employee is on the same page. Definitely, this record is very essential because it is an information tool which will distinctly outline the association's policies and procedures. Further, it also includes how the industry should be carried. Moreover, this record must be examined by the legal adviser before it is distributed through, as it outlines exactly what an employee should do in any given situation.
Educate and Train
Another major responsibility of the HR compliance officer is to make employees aware of all regulatory and legal terms. Since HR compliance laws are continually changing and updating, it becomes all the more vital that the HR compliance officer stays well versed in employment law.
Hire the Right Talent
The HR compliance officer must perform their job properly and ensure that all employees are trained about compliance regulations. Moreover, it's crucial that HR hire the right individual to fill the required position.
However, HR is responsible for any damages, employee advantages, legal obligations, and talent supervision. But they need an HR professional who is committed to the success of the company and the employees. Therefore, it the duty of HR compliance officer and HR department, to make sure that HR team members are knowledgable, as well as skilled. Not to mention, they should have the experience to properly run all HR functions.
Now that you understand the HR Compliance officer roles and responsibilities. Let's move and understand how to develop an effective HR Compliance Program. After all, it is very important to excel in your career. So, this will be an additional skill of yours.
Efficient eight to achieve compliance goals
Human resources compliance is a must for any business in today's legal environment. When done precisely, HR compliance is a process. Therefore, it's way more important for you to develop an effective HR Compliance Program.
So, these are eight steps to ensure you achieve your compliance goal-

Educate yourself
Since HR laws change constantly so make sure to be updated on current laws. As a result, you can easily establish appropriate policies and communicate them to your employees.
Get good advice
Next, make sure to hire an HR staff with the experience and skills required to support an effective compliance process. Also, it's also a smart move to get a good HR lawyer to work with the staff if necessary.
Create an HR policy manual and periodically update it
In order to meet your initial needs try to create an updated policy manual. Also, make sure to always review the handbook and any new policies before you implement them.
Train your managers
Since the manager has the most notable day-to-day interactions with employees. Hence make sure to review your policy manual with each manager. Further, make sure they realise that they must uphold expected standards and be role models for other employees.
Train your employees
After this, build employee awareness of expected behaviours. Also, make sure to update the manual, and provide periodic retraining on important matters, such as sexual harassment.
Open your ears
Most important of all is to listen to your employees, managers, and your internal and external experts. Because these people are helpful to you get to the root of your compliance risks. Further, you'll also be able to manage those risks and increase your awareness about all the on-goings of your company.
Give feedback
Subsequently, let people know whether they're meeting your expectations. Or else, reinforce the importance of success, and give your employees the opportunity to improve the areas of weakness.
Document your decisions
As you'll agree that memories fade over time. And, a lack of documentation will leave you vulnerable to HR noncompliance claims. So, document all key decisions and employee evaluations, establish written policies. In addition, make sure everybody receives a copy of your written policies. Therefore, documentation becomes very essential.
An effective HR compliance programs need to blend into your business strategies and given more than just lip service. So, make sure to start at the top and trickle down to all levels, so everyone in the company knows that the workplace must be kept safe and discrimination won't be tolerated.
Now, let's move and understand despite effective compliance, what issues you must be familiar with.
Issues every HR Compliance Officer must be familiar with
From recruiting to retirement, HR leaders manage a variety of compliance issues related to employees. So, it's crucial to stay aware of action at the federal level. Therefore, make sure to keep the following in mind-
Anti-discrimination laws: Federal anti-discrimination laws forbids employment discrimination based on race, colour, sex, ethnic origin, disability or age. Also, these laws forbid employers from taking unfavourable employment actions based on the above factors.
Wage and hour laws: Wage and hour laws involve minimum wage, overtime, hours worked, child labour, and meal and break time.
Family and medical leave: The Family and Medical Leave Act (FMLA) is a federal law that let workers meet specific requirements such as 12 weeks of unpaid leave each year without losing their jobs. Further, these leaves are granted for the birth and care of an employee's newborn, bonding time with an adoptive child or with a child from foster care, to provide care of an immediate family member or for the employee's own serious health condition.
Child Labour Regulations (CLR): One of the most important rules, the government is more active than ever to ensure that child labour is completely banned.
Now that you're familiar with all the issues mentioned above. Let's move and understand what qualities must be there in an HR Compliance Officer.
The quintessential personality of a compliance officer
One prospect of a compliance officer's job is to communicate compliance-related matters to employees across all divisions of the association. And, sometimes this calls for, great people skills, great communication skills.
Therefore, here are a few qualities that excellent HR compliance officers must possess:
Ethical and principled: These are the single most valuable qualities of an HR compliance officer.
Fair and modest: Willing to monitor all the facts without making a snap judgment and question any relevant employees for their view.
Proactive: Alertness and attentiveness are must-have qualities in compliance. This implies actively implementing mandatory reporting policy and quest out any weakness in company dealings.
Intelligent and willing to keep learning: Most sectors that employ a compliance officer are constantly changing legislation, so make sure to keep up with things.
Diligent: Even if it becomes a hassle, a compliance officer should always be prepared to see an issue through to resolution.
A strong constitution and extra conviction: A solid backbone and the strength to stand by any difficult decisions is must for the compliance officer.
Job prospect of an HR Compliance Officer
HR Compliance officers make sure institutions, corporations, follow to contractual obligations, government regulations, and laws. Though it is a comprehensive occupational title that is appropriate in many industries.
As a result, there are specific job titles that fall under this umbrella include, but are not limited to:
Firstly, environmental compliance inspector.
Secondly, licensing examiner or inspector.
Subsequently, equal opportunity representative or officer.
In addition, HR Compliance Officer.
Also, HR Compliance Manager.
Further, Government property inspector or investigator.
Last but not least, Regulatory affairs specialist.
These different jobs assure that organisations follow regulations, comply with laws, follow policies and contractual obligations, meet eligibility requirements for licenses and permits, and many more. Moreover, they also help train employees in accordance with the requirement that must be met and assist with regulatory processes.

Salary of an HR Compliance Officer
Pay can vary tremendously for this career depending on the specific industry. However, government jobs at the federal level usually pay more than those at the state and local levels. On the other hand, in the private sector, the highest paying jobs tend to be in the regulation of financial investments and oil and gas pipelines.
The average salary for a Compliance Officer is ₹ 4,88,354 per year in India.
Final Words
It's in every association's best interest to have an HR compliance checklist. After all, compliance is the topmost priority for both human resources departments and company executives. So, before drawing up your list, it's always a good idea to understand the constitution of compliance and how it must be supervised throughout the organisation.
So, make sure you understand all the roles and responsibilities of an HR Compliance Officer. And, don't forget to get certified.
A great career is just a certification away. So, practice and validate your skills to become a Certified HR Compliance Professional.