Do you wish to start working as a professional in the field of Forex Trading? If yes, then you must be thinking about where to begin with? We will comprehensively cover all the aspects of this profession. Here, we will start from the very basics of a career in Forex Trading, and we will go up to discuss the Certified Foreign Exchange Professional and resources to learn and acquire the skills.
Forex trading, also known as foreign exchange managing, is a full-time occupation for many people from all over the world. Although it starts with just a few simple tools (i.e., Forex trading course) and requires knowledge and practice, it has the potential to offer lucrative rewards.
Forex or foreign exchange trading involves the trading of one currency for another at the current market prices. It is considered the largest financial sector in the world which includes banks, institutional and retail investors, corporations, and governments. Forex trading can be very profitable but requires analytical skills and basic knowledge about trends in global equity, interest rate, currencies, and economic strategies.
A Brief Overview of Foreign Exchange
The foreign exchange market (Forex, FX, or currency market) is globally decentralized in nature, with the main participants being the world's major multinational companies, national governments, and central banks.
With the Foreign Exchange Market app, you'll have free access to up-to-the-minute currency exchange rates with over 75,000 currency pairs as well as live quotes for precious metals. View historic exchange rates for any foreign currency pair from 1970 onwards and convert over 150 different currencies with our intuitive, easy-to-use interface. Never miss a minute of market action again.
What is Forex Trading?
Forex is a foreign exchange portmanteau. Exchange for a number of purposes, usually for trade, trade and tourism, is the process of transforming one currency into another currency. The annual amount of Forex trade averaged over USD $5.1 billion, according to a three-year 2019 study from the Bank for International Settlements (a global bank for national central banks).
The foreign exchange (forex) market is the world's largest asset marketplace in terms of trading volume and liquidity, open 24 hours a day, five days a week, and critical to global finance and commerce.
Why to choose a career in Forex Trading?
There can be many reasons which makes this career your best choice and also serves you many benefits. Some of them are –
Due to its high liquidity, a 24/7 schedule and easy accessibility for people with a financial background, forex trading has become a common profession for the industry. You have enough incentive for both young graduates and seasoned professionals to consider forex trade as a career, to be your own boss with the ease to make money from your laptop/mobile.
The forex markets operate all day and allow for the ease of trading which is very good for short term traders who tend to take positions over a short period of time (say a few minutes to a few hours). Few traders do business during full off hours.
As a global economy, there is no central exchange or regulator for the forex market. As there is a worldwide market. Several central banks of various countries periodically intervene, but, in severe circumstances these are unusual cases. Most of these technologies are recognized and priced in the market already.
The forex market has the highest number of market participants compared to any other financial market. This offers the highest liquidity, making it easy to efficiently fill even huge orders of currency exchange, without any large price fluctuations. This removes the risk of price manipulation and price anomalies and thus allows tighter spreads which lead to better pricing.
For shorter period businesses, and a number of key research theories and methods for long term forex trading, there are hundreds of forex technical indicators, which provide traders with different levels of experience with a huge option for quick entry into the forex trading.
28 major monetary pairs of 8 major currencies exist. Timing, volatility trend or economic growth can be convenient to choose a pair. A foreign currency trader who loves volatility can turn easily from one currency to another.
A career in Forex Trading
Due to its high liquidity, a 24/7 schedule and easy accessibility for people with a financial background, forex trading has become a common profession for the industry. You have enough incentive for both young graduates and seasoned professionals to consider forex trade as a career, to be your own boss with the ease to make money from your laptop/mobile. Let us dive deeper into the Forex Trading Career Opportunities.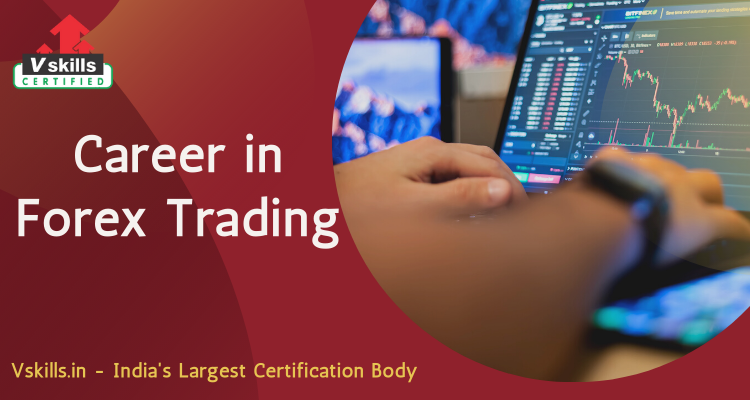 Basics of Forex Trading
Forex trade is mainly done via three markets, namely, Spot Market, Forward Market, and Futures Market. Let us discuss these markets in brief –
Spot Market
Spot Market in Forex trading is one of the less liquid markets in Forex. It is a market where currencies are traded for settlement on the same day at current market rates. In the spot market, one or more trade orders are executed only on the day of the transaction with no forward commitment.
Forex Spot market section allows traders to trade in the present for a price that they agree upon now. So, whether it's an upcoming holiday or just because they are "in the market" for some currency, this is the perfect solution for the less serious trader.
Forward Market
The forward market in Forex trading is a type of futures contract where two parties agree on the delivery of a certain quantity of a currency pair at a given price on a specific date in the future. Forward contracts are traded through an established dealer network. Dealers make money from bid-ask spreads and the interest; they charge on rolled-over contracts. The number of forwarding contracts outstanding averages between $600 trillion and $1.5 quadrillion annually, making it the largest derivative market in the world.
Futures Market
Futures allow you to hedge currency risk that may arise from individual or institutional transactions through asset purchases or sales. The futures market involves buyers and sellers essentially betting dollars for the value of the currency they want to trade. Futures contracts ensure that both sides of the contract enter into a deal with an agreed-upon price before the deal goes through, and are settled on a predetermined date in the future, regardless of what happens in the currency markets.
Best Way to Learn Forex Trading
If you are willing to learn about Forex Trading, here is the best way for doing it –
Foreign Exchange Certification
Certifications are often considered as a validation for the skills in a particular domain. However, we must not forget that a good certification is hard to earn, and requires hard work. This hard work is vital to acquire knowledge of a particular field. Forex Trading is a field that can be risky if done without proper knowledge. Thus, to minimize the risk of loss, it is important to take a certification course that allows you to cover various aspects of Forex Trading.
Certified Foreign Exchange Professional is one such course that will be very helpful for you in acquiring the skills and knowledge. Let us discuss this certification in detail.
Certification Overview
The Certified Foreign Exchange Professional (CFEP) program is a professional credential to validate the skillis of those who have met the rigorous education and work experience standards required to represent foreign exchange companies. To earn this credential, an individual must have have learn about the latest strategies and educational tools in the foreign exchange industry. Also, he or she must be responsible for the development of successful business relationships, and have the ability to maintain an open communication with their clients, and build a high level of trust in their constituency.
Target Audience
This course is intended for executives, senior executives, and managers working in finance, forex, or international trade domains and wanting to excel in their chosen areas. It is also well suited for those who are already working and would like to take certification for further career progression.
Benefits of the Certified Foreign Exchange Professional credential
Firstly, Government certification
Secondly, Certification valid for life
Thirdly, Lifelong e-learning access
Then, Free Practice Tests
Course Outline for Certified Foreign Exchange Professional
Certified Foreign Exchange Professional covers the following topics –
Introduction
What is Foreign Exchange
Why is foreign exchange important to us?
What is a foreign Exchange market?
Foreign Exchange as a Financial Market
Foreign Exchange is an OTC Market (Over The Counter)
Market Participants
History of Foreign Exchange
Gold Standard
Main Stages of Recent Foreign Exchange Development
Important landmarks of Currency Markets
Foreign Exchange Basics
Rates of Exchange
Primary and Counter Currency
Market Maker and Market Taker
Bid/Offer Rate
Middle Rate
Cross Rates
Factors affecting exchange rate fluctuations
Supply and demand
The Balance of Payments
Confidence and speculation
Central bank intervention
Exchange Control
Interest rate differentials
Leads and Lags
Hot Money
Major Currencies
Fixed, Floating and Dirty Float
Trading Terminology
Foreign Exchange Risks
Firstly, Effect of fluctuations in exchange rates: exposure and foreign exchange risk
Secondly, Exchange Rate Risk
Thirdly, Interest Rate Risk
Then, Credit Risk
Further, Country Risk
Lastly, How to manage your risk
Kinds of Foreign Exchange Market
Spot Market
Forwards Market
Currency Forward Swaps
Futures Market
Strategies using Currency Futures
Hedging using Currency Futures
Speculation in Currency Futures
Currency Options
Currency markets in India
Product Specification
Uses of Currency Futures at NSE
Membership
Clearing, Settlement and Risk Management
Fundamental Analysis
Economic Fundamentals: Theories of Exchange Rate Determination
Economic Indicators
Financial and Socio-political Factors
Technical Analysis
Firstly, The Fundamentals of Technical Analysis
Secondly, Types of charts
Thirdly, Trends, Support and Resistance
Further, Trend Reversal Patterns
Then, Trend Continuation Patterns
Also, Gaps
Furthermore, Fibonacci Analysis and Elliott Waves Theory
Lastly, The Elliott Waves
Treasury
Role of Treasury
Front Office
Back Office
Credit Control
Investment Bank
Largest Full-Service Investment Banks that hire Foreign Exchange Traders and Analyst
Preparation Guide for Certified Foreign Exchange Professional
When preparing for a certification exam, we tend to dive straight into the studying phase. It is important to set goals and study effectively. But if you're looking for material to study from, it can be a little confusing trying to figure out which resources are trustworthy and up-to-date. So, here is a list of relevant, precise, and authentic resources that you can use to learn and prepare for the exam.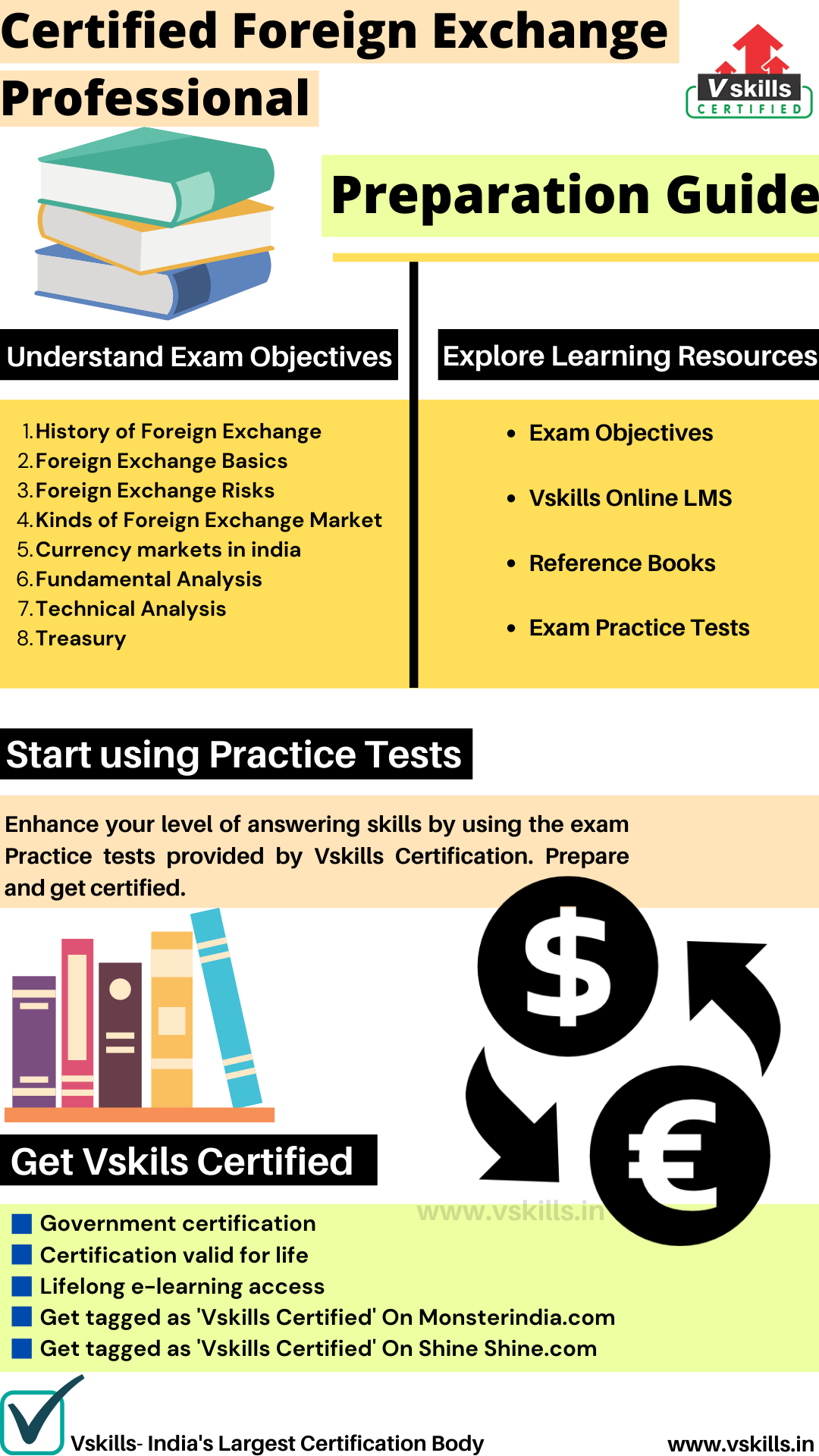 Know the Exam Objectives
Before you start with your preparations, it is essential to get yourself familiar with the objectives of the exam. Revising the objectives will help you in planning a better strategy for the preparations. Here is a list of exam objectives for the Certified International Trade and Forex Professional –
Firstly, History of Foreign Exchange
Secondly, Foreign Exchange Basics
Thirdly, Foreign Exchange Risks
Then, Kinds of Foreign Exchange Market
Also, Currency markets in India
Further, Fundamental Analysis
Then, Technical Analysis
And lastly, Treasury
Books for Certified Foreign Exchange Professional
Books can be great resource tools as part of your preparation and learning. There is no substitute for hands-on experience. However, books can augment the knowledge you get from testing and help to bridge your gap between real-life experience and theory. Here is a list of books that we think are must-reads for working towards certifications.
Some books that can be referred are –
Take the Practice Tests
One of the most important steps during preparations is taking practice tests. There is a good reason for this. By doing a practice test, you will know what to expect from the actual exam. We all have heard that we should never test in a brand-new environment if possible. It is a good thing to make you feel calm and confident on the big day of the exam, which has been supported by many students who've used this strategy. Daily practice tests also help you measure your progress over time. Start preparing now with a free practice test!