With a surge in the amount of money hoarding, government organisations and companies are making constant efforts to keep a track all illegal handling of money transactions and taking proper actions. Thereby the need for AML and KYC compliance have come into the picture. Further to make sure that the rules are adhered to, there is a constant rise for officers to regulate the same. This creates a new surge of job opportunities in this field.
Today, in this article, we are going to discuss the two major elements i.e. KYC (Know Your Customer) and AML (Anti-Money Laundering). Also, we are going to differentiate between the two of these. So, let us start. Both national and international bodies around the globe manage Anti-Money Laundering (AML) guidelines for the finance industry. These require serious screening and monitoring methods on all financial institutions. The measures to complete a successful anti-money laundering (AML) program constitute a key process which is 'Know Your Customer (KYC).
Oftentimes, the words AML and KYC are used conversely, which means they are seen as the same thing. However, this is incomparably from the truth, as both KYC and AML differ hugely in their meaning, primarily in a regulatory context. So let us discuss both separately in brief!
What is Anti-Money Laundering (AML)?
Anti-money laundering is a phrase that is used in Financial Institutions (FIs). According to Investopedia, AML "refers to a set of procedures, laws, and regulations designed to stop the practice of generating income through illegal actions." Also, the AML regulations are formulated by global societies, such as the UNODC and FATF, regional bodies, like FINRA, as well as local governments and bodies. Further, AML methods detect irregular transactions occurring in the financial system. Entities are reviewed and accurate documentation takes place that exhibits malevolent entities previously. In addition, criminal activity is stimulated when laundered money is practiced. By disclosing that cash flow, a large number of criminal proceedings can be stopped. Now, let us discuss the KYC in brief.
AML Methods
The AML structure keeps on modernizing with the speed of fraudulent actions. Rules and regulations vary with time. further, following are the actions that support businesses comply with the AML regulations and standards:
Stay updated with the evolving AML rules and regulations
On a constant basis, keep on reviewing the company norms and work on them accordingly.
Know Your Customer
KYC is a portion of the AML agreement. It is importantto know who you are expediting with your services and whereby in return your customer will be.
Recognize the external and internal risks
It is important for companies to recognize the high-risks connected with the business. Distinguish the vendors, third parties, and customers.
Know Your Customer (KYC)
Know Your Customer (KYV) is a method that confirms the identity of customers. Subsequently, customers have to give personal information which comprises name, address, contact data, id card, etc. This data is verified before they become members of a business or company. Further, the term KYC is generally referred to as financial institutions. This is because the finance enterprise is prone to high-risk scams that differ from money laundering and terrorist financing to identity theft and data breaks. For instance, all investors must be checked before they can engage in any ICO or fundraising projects. Fintech businesses are mandated to deduce ample, valid information on their client and their identification in succession to determine their legitimacy before starting any business activities.
Is KYC Verification Important?
Given the comprehensive understanding of KYC as a bureaucratic, time-consuming job, some financial organizations might wonder if it's actually a requirement. Well, the answer is a loud yes. Government bureaus designate rules and statutes that need institutions to comprehend set methods for testing and authenticating their customers. Further, approved KYC methods include ID confirmation, face affirmation, document verification, background investigations, and database connection.
One of the main causes, why the KYC verification process is important, is that it is pretty good at assuring that financial bodies are not being practiced to carry out money laundering exercises of any kind. Further, money laundering typically occurs unbeknownst to the financial authority whose program is being used for such projects. Thus, with KYC online verification and offline KYC authentication in position, financial administrations like banks and trading stages can detect any potential money laundering links.
Another purpose why the KYC verification method is noteworthy is that there are several non-individual customers that use financial assistance like mutual fund investment, trading, and more. So, with KYC, banks, and financial organizations, and brokerages, amongst others have the power to check the legal situation of that entity. This can involve cross-checking their operating business and confirming the integrity of their useful owners and authorized signatories.
Can a Company Enact AML Without KYC?
KYC is a significant character of any institution's AML purposes. Institutions that permit new customers to initiate accounts will require to practice KYC rules to oversee their onboarding method. Further, AML requires more than KYC itself, and KYC is integrated from AML, for the greatest financial institutions.
What is CDD/EDD?
Know Your Customer confirms customer confirmation which eventually refers to the methods of Customer Due Diligence (CDD). Further, Customer Due Diligence (CDD) is a selective perspective of KYC. It includes receiving customer data such as names, places of residency, addresses, and so on and then counting the risk it presents. However, Enhanced Due Diligence (EDD) on the other hand, collects additional data from consumers. EDD evolved with the announcement of the USA Patriot Act. In addition, the difference between CDD and EDD.
Moreover, EDD management is extra efficient because of the additional information and facts it collects from the customer. Complete documentation should be made for the entire EDD method. Furthermore, EDD information comprises;
Firstly, the geographical factors
Secondly, property and assets information
Also, transactions types
Further, occupation information
Lastly, banking information
Difference between KYC and AML: Overview
The estrangement between AML and KYC is that, on the one deal, AML (anti-money laundering) suggests an umbrella title for the full span of regulatory methods that firms need to perform in order to give out legitimate business, while, on the other side, KYC (Know Your Customer) is a shorter element of AML that consists of firms confirming their customers' personality. It is a minor step in the larger method. Further, let us discuss some key points:
Purpose
KYC- To make certain that business associates and equals comply with anti-bribery rules.
AML- To identify unusual money transactions and activities, stop committing business crimes, and financial terrorism.
Process
KYC- Collecting the information about clients, confirming their identities.
AML- Checking the transformation of the profit from illegal actions into the incomes from lawful sources.
Regulators
KYC- Banking institutions, export creditors, insurers.
AML- FATF, financial institutions.
The Elements policy
KYC- For KYC the main policy specification includes the customer's authenticity validation, monitoring activities, and risk administration.
And, for AML the policy incorporates risk assessments and data security, staff training and reporting, client and payment screening, and lastly, monitoring the transactions.
AML procedures offer to avoid money laundering and terrorist financing projects. KYC, on the different hand, is the method of collecting customer verification on the source of gathered data. Further, it is important to estimate both simultaneously. A well-reputed and reliable business complies with both KYC and AML management. When a company places powerful actions and measures for fraud prevention then the chances of fraud are subdued. Moreover, if you want to become a Certified AML-KYC Compliance Officer, take a look at the following steps.
Market Demand and Job Opportunities – Job Portal
The major circumstances stoking the Anti-money laundering market involve increasing rigorous regulations and compliances for AML, the growing center of financial institutions on digital payment-related problems, and the necessity to get a holistic picture of data to curb financial scandals. Moreover, the growing adoption of superior analytics in AML and the combination of AI, ML, and big data technologies in originating AML solutions would present lucrative possibilities for AML Solution vendors. Further, the market demand for Certified AML-KYC Compliance Officers is high.
Most of these people are engaged with private money lending organizations or with nationalized banks. These days, larger firms in the world of negotiating, technology, and manufacturing need the services of the AML/KYC officers as well.
Average Salary
There is noteworthy variation within and beyond pay scales for compliance and compliance-related roles. Salaries tend to focus on the skill sets required for a role, rather than being defined by the job title. Furthermore, the average salary for an anti-money laundering analyst is ₹ 3,30,605 per year in India.
Knowledge required
An AML/ KYC should be properly versed with the functioning of the anti-money laundering methods and their principal job is to guarantee that everything that occurs within the company is in compliance with the same. Further, the required knowledge are areas such as Prevention of Money Laundering Act, 2002, Money Laundering – Case Studies, Methods used for Money Laundering, Role of Technology, etc.
Now, if you are wondering that you should be a Certified AML-KYC Compliance Officer. Then, no issues, here we are going to present some learning resources which the candidate can refer to. Let us start:
Preparatory steps for Certified AML-KYC Compliance Officer
After you get an idea about the terms, let us just make this easy for you. Here, we are gathering some reliable resources for your ease. Take a look at them, and successfully become a Certified AML-KYC Compliance Officer.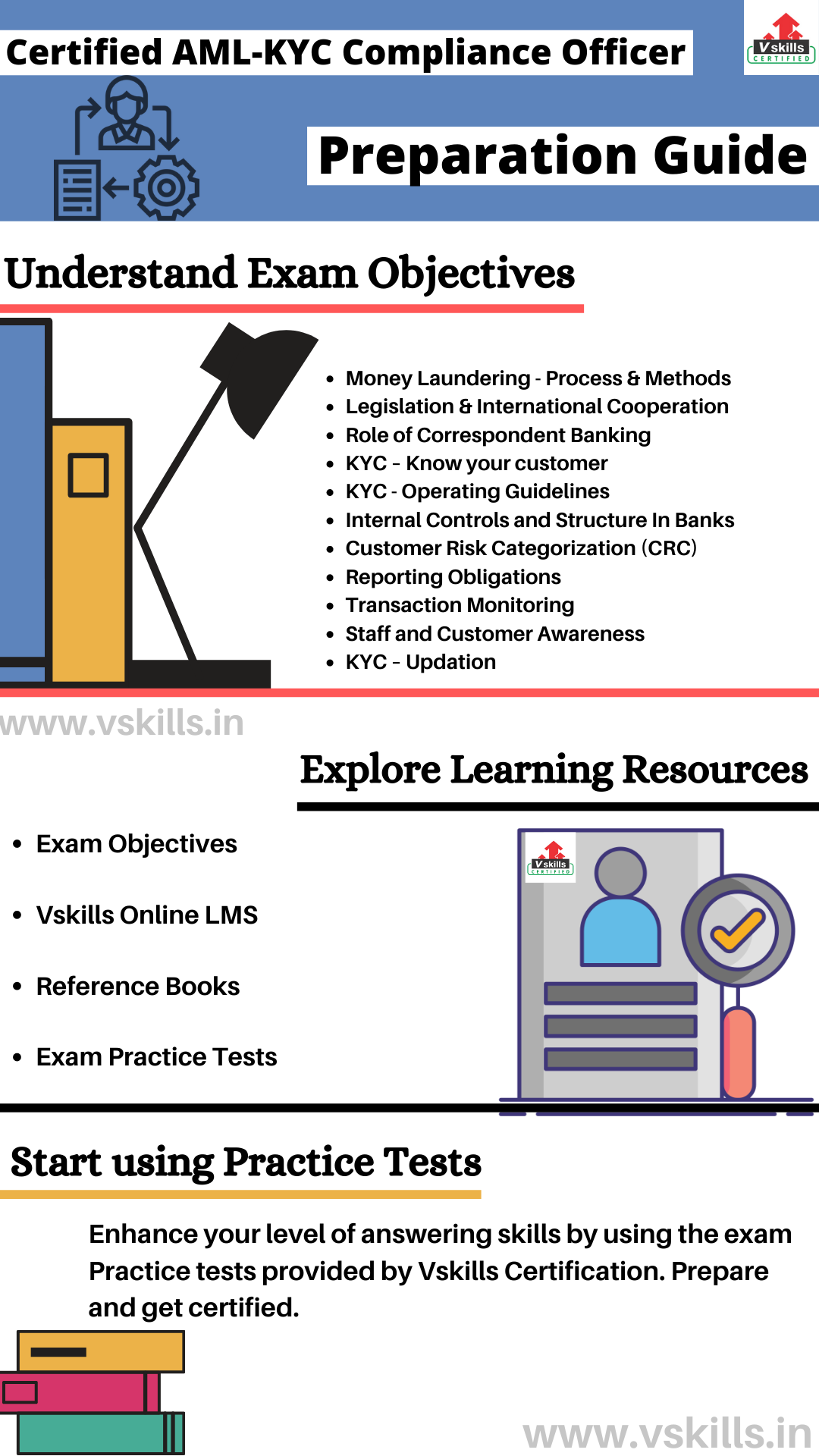 Online Course
Vskills certification in KYC (Know Your Customer) and Anti Money Laundering Operation, is one of the first certifications in this field of the banking sector. Also, a Vskills Certified AML/KYC Officer obtains jobs in banking and banking ancillary firms, security and audit firms, and other small and medium enterprises. Further, the certification improves the quality of yielding with the directions of RBI in combating illegal operations and transportation of funds through the adoption of banking channels. KYC and Anti Money Laundering operations have assumed added importance owing to the security risk that it poses to the country, and also to maintain the financial health of the institutions. Moreover, Vskills Certified AML- KYC Compliance Officer can find employment in all kinds of finance and banking companies, big or small, since maintaining AML and KYC compliance is a crucial part for them.
Refer to the Exam Objectives
First and foremost you must be able to get all the details about the exam, its course coverage, and objectives. The exam covers all the professional aspects to work effectively in an organization. Moreover, the Certified AML-KYC Compliance Officer covers the following topics –
Firstly, Introduction
Secondly, Money Laundering – Process & Methods
Also, Legislation & International Cooperation
Further, the Role of Correspondent Banking
KYC – Know your customer
Moreover, KYC – Operating Guidelines
Internal Controls and Structure In Banks
In addition, Customer Risk Categorization (CRC)
Reporting Obligations
Subsequently, Transaction Monitoring
Staff and Customer Awareness
Lastly, KYC – Updation
Online LMS
Vskills Certified AML-KYC Compliance Officer certification offers candidates to prepare themselves with the online learning material for a lifetime. The e-learning bundled with hard copy material helps to improve and update the learning curve for superior and better opportunities.
Click Here- Sample Material
Certified AML-KYC Compliance Officer VS-1092 Brochure
Vskills Online Tutorials
Certified AML-KYC Compliance Officer Online Tutorial enhances your knowledge and provides a depth understanding of the exam concepts. Additionally, they also cover exam details and policies. Nonetheless, these online tutorials provide and in-depth information related to the examination.
Try Practice Test
Practice tests are the one who ensures the candidate about their preparation. The practice test will help the candidates to acknowledge their weak areas so that they can work on them. We at Vskills also offer practice tests which are very helpful for the ones who are preparing.
Experts Corner
We at Vskills hope that this article helped you to understand the difference between KYC and AML. And if you are going to register KYC, keep in thought that the offline KYC method takes around one week to be finished. Also, the online KYC enrollment may take a much lesser time period, but this can change based on factors such as whether or not there existed any errors, discrepancies, or ambiguities in your request form. Hence, fill your form perfectly. Also, if you want to become a Certified AML-KYC Compliance Officer, just go through the preparatory guide and get some knowledge. All the best!