Certification have always been the most lucrative option to advance the career. They help you to develop you in professional terms and level up in your career. And who does not want to achieve a higher post and higher salary! Certifications not only help you climb the corporate ladder but also are financially rewarding. In other words, certifications have become the global currency of 21st century to secure a real job.
Moreover, certifications like Six Sigma Green Belt hold some real value in job market and helps you to progressively move forward in your career, both financially and by designation. The domain of business management really demands professional with the skills that the certification develops in the candidates. This will help you to prove your commitment to improving your business acumen and analytical skills, as well as improving the business where you work. Let us dive deeper into knowing what is the use of taking the Six Sigma Green Belt certification and how taking the certification can prove to be beneficial for your career.
About Six Sigma Green Belt certification
A Certified Six Sigma Green Belt is an individual that possesses a thorough understanding of enhanced problem-solving skills, with an emphasis on the DMAIC (Define, Measure, Analyze, Improve and Control) and QFD model.
Certification for Six Sigma – Green Belt Professional assesses the candidate as per the company's need for deploying, managing and maintaining quality systems. The certification tests the candidates on various areas in lean and six sigma principles, DMEA, QFD, collecting and summarizing data, statistical analysis and process control. Let us now have a look at the concepts that will be covered in the certification.
Target audience
The six sigma green belt certification is designed for a career in quality control or the allied roles in managing the quality. Therefore, this certification is designed especially for the job seekers looking to set their foot in the quality control sector. There is no specific prerequisite for taking the certification, so anyone interested in the domain can take the certification. However, any experience in this domain could help you easily understand the concepts involved in the certification exam.
Concept covered in Six Sigma Green Belt
The scope of this certification is very wide. However, The list of topics across D-M-A-I-C framework, that are normally covered in Six Sigma Green Belt are as follows:
Firstly, learn about Change Management
Understand KANO Model, SIPOC diagram
Learn about Process capability, Segmentation and Stratification, Sampling strategy
Subsequently, learn about Measurement System Analysis, Project charter, Voice Of the Customer (VOC) to Critical-To-Quality (CTQ)
Then understanding Box Plot, Process Map
Learn about Pareto, Concept of LEAN, Hypothesis Testing, Rolled Throughput Yield (RTY)
Subsequently, Correlation, Mistake-proofing, FMEA
In addition, Fishbone Diagram, Normality study, Statistical Process Control (SPC)
moreover, Process Management Charts, , Data Collection Plan (DCP)
lastly, Run Chart, Control Chart, Regression
Let us now look at the qualities which can prove to be beneficial while preparation for the certification.
Required Skills set
For the purpose of earning this certification, the candidate will get benefit if the following qualities were earned –
Firstly, devoting at least 30% to 40% of their production time on process improvement initiatives or activities, this will help in developing deeper understanding of the practical portions of the exam.
Also, being able to solve quality related issues, which will help in understanding the consumer demands.
In addition, working on Six Sigma, LEAN, KAIZEN or other projects which can keep him in touch with the syllabus and would save extra time spent on revising.
Career opportunities after Six Sigma Green Belt certification
These are some of the career opportunities available after you earn this Six Sigma Green Belt certification –
Quality Department – Quality assurance manager/ Quality Compliance Analyst
Project Department – Project quality manager /Project manager IT/ Work force management specialist
Process Department – Operations Team Leader/ Process improvement specialist/ Senior Mechanical Engineer
Finance Business Process Expert
Six Sigma Green Belt Management Analyst
Market Demand and Average salary of The Six Sigma Green Belt Professional
Earning The Six Sigma Green Belt Certification can help you to earn valuable career opportunities in various companies across the globe. There is a great demand of certified lean six sigma professionals across the domains. Companies like Accenture, Sodexo, KPMG, Wipro, Myntra, Oakland, IBM etc. are having good demand for certified professionals.
According to PayScale.com, the average salary for a Six Sigma Green Belt salary for 2017 was roughly between $65,000 and $79,000 per year. According to Indeed.com, the national average salary for a Certified Green Belt Professional is $72,000 per year in the United States. Find differences in the salary level of people with and without six sigma belts. Eventually the people who have this certification end up having good opportunities and more job opportunities as well. s per research by Salary.com, last done as of April 27, 2020, the average Six Sigma salary in United States is ranging from $84,800 to $1,10,400.
What is the use of Six Sigma Green Belt certification?
Looking at the above mentioned all the details about the market demand and skills that you will acquire through the whole process of earning this certification it must be pretty clear about the use of this certification. However, the benefits could be summarized as under –
Six Sigma training proves as an excellent tool to deliver best performance in the competitive atmosphere and in turn climb the ladder of success faster and increase their salary structure.
The career expansion opportunities are widened for a candidate as mentioned above and helps them to explore in the arena of their interest. Let us now look at some preparation resources which will help you to pass the exam with flying colors.
Now, we will look at the course outline which will help us to figure out the level of exam and the direction of preparation.
Course Outline for Six Sigma Green Belt certification
Find the course outline given below –
1. Six Sigma and Organizational Goals
firstly, History and Evolution of Six Sigma
also, Introduction to Six Sigma
in addition, Characteristics of Six Sigma
furthermore, Improvement Process and Transfer Function
also, Contributions to Six Sigma
subsequently, Six Sigma Projects
in addition, Six Sigma Business Processes
furthermore, Organizational Drivers
Organizational Metrics and Process Improvement
2. Lean Principles and Six Sigma Projects
firstly, Introduction to Lean Principles
also, Lean Principles and Concepts
furthermore, Application of Lean Six Sigma
in addition, Theory of Constraints (TOC)
furthermore, Valuable and Non-Valuable Activities
lastly, Value Stream Mapping
3. Design for Six Sigma and FMEA
firstly, Design for Six Sigma (DFSS)
also, DFSS and Six Sigma Methodology
furthermore, DFSS Methodologies
in addition, Failure Modes and Effects and Analysis (FMEA)
also, Risk Priority Number (RPN)
lastly, Design FMEA and Process FMEA
DEFINE PHASE
4. Six Sigma – Project Identification
firstly, Six Sigma Project and Methodology
in addition, Six Sigma Benchmarking
also, Components of a Process
furthermore, Input and Output – Process Variables
also, Project Stakeholder in Six Sigma
5. Voice of the Customer in Six Sigma
firstly, Voice of the Business and Voice of the Customer
also, Process of Collecting Customer Data
subsequently, Effective Data Collection Techniques
furthermore, Customer Requirements and QFD
also, House of Quality (HOQ)
lastly, HOQ Matrix
6. Six Sigma and Project Management
firstly, Six Sigma – Project Charter
also, Six Sigma – Project Scope
in addition, Project Metrics – Six Sigma
subsequently, Project Planning Tools
Project Documentation in Six Sigma
also, Project Risk Analysis
7. Six Sigma Management and Planning Tools
firstly, Affinity Diagrams
also, Interrelationship Digraph
furthermore, Tree Diagram
in addition, Prioritization Matrices
also, Matrix Diagrams
in addition, Process Decision Program Charts (PDPC)
lastly, Activity Network Diagrams
8. Six Sigma Performance Metrics
Performance Metrics
Defects Per Unit (DPU)
Defects Per Million Opportunity (DPMO)
Rolled Throughput Yield (RTY)
Process Capability Indices
Cost of Poor Quality (COPQ)
9. Project Team Dynamics and Performance
Six Sigma Teams
Roles and Responsibilities of Six Sigma Team
Six Sigma Team – Roles and Responsibilities
Challenges of a Team
Tools of Six Sigma
Team Communication in Six Sigma
MEASURE PHASE
10. Process Analysis and Documentation
Measuring Processes
Process Mapping
Process of Documentation
11. Probability and Statistical Distribution
Probability and Events
Rules of Addition and Multiplication
Permutation and Combinations
Statistical Distributions
Binomial and Poisson Distribution
12. Data Classification, Sampling and Collection
firstly, Data Types and Measurement
also, Data Sampling Methods
Six Sigma Data Collection Methods
Strategies of Data Collection
13. Statistical and Graphical Presentation
Fundamentals of Statistics
Measures of Central Tendency and Dispersion
Frequency Distribution
Graphical Methods
14. Measurement System Analysis
Measurement System Analysis
Precision in Measurement Systems
Measurement Accuracy – Bias Study
Measurement Accuracy – Linearity Study
Percent Agreement
15. Performance and Process Capability Measurement
Measuring Process Performance
Process Capability Studies
Indices of Process Capability and Performance
Long-term Capability and Sigma Level
ANALYZE PHASE
16. Six Sigma – Hypothesis Tests for Variances and Proportions
Paired Comparison T-Test
Test for Variance
Hypothesis Tests for Proportions
ANOVA
Chi-square Test
17. Six Sigma – Hypothesis Testing and Tests for Means
Introduction to Hypothesis Testing
Confidence Interval and Error Types
Power and Sample Sizes
Process – Hypothesis Testing
One Sample Tests for Means
Two-sample t-test for Means (Pooled)
18. Six Sigma – Multi-vari Studies, Correlation, and Linear Regression
Multi – Variation Analysis
Variation in Six Sigma
Correlation and Correlation Coefficient
Causation and Statistical Significance
Linear Regression
IMPROVE PHASE
19. Six Sigma – Root Cause Analysis and Waste Elimination
Root Cause Analysis
Waste Reduction
Tools of Waste Reduction
20. Design of Experiments
Introduction to Design of Experiments
Important Concepts in DOE
Types of Effects
21. Six Sigma – Cycle Time Reduction and Kaizen Blitz
Cycle Time Reduction
Methods of Cycle Time Reduction
Kaizen and Kaizen Blitz
CONTROL PHASE
22. Six Sigma – Control Charts
Key Elements and Types of Control Charts
Handling Control Charts
Standard Control Charting Process
Variable Data and Control Charts
Attributes of Data and Control Charts
23. Six Sigma – Lean Tools for Process Control
Total Productive Maintenance (TPM)
Visual Factory
Process of Applying Control Tools in Service
24. Six Sigma – Statistical Process Control and Control Plans
Introduction to Statistical Process Control (SPC)
Control Charts and Variations
Selecting Variables for SPC
Rational Subgrouping
Developing and Implementing Control Plan
Now that we are done with the content outline, we shall now be moving on to explore the opportunities after one passes the certification.
Six Sigma Green Belt Preparation Guide
There are numerous resources available for preparation. However you need to choose the resources that allow you to prepare in the best possible way and hit the bull's eye. The resources that allow you prepare up to the apt level in the minimum time available can be the best ones on the table. Some resources that you can refer to are listed below –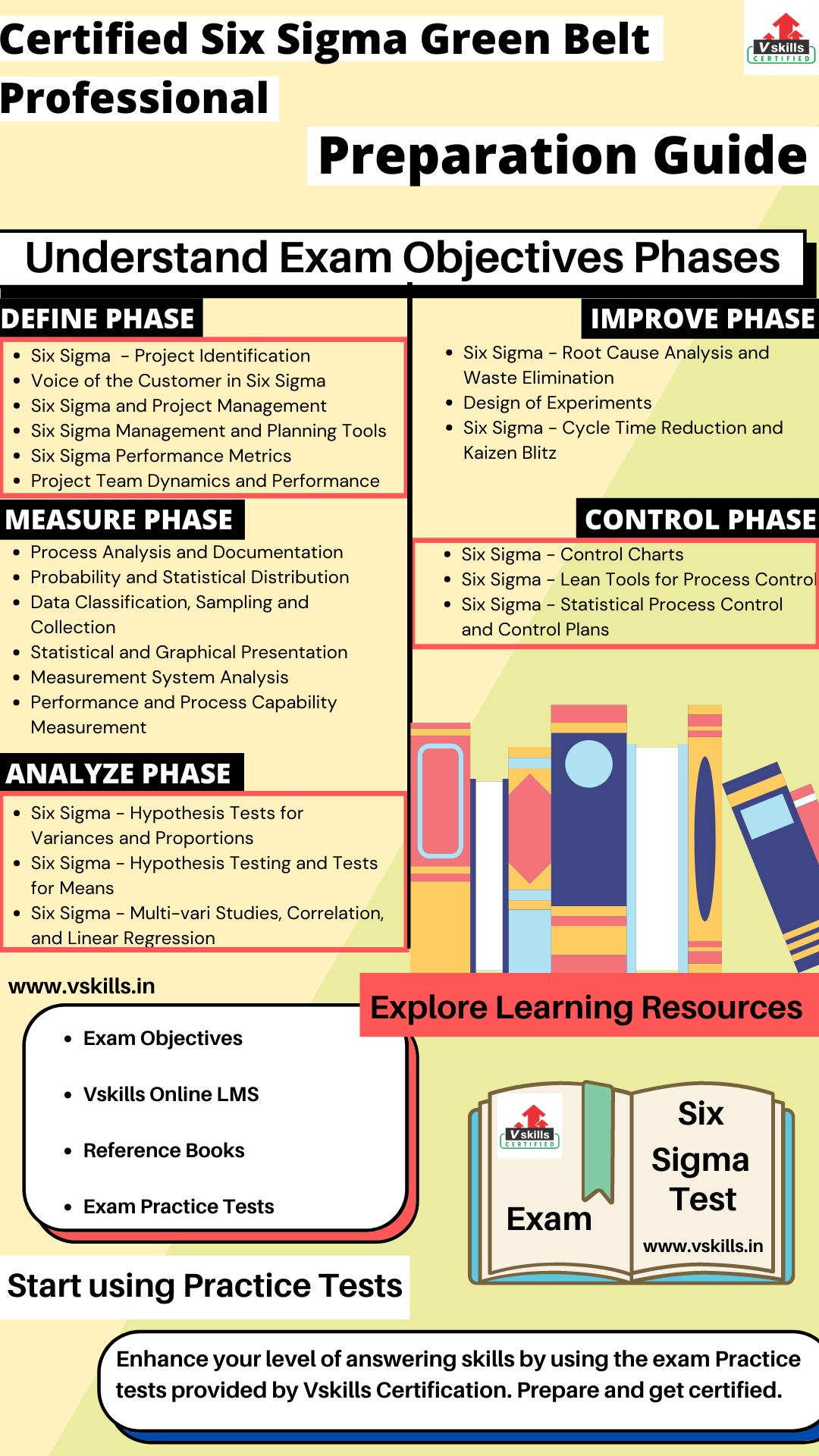 VSkills Certification course for Six Sigma Green Belt
Vskills certification for Six Sigma – Green Belt Professional assesses the candidate as per the company's need for deploying, managing and maintaining quality systems. The certification tests the candidates on various areas in lean and six sigma principles, DMEA, QFD, collecting and summarizing data, statistical analysis and process control.
This certification is specially designed to prepare you for a career in Quality Control and six sigma green belt –
You will gain following skills through these courses –
How to solve quality problems
In addition, Study statistical tools & techniques
Furthermore, Know how to identify and eliminate errors and defects in a process
Learn how to apply DMAIC ( Define, Measure, Analyze, Improve, Control)
Earning Vskills Six Sigma – Green Belt Professional Certification can help candidate differentiate in today's competitive job market, broaden their employment opportunities by displaying their advanced skills, and result in higher earning potential.
Benefits of Certification
The courses that you can cover for preparing this certification are –
Online Tutorials
There are many online sites that provide with the Online tutorials, online trainings and instructor-led trainings. Moreover, These programs are interactive enough and help in clearing the doubts in a very nice manner. Furthermore, The sites take whole liability in case you fail to clear the exam. They also provide every time doubt clearing service which helps you in clearing your doubts instantly. Visit the Online tutorials by VSkills for preparation.
Practice tests
Practice papers and test series are a way to determine the level of your preparation. In addition, They will help you identify weak parts of your preparation and will decrease the silly mistakes. Practicing is the key to qualifying any certification exam is no different. So, make sure to practice as much as you can. If you wish to strengthen your preparation process as well as boost your confidence, then you must try practice tests. Therefore, Try a free practice test now!
Upgrade your skills and unleash your potential by cracking the Six Sigma Green Belt certification Exam. Start practicing now!