Social media has given birth to many careers, propaganda, and positivity. As a sector, social media marketing has gained immense growth in India in recent times pertaining to the fact that social media platforms enable marketers to engage and connect potential customers. They can engage their audience with a strong social media strategy and the ability to create engaging content. Social media has become a valuable communication tool for creating, spreading, and sharing information with others locally as well as worldwide. Consequently, there's a tremendous scope of social media marketing in India in 2022.
By and large, SMM refers to the methods targeting social networks and applications so as to spread brand awareness and promote specific products. Moreover, its campaigns usually revolve around establishing a social media presence on major platforms and creating shareable content and advertisement.
Owing to the numerous benefits it provides, it has become one of the fastest-growing career opportunities especially because of the increasing number of businesses growing their online presence. Therefore, it is a high-responsibility job that comes with an above-average paycheck which makes it a career worthy possessing in 2022 and the coming future. In this blog, we'll look more into the details of this sector and would see what is the scope of social media marketing in India in 2022?
Skills Required
In order to become a proficient social media marketing professional, it is advised for you to possess the following skills and abilities-
Communication skills
Creative thinking
Project management
Marketing skills
Flexibility
Writing skills
Content creating skills
Learning Outcomes
Learning social media marketing helps you in-
describing and explaining the nature and meaning of social marketing.
analysing problems of social marketing and suggesting ways of solving them.
recognising the range of stakeholders who are involved in social marketing programmes.
assessing the role of social advertising, branding, and other communications in achieving behavioural change.
Roles and Responsibilities
Duties of a social media marketing professional include-
developing engaging and creative social media strategies.
managing the daily handling of social media channels adapting content to suit the different channels.
developing, launching and managing new competitions as well as campaigns that promote your brand and organisation.
forming key relationships with social media influencers.
undertaking audience research.
overseeing, planning and delivering content across various platforms using scheduling tools.
creating engaging multimedia content across different platforms.
Future Scope and Career Opportunities
India's web clients will noticeably end up being the world's biggest web base, after the US and China. From shopping to news and interaction, buyers are quickly changing and now being presented to data immediately as purchasers turn out to be more connected with the things around them. Thus, social media marketing is one of the fastest-growing career opportunities based on the increasing number of businesses growing their online presence.
It is a high-responsibility job that comes with a highly-paid salary. So, the following are some of the most sought-after job profiles in the field of social media marketing-
Social media marketers
Social media marketing professionals use social media platforms as well as websites for the promotion of a product or service. E-marketing and digital marketing despite being dominant in academia still social media marketing is becoming more and more popular for both practitioners.
Average salary: ₹5,60,000
SEO professionals
SEO professionals are the marketing professionals who make use of research and analysis so as to improve the ranking of a website on search engines like Google. Thus, they look for the most popular, relevant keywords used in search engine queries and accordingly insert them into websites, so as to help search engines find those sites and present them to web users.
Average salary: ₹5,00,000
Web analytics professionals
Web analytics managers basically report to the director of digital marketing and provide technical leadership as well as support for web analytics tools that deliver valuable insights to help enhance the number of site visitors, create a deeper engagement, and also improvise online conversions.
Average salary: Rs.3,20,000
Content writers
Website/web content writers are professionals specialized in providing relevant and attractive content for websites. Thus, they are responsible for helping a website attract its specific target audience and providing them with the most relevant content to attract business.
Average salary: ₹4,00,000
Digital marketing managers
Digital marketing managers are the professionals responsible for the implementation, supervision, and management of digital marketing strategies for the advancement of an organization's mission by reaching more audiences and attaining better exposure. Thus, their main duty revolves around increasing sales, donations, or community involvement.
Average salary: ₹5,48,755
SEM professionals
SEM professionals are professionals who possess a deep understanding of the way search engines rank and display pages and websites. They make use of this knowledge in order to help companies create and execute data-driven digital marketing tactics that include content marketing.
Average salary: ₹14,00,000
E-Commerce managers
E-commerce managers design and implement business plans, strategies, and procedures to maintain a seamless procurement, supply chain, logistics, and operations. Simultaneously, they oversee the work of finance, marketing, and IT executives and the daily operations of the company.
Average salary: ₹9,08,287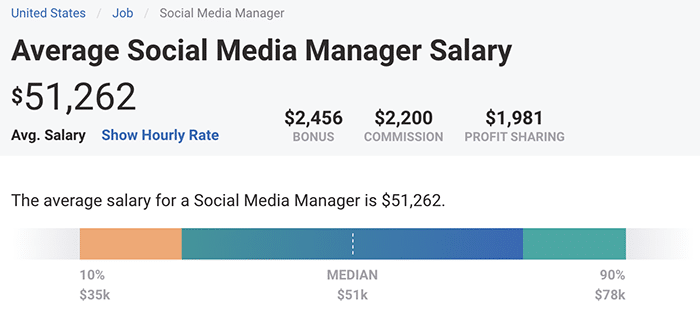 We've discussed all the major career opportunities and the future scope of social media marketing in 2022 and the coming future. Hopefully, this will help the interested candidates analyze their job interests in this field and find out which profile suits them best. So, if you are also looking for better job opportunities in digital marketing 2022 then you can opt for the careers mentioned above.
Don't need to worry about how to proceed further, as we at Vskills provide you with certification programs to help you validate your skills and knowledge of social media marketing. Moreover, you can refer to the following tutorial to better understand all about the certification programs on digital marketing and ideal ways to prepare for it. You can also try out the practice tests in order to test your level of preparation and analyze your performance.

So, what are you waiting for? Get yourself certified in Social media marketing with Vskills to boost your career in this field!!