In general, Office Administrators are also acknowledged as Office Managers responsible for general management responsibilities within an office atmosphere. Moreover, the office administrators play a central role in guaranteeing that all office administrative purposes are regulated to produce a high level of potency within the company. An office administrator carries out various functions within an office environment to make sure that the administrative duties required by a company are carried out smoothly.
The duties allocated to an office administrator will vary according to the position. Administrative assistants are usually expected to work full-time hours, typically between 35 to 40 hours during weekdays. Depending on the type of company and their requirements, overtime may sometimes be required for these employees. Some businesses also employ part-time administrative assistants or offer flexible hours.
Target Audience

You do not require any formal qualifications for most administrator roles.  However, if you want to, you could consider a business degree or business-related national vocational qualification. The only requirement as an administrator is to provide office support for the smooth functioning of the organization.
Knowledge Required
Now, let us know that what manners and skills the aspirant should be known in order to successfully pass and become an office administrator. So, an office administrator should be an organized and self-motivated Office Administrator who will further be accountable for implementing administrative support to our office employees. As you know, the Office Administrator's performance will involve working closely with the company's leadership unit by controlling clerical responsibilities, coordinating calendars, and regulating meetings, so the candidate should be punctual and has good communication skills. Further, there are some academic qualifications are also needed, such as:
Firstly, a High school diploma or a Bachelor's qualification in administration, business, or a related field.
Also, 2 or more years' office administration expertise.
Then, the candidate should be skilled in a diversity of computer software applications including Microsoft Office Suite (Word, Outlook, Excel, and Access).
Further, convenient handling confidential knowledge and multi-tasking and time-management abilities, with the strength to prioritize duties.
In order to be successful in this position, the candidate should be detail-oriented, trained, and have outstanding written and verbal communication skills. Now, let us jump to the duties of an Office Administrator.
Responsibilities and Duties of an Office Administrator
Let us now get to the duties of an office administrator. In order to make it simple, we listed the responsibilities below. Further, these are some duties which you should be doing once hired as an office administrator.
First of all, greeting visitors and guiding them to the relevant office/personnel.
Secondly, organizing and managing meetings, appointments, and the conference room schedule in order to limit duplicate bookings.
Accomplishing bookkeeping responsibilities such as monitoring accounts receivable, invoicing, and budget tracking.
Also, manages office staff job outcomes by counseling, coaching, and disciplining workers, and planning, monitoring, and evaluating job results.
Keeps management notified by evaluating and examining special statements, summarizing information, and recognizing trends.
Then, finishes operational demands by listing and assigning employees and catching up on work results.
Communicating out clerical duties such as responding to phone calls, answering emails, and equipping documents, including memos, resumes, official correspondence, and presentations.
Next, accomplishes financial purposes by developing an annual budget, analyzing variances, scheduling expenditures, and initiating corrective actions.
Further, maintaining general office files, including job files, vendor files, and other files related to the company's operations.
Obtaining equipment, office supplies, and furniture.
In addition, supervising the resources of office facilities, and equipment.
boosts company operations by managing office systems and supervising faculty.
Subsequently, affirms office services by coordinating office operations and methods, controlling correspondence, preparing payroll, designing filing systems, analyzing and approving supply requests, and assigning and advising clerical functions.
Gives historical reference by determining methods for protection, retention, transfer, retrieval, and disposal of records.
Moreover, drafts and tools office procedures by ascertaining standards and methods, estimating results against standards, and making significant adjustments.
Not to mention, offering other relevant duties when required.
Furthermore, Sustains office staff by recruiting, picking, orienting, and training workers, etc.
Skills required as an Office Administrator
When employers are seeking potential office administrators, they are watching for specific abilities to serve the office grow and run easily. Further, here are a few essential skills employers will demand office administrator candidates to have:
Basic computer literacy skills
Many of the office administrator's job involves operating on a computer. Also, they will usually require knowledge of either Microsoft Excel or Google Sheets to input different clerical data and information. Further, this can enter customer information, company achievement data, and office inventory, etc. In addition, Microsoft Word or Google Docs can likewise be necessary for administrators as they may require to write statements, draft important announcements and designate the minutes from meetings.
Furthermore, office administrators may additionally be required to do minor accounting functions, so the procedure of financial tracking software like QuickBooks may be demanded.
Organizational skills
Office administrators are accountable for the regulation of many documents and assignments, usually of a private nature. To this end, maintaining basic organizational abilities to file, save and source each item is important. Moreover, they also usually accountable for storing and obtaining office items like printer paper, staplers, and folders which needs reliable organizational skills.
Quick-learning skills
If the office shifts to a new scheduling policy or their supervisor want a project developed using unfamiliar software, then the office administrator may be required to learn and accommodate this new method. In addition, office administrators who are fast learners can quickly develop skills and understanding to enhance efficiency and fertility and are flexible and versatile to do so.
Strategic planning and scheduling skills
In order for an office or business to run evenly, someone must be loaded with strategic outlining and scheduling. Thus, office administrators program meetings, events, and customer engagements for their executive, and often for the whole office. Further, this demands great strategic planning abilities to make certain that schedules are aligned and do not submerge scheduled participants.
Time-management skills
Next, office administrators are committed to several tasks repeatedly. Some of their responsibilities are often designed but often, others are sudden. There may be cases where office administrators must perform some tasks under a stringent deadline. Time-management talents can better prioritize these responsibilities.
Aks, office administrators can manage their time management abilities to build a list of data they require to file, data to be recorded, and documents or reports to present. In this role, the candidate should be outfitted to manage troubleshooting and compliance in dynamic environments.
Verbal and written communication skills
Office administrators are usually the first period of contact clients and employees develop into contact with them. They respond to phones, welcome customers, place questions, and calendar appointments. So, it results that candidates inspired by these roles have galactic communication skills, assertive attitudes, and pleasant manners.
Critical thinking skills
Offices are inclined to the unexpected. So, office administrators are skilled with analytical thinking and problem-solving abilities to defeat each challenge that may happen. Further, if the printer lapses, the bathrooms aren't cleaned, or food sinks in the kitchen, the office administrator must obtain solutions to surmount these challenges. Further, they are in command of calling plumbers, sustenance, custodians, and steering employee relations problems. If a problem happens and they can't get a solution, it's their job to evaluate critically and produce a productive solution to the problem.
Attention to detail
Mistakes occur. Additionally, office administrators are often credited with grabbing any issues and improving them before clients notice them. They need to be detail-oriented in examining the evidence, grammar, and nature of employee performance.
Market Demand for Office Administrator
Office administrative pros are important for keeping day-to-day company operations running easily. They're familiar faces, kind voices, and masters of problem-solving — something many companies can't get loads of. For your information, there is a constant need in the market for an office administrator. Once the candidate surf for the job, they will probably come across many vacancies.
Average Salary
How much do office administrators make? This usually depends on their expertise and location. According to PayScale, entry-level administrations typically make almost $30,000 a year, and annual salaries rise gradually as they obtain experience. Experienced administrators in some cities reach to earn much more. Further, the average salary for an Office Administrator in India is ₹259,435.
Office Administration Career Path
Office administrators' primary responsibilities vary depending on their industry, but they can include providing administrative support to employees, organising files, coordinating travel for executives, conducting bookkeeping, and processing payroll. Let us analyse the career path for an office administrator.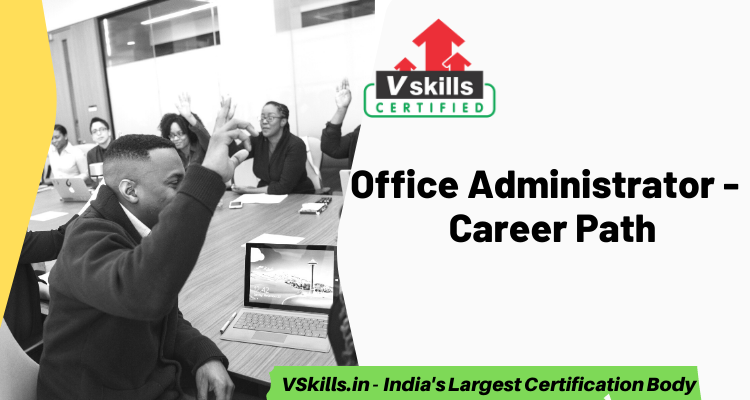 About Certified Office Administrator
For growth and development, all businesses require well-timed and effective administrative assistance to operate effectively. Further, nearly every sector needs administrative managers; Office and administrative administrators to accomplish administrative duties such as managing schedules and assignments organized, arrange meetings, functions, and activities as needed, etc, which serve to keep everything in an office operating easily and efficiently. So, Vskills render certification for those investigating a career in Administration and Office Management that assist people with office administration jobs to fulfill their tasks properly.
The Vskills Certified Office Administrator certification is formed with the purpose to enhance the candidate's abilities and assists in building trust, thus making their job more challenging and satisfying. Thus, the certification helps increase office management jobs and eventually reach learning at work.
The certification is created to concentrate on the development of employability abilities required for today's office personnel that impress organization and time management, self-promotion, pressure management, self-analysis, and professional development abilities. Furthermore, it gives an opportunity for those who want to work in an organization as organizational professionals.
Concern Areas
The course structure of the Certified Performance Appraisal Manager exam is:
Overview of Office Administration
Qualities required in an office assistant
Also, the Daily Routine of an Office assistant
Further, office supplies
Telephone Usage
Telephone Manners
And, Telephone Etiquettes
Voice Mail Etiquettes
Mailing Services
Incoming Mail
Outgoing Mail
Additionally, fundamentals activities of mail handling department
Mail Automation
Travel arrangement and Hotel Reservation
Hotel Reservations
Hotel Accommodation
Hospitality
Reception
Etiquettes as a host
Etiquettes as an Invitee
Etiquettes of using Elevators/Escalators
Etiquettes of using Stair Case
Etiquettes of using a Door
Table Manners/Etiquettes of using Table
Meetings
Types of Meetings
Type of Committees
Meeting Terminologies Glossary
Records Management
Purpose of Record Management
Features of Effective Record Management
Type of Files
Procedure of Classification
Methods of Filing
Office Automation
Benefits of Office Automation
Limitations of Office Automation
Duplicating Machine
Photocopying Machine
FAX (Facsimile)
Dictaphone
Desktop Publishing (DTP)
Time recording machine
Document Shredder
Telecom Equipments
Computer Appreciation
Introduction – What is Computer?
Classification of Computers
Commonly Used Computer Terms
Units of a computer system
Input Devices
Output Devices
Storage Devices
Types of Software
Windows Basics
The User Interface
Windows Accessories
MS-Word 2003
MS- Word Window Elements
File Management
MS-Word Interface
Editing Text in MS-Word
Moving and Selection
Document Printing
Page Setup
Document Views
Headers and Footers
Insertion Options
Formatting Document
Word Tools
Mail Merge
MS-EXCEL 2003
Worksheet Basics
MS-Excel Editing Data
MS-Excel File Management
MS-Excel Page Setup
Printing in MS-Excel
Cell Range and Referencing
MS-Excel Formula
MS-Excel Data and Cell Formatting
Tools
Sort and Filter
Data Analysis and Pivot Table
Charts
MS-Power Point 2003
Loading of PowerPoint
Starting with a presentation
Different Views
Slide Management
Formatting Options
Working of a Slide Show
MS-Word 2013
MS-Word Basics
Working With Documents
Customize the Word Environment
Editing a Document
Formatting Text
Formatting Paragraphs
Styles
Graphics
Proofing a Document
Page Formatting
Macros
Lists
References and Citations
Track Changes
MS-Excel 2013
Excel 2013 Basics
Workbook and Worksheet
Manipulating Data
Worksheet Formatting
Page Properties and Printing
Excel Formulas
Sort and Filter
Charts
Macros
MS-PowerPoint 2013
MS-PowerPoint 2013 Basics
PowerPoint Presentation
Slide Formatting
Slide Effects and Slide Show
Printing and Publishing
Office Erogonomics
Distance between desk and chair
Positioning Computer keyboard and Mouse
Positioning of computer display
Organizing the work area
Constant intervals
Data Security
Protecting your company's data
A Security Checklist
Miscellaneous
Internet
E-Mail Program
E-Banking
Business Letter
Book-keeping and Accounting
Stress Management
Time Management
Additional Learning Resources
Following are some learning resources which the aspirant should practice in order to successfully pass the exam.
Online LMS
Vskills Certified Office Administrator certification allows candidates to provide themselves with the online learning material for an existence that is updated on regular basis. The e-learning bundled with hard copy material helps to improve and update the learning curve for superior and better opportunities.
Vskills Online Tutorials
Certified Office Administrator Online Tutorial enhances your knowledge and provides a depth understanding of the exam concepts. Additionally, they also cover exam details and policies. Nonetheless, these online tutorials provide and in-depth information related to the examination.
Try Practice Test
Practice tests are the one who ensures the candidate about their preparation. The practice test will help the candidates to acknowledge their weak areas so that they can work on them. We at Vskills also offer practice tests which are very helpful for the ones who are preparing. 

Prepare for Job Interview
Prepare for the role of office administrator with our latest online interview questions, which you may likely to face during your interview. So hurry up and prepare for the job interview and crack the interview with ease.