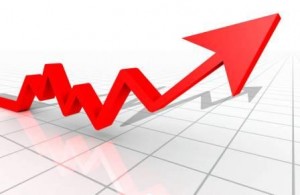 As we all know that the economy of India has undergone several changes during the past years and that too, depressing. GDP, which is an indicator of the economic strength of a country, has been recorded as low, maintaining an average growth rate of 5.82% since 1951.
In fact, there has been a slowdown in the growth rate of India for the last 2 years affecting particularly by the industrial sector. But whatever we say to that, whether a miracle or anything else, we cannot ignore the fact that the first quarter of the year 2010 did mark a growth rate of 11.40% which is an indication that India has the potential to be marked by even a higher growth rate.
So what's better than to action, the year 2014 showed a rebound in the growth rate followed by a slowdown in the first quarter of 2014.
In the first quarter of the financial year 2014, GDP growth rate unexpectedly slowed down to 4.6% from a 4.7% expansion reported in the previous period which was mainly due to the contraction of output in the manufacturing sector (which accounts for nearly 14% of the economy) by 1.4% followed by the growth of output in the service sector (which accounts for nearly 60% of the economy) by 6.4%.
But whatever be the outcome in the first quarter, an expansion in the growth rate took place in the second quarter reporting a GDP growth rate of 5.7% due to the massive growth in the manufacturing sector by 1.4% and service sector by 6.8%. This GDP turned out to be much higher as compared to the growth rate (4.6%) in the first quarter of the same year and the growth rate (4%) over the same quarter in the last year.
In fact, this GDP is reported as the highest GDP since the fourth quarter of the year 2011. The government played a major role in maintaining such a high growth rate. It is perceived that this boost in GDP was a result of the efforts made by Modi (our honorable prime minister).
For India, real GDP growth is projected to strengthen to 5.4 percent in 2014 and 6.4 percent in 2015, assuming that Government efforts to revive investment growth succeeds and export growth strengthens after the recent rupee depreciation.
Click here for government certification in Accounting, Banking & Finance