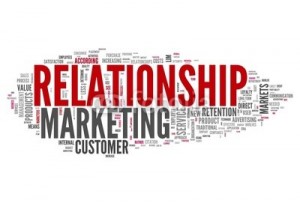 Relationship Marketing plays an important role in increasing the sales of a firm. It lays emphasis on improving the relationship of companies with their customers so that customers help them in increasing the sales of the firm.
Before I explain you further about Relationship Marketing let I define you the term:- " Relationship Marketing is a type of Marketing where the companies use various marketing strategies and marketing policies that directs in the satisfaction of the needs and wants of the consumers that not only increases their bond with the customers but also enables them to increase their market base as well as sales in the future".
Relationship Marketing has played a big impact in the Market Economy and hence due to that lot of Industrial as well as Corporate Sectors are taking this type of Marketing very seriously. For Example ICICI BANK in 2012 launched a campaign in order to increase their connect with the Indian Public with the tagline HUM HAIN NAA , where they showed that there are not a bank but a family member who take care of your needs and wants. The ad was a huge success as not only increased their worth but also enabled to reach to new heights.
Hence Relationship Marketing has a big future not only in Indian but also in Global Market and those companies and industries are able to reap the benefits and opportunities attached to it have a great chance to secure the place in the market.