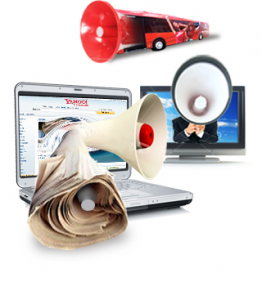 Today everywhere one looks from newspapers, magazines, televisions, radio stations to almost every internet site and applications on our phones there are these ads (advertisement is too long a word to use). "Ads Ads everywhere no respite anywhere". It has become irritating and frustrating but one cannot escape the vicious circle of these ads.
It is important to advertise your products and services but a line should be drawn to control them so that they don't become a pain for the common people and instead of drawing them towards your brand you end up in alienating them as being known as a brand that irritates people with too much advertising.
There is an interesting blog by the founders of the brand which has become a household name all over the world today, Whatsapp. The blog goes by the name "Why we don't sell ads." They have begun this blog by mentioning this remarkable quote from the famous psychological thriller Brad Pitt starrer Fight Club
"Advertising has us chasing cars and clothes, working jobs we hate so we can buy shit we don't need."
For those who haven't still read it I summarize it for you. Very few people may be aware that the founders of Whatsapp were founders of Yahoo search engine too. They have admitted that even though Yahoo being launched earlier the Google search engine has managed to beat them by using more efficient way of selling ads in a more profitable manner. It is also mentionable that they have termed ads as unaesthetic and discomforting for people. Their main idea behind Whatsapp was to create a product which was reliable, highly useful and free for people. Whenever one goes to sleep one wants to remember their last chat with someone special and once people get up they want to look at new messages from their friends and family. Nobody wants to sleep at night seeing an ad or get up in the morning to see an ad. Here I want to mention something as a consumer I feel which has been mentioned in the blog that ads are unpleasant and if not presented in an aesthetic manner can be detrimental to your market reputation and though your product being good it would be looked down upon due to the damaged reputation of the brand by your excessive advertising.
But nowadays with such talented and creative people in our advertising industry we are lucky to see some beautiful and soothing ads which change your outlook towards a brand or a particular product. Over the years some advertisements that I have found unique and are mentionable here which have managed to leave an indelible imprint on my mind are the iconic washing powder Nirma ads with Rekha, Hema, Jaya and Sushma or the Bajaj Scooter ad beautifully depicting the simple life of a common man. The Hutch ads of a small boy with a pug following him and helping him all day were very unique and cute. When Hutch became Vodafone they came with the Zoozoos which would speak in some unknown language and did funny activities. These Zoozoo ads being launched during the IPL every year became instant hits and talking points for the ad world. Surf Excel's "daag acche hain" is unforgettable. Even special mention should be given to tourism ads of Gujarat with Amitabh Bachchan giving beautiful insights to Gujarat's rich heritage, Kerala ad calling it God's own country, recent Rajasthan ads with Irrfan Khan, Jammu and Kashmir ads with their folk song being played in the background and beautiful pictures of the Earth's own Heaven, but my favourite ad is the Madhya Pradesh tourism ads with eyes and hands depicting the various marvels of the state with never before seen art done only with eyes and hands. The e-commerce giant Flipkart also provided us with children playing as adults ads which were hilarious and totally out of the box ad concepts.
In our country today before deciding which candidates to field all political parties first appoint their advertising teams and many people from IITs, IIMs, MIT, Harvard, London School of Economics are being hired by these parties. Many startups in our country today with e-commerce and business startups catching up at a very fast rate are giving great deal of attention to advertising and marketing of their product or brand.
So in conclusion, advertisements are should be created aesthetically and prove to be crowd pullers and not alienate people and cause distress to the innocent consumers!
– Samrat Banerjee