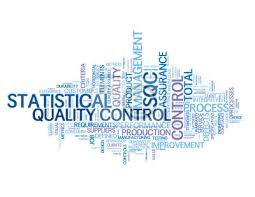 The quality of the output of a process is defined in terms of some characteristics of the output, for example, the impurity in a chemical, the number of flaws in a metal sheet, the resistance of an electric component, the octane number of a gasoline product, etc.
The name itself gives you an idea about what I am going to discuss today. Today's topic is based on the quality of product.
We see "Made in China" in 90% of the products we use. Are all of them of the same material, condition & durability strength? If according to you the answer is YES!, you are completely mistaken! Every product is different! How? The answer lies within these 3 words: Statistical Quality Control.
Think about the global market. We have brands like "Philips", "Sony", "Samsung", "Nokia", "Reebok", "Nike", "Peter England", "Arrow", etc etc. These firms must be having at least 1 production plant in China. Let's consider the products of firms manufacturing electronics, i.e., "Philips", "Samsung" and "Nokia". Every company has their own way to produce goods. Even if they produce same product, I can assure you that every one of them would produce it differently. How? Every machine operator has its own way to use the machine! Every Quality Manager has different aspects of a complete product. "Samsung" might think that mobile phones are better off in "Android" version that too in touch phones, so "Samsung" would manage its production in the same way. On the other hand, "Nokia" might think that it better not go with the trend, so they might plan to produce their own OS built phones. Every Quality Manager would test them according to what company has decided the product. "Samsung" might have told him to allow 2-3% error but "Nokia" might allow 0-2% error.
These basic things effect the originality of product. Hence, even the common product "mobile phone" has different manufacturing techniques.
Let's talk about food.
How many restaurants have you visited till date? At least more than 2, isn't it? Did both the restaurants provide you with the same quality of food? Absolutely, it's a NO! In here, although complete "S.Q.C." isn't involved but a part of it is implied in it. Every chef will add different amount of salt in the same dish. (I am sure you've got the point.)
So, next time you decide to buy a product which is launched by 2 or more different companies, make sure you apply "Statistical Quality Control" to get the best.