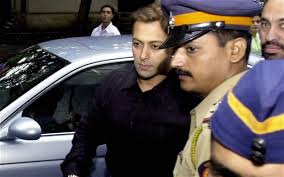 28th September, Actor Salman khan's Toyota land cruiser plunged a roadside bakery in Bandra west, Mumbai close to Galaxy Apartments. Four people sleeping outside the bakery were injured and one dies later.
21st October, Salman khan was charged under section 304 II ( Culpable homicide not amounting to murder) of Indian Penal code.
March 2003, Salman challenges the application of section 304 II of the Indian Penal code.
May 2003, Court rejects Salman's application and asks the magistrate to charge under 304 II.
October 2006, The Bandra magistrate's court files a charge against the actor under 304 I ( rash and negligent driving) and other sections under Indian Penal Code.
22nd May 2007, Chemical analysis were done and it was found that the former actor Salman Khan was found drunk while the time of accident.
23rd July 2013, The Mumbai sessions court frames charges against Salman khan including "Culpable homicide not amounting to murder".
April 2014, The very first witness Samba Gowda deposes in the re-trail, continues before the sessions court with regular hearings.
25th March 2015, Special public prosecutor Pradeep closed his case against Salman Khan examining 27 witnesses.
20th April 2015, Defense council argues against prosecution charges and closes its arguments, Judge D.W Deshpande sets date for verdict.
6th May 2015, Wednesday
The Bollywood star Salman Khan was found guilty in a hit and run accident 13 years ago that left a poor man dead and was sentenced a five-year jail.
Salman Khan, who broke into tears after listening the judgement was surrounded with his family and many other top Bollywood celebs who showed support, bail was asked immediately. He was released from the custody on his bail request till 8th May for the further proceeding about the bail on the given date.
Salman's lawyer cleared that his driver was behind the wheel and the accident was due to burst of tyre and later Salman's driver Ashok after 13 years suddenly claimed to be driving the car ,court rejected all the statements.
In sign of Khan's stardom and popularity many fan's were waiting outside the Bombay High court gate number 3 and Salman's house too. But judge D.W Deshpande's word at the start of the proceeding were blunt.
" You were driving the car and you consumed alcohol" Deshpande said to Salman.
Judge asked Salman "What do you have to say? Maximum Sentence of 10 years?" Salman says "You are the judge ; Whatever you say is correct ".
Salman khan is held guilty of all eight charges in 2002 hit and run case but he gets a 2 day interim bail from High court.
Click here for government certification in Media