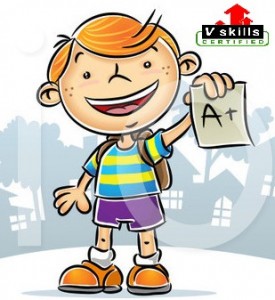 Congratulations !! to all candidates who cleared the Vskills Assessment exam held on 02-May and 03-May 2015.
The result for Vskills Certification examination held across India on 02-May and 03-May 2015 has been declared and certified candidate have been updated in Vskills Alumni list (http://www.vskills.in/certification/Vskills-Alumni).
Details on steps to tagging and highlighting of CVs of certified candidate will be sent by e-mail to all certified candidates.
Details of certified candidates are also listed below –
| Name | Certification | Exam Date | City |
| --- | --- | --- | --- |
| Ambuj Jain | VS-1002 Certified Human Resources Manager | 02-May-2015 | Indore |
| Gopa Biswas | VS-1004 Certified Compensation and Benefits Manager | 02-May-2015 | Faridabad |
| Devendrakumar Mohanlal Trivedi | VS-1006 Certified Real Estate Consultant | 02-May-2015 | Mumbai |
| Prasad V S N N | VS-1035 Certified Router Support Professional | 02-May-2015 | Bangalore |
| Abimanyu Thiyagarajan | VS-1079 Certified Project Management Professional | 02-May-2015 | Coimbatore |
| Manohar Prabhu R | VS-1079 Certified Project Management Professional | 02-May-2015 | Coimbatore |
| Guruprasad Raju | VS-1083 Certified Selenium Professional | 02-May-2015 | Bangalore |
| Martin Infant Raj J | VS-1083 Certified Selenium Professional | 02-May-2015 | Chennai |
| Puneeth Kumar V L | VS-1083 Certified Selenium Professional | 02-May-2015 | Chennai |
| Nagaraja Naick Bukke | VS-1083 Certified Selenium Professional | 02-May-2015 | Korla gunta |
| Syed Farooq | VS-1087 Certified TQM Professional | 02-May-2015 | Bangalore |
| Farooq Ali | VS-1092 Certified AML-KYC Compliance Officer | 02-May-2015 | Hyderabad |
| Mohammad Faizan Ullah | VS-1092 Certified AML-KYC Compliance Officer | 02-May-2015 | Hyderabad |
| N R Satish | VS-1098 Certified Marketing Manager | 02-May-2015 | Bangalore |
| Sachin Patil | VS-1103 Certified Six Sigma Green Belt Professional | 02-May-2015 | Thane |
| Sachin Patil | VS-1104 Certified Six Sigma Black Belt Professional | 02-May-2015 | Thane |
| Mohammed Aiman Musani | VS-1107 Certified World Class Manufacturing (WCM) Practices Manager | 02-May-2015 | Nagpur |
| Padmanava Senapati | VS-1130 Certified Corporate Finance Analyst | 02-May-2015 | Bhubaneswar |
| Anthony Prathap Sreerama | VS-1157 Certified Labour Law Analyst | 02-May-2015 | Bangalore |
| Abhiruchi Udayan | VS-1157 Certified Labour Law Analyst | 02-May-2015 | Kanpur |
| K Mohan Kumar | VS-1163 Certified OpenSTA Testing Professional | 02-May-2015 | Chennai |
| Tanuj Arora | VS-1170 Certified Digital Marketing Master | 02-May-2015 | Noida |
| Perciny Braganca | VS-1002 Certified Human Resources Manager | 03-May-2015 | Goa |
| Zahir Ismail Shaikh | VS-1002 Certified Human Resources Manager | 03-May-2015 | Pune |
| Bivas Nag | VS-1015 Certified Business Accountant | 03-May-2015 | Kolkata |
| Nitya Seth | VS-1024 Certified Logistics and Supply Chain Management Professional | 03-May-2015 | Pune |
| Shrivatsa Hosabettu | VS-1055 Certified Python Developer | 03-May-2015 | Bangalore |
| Abhishek Sood | VS-1079 Certified Project Management Professional | 03-May-2015 | Delhi |
| Nediba Reuben | VS-1079 Certified Project Management Professional | 03-May-2015 | Mumbai |
| Varun Karagudari | VS-1083 Certified Selenium Professional | 03-May-2015 | Bangalore |
| Vishal Gada | VS-1083 Certified Selenium Professional | 03-May-2015 | Bangalore |
| Dnyaneshwar Shingade | VS-1083 Certified Selenium Professional | 03-May-2015 | Mumbai |
| Surajit Ganguly | VS-1087 Certified TQM Professional | 03-May-2015 | Kolkata |
| Priyam Malik | VS-1096 Certified Social Media Marketing Professional | 03-May-2015 | Gurgaon |
| Priyanka Bhardwaj Randhawa | VS-1096 Certified Social Media Marketing Professional | 03-May-2015 | Gurgaon |
| Rajat Goswami | VS-1103 Certified Six Sigma Green Belt Professional | 03-May-2015 | Kolkata |
| Abhijeet Sarkar | VS-1104 Certified Six Sigma Black Belt Professional | 03-May-2015 | Ahmedabad |
| Nikhil Goel | VS-1170 Certified Digital Marketing Master | 03-May-2015 | Kolkata |
-Team Vskills