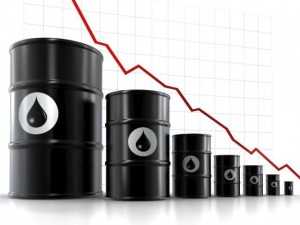 Oil prices tumbled to a six-year low Monday. This is a current topic of discussion in people's Drawing Room Talk. According to my study, there are 4 reasons for such a historic downfall in Oil Prices.
U.S. Dollar Strengthens :-
The strength of the U.S. dollar is the main driver for oil's decline on this Monday after the U.S. dollar index gained more than 3 percent last week, as the greenback soared to a 12-year high against the euro. We know that Global commodity prices are usually quoted in dollars and hence are likely to fall when the U.S. dollar is strong. Consistent with this, the surge in the U.S. currency in the second half of 2014 coincided with a sharp fall in the leading commodity indexes.
OPEC: U.S. Output Could Take Hit
Another factor according to me weighing on oil prices this Monday is OPEC. U.S. oil output could be negatively affected by the end of the year due to low oil prices. Lower global oil prices could also affect marginal barrel output from unconventional sources, such as shale.
A Global Oil Glut
Crude futures declined last week on concerns global oversupply is rapidly filling oil stockpiles. Total oil production in 2015 is expected to rise to 9.35 million barrels per day, slightly higher than the 9.3 million barrels per day forecast last month. Hence, by applying simple demand-supply relation, we can say that excess supply will lead to lowering of prices in the market to increase the required amount of demand.
Iran Nuclear Deal Could Add to Oversupply
U.S. crude was also weighed down as negotiations toward a possible U.S. nuclear deal with Tehran advanced, which could allow more Iranian oil exports. The deal would remove Western sanctions against Tehran and investors fear it could affect a global oil market already facing oversupply.