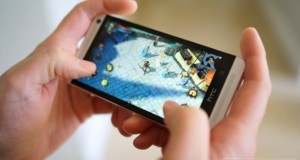 All the game lovers get ready because here are the games that will make you go crazy because of their high Tec graphics and latest technology that has been used to design them. Some of them are even free! So, let us start.
This game is based on Årsgång, which is a Swedish tradition. This game is very challenging and is based on the story of love between Daniel Svensson and Stina. This seems interesting! Isn't it? Now you have to solve many puzzles to get hints and images to complete this game. No, it is not that easy puzzles are uncanny and you can easily lose your way while walking.
It is just a puzzle game. You have the floating bubbles with numbers on them. You have to tap on them to grow them till they reach 100. But remember the catch here; the bubbles are red when you touch them, if they collide then your game is over! So, it is a game of concentration, you have to grow one bubble without hampering growth of another.
This is a game for those who like to build on their own and show their creative skills. It is a game in which you make your own structures using blocks and protect them from frightening creatures. You have to use your imaginative powers to make some interesting things.
This is simply a game of role playing and strategy making. You have to consistently make your way through nocturnal creature to glory. There is no innovation in the game mechanics but actions are rhythmic. You have to get new weapons and armour by killing your enemies.
After talking so much about the strategy and action games it is time for a racing game. Asphalt is the best racing game available. For those who love fast cars, different locations and excellent graphics this is the best game. You earn points after winning each level through which you unlock new cars and levels. It has career mode as well as multiplayer modes both of which are fun to play. All this is absolutely free!
Those who love Farmville will love this too, but this is different. It involves lot of planning since you have to manage your resources to feed your family and at same time earn profit. It is quite easy to understand and you can play in four different modes. This game was initially launched as a board game, the mobile variant being launched recently by Playdek.
STREETFOOD TYCOON:WORLD TOUR
It is a free game! This game is very easy to play and addicting too. In this you have to sell fast food, refreshments to your customers in the streets of different locations which you yourself choose. You have to serve fast to earn more points through which you earn upgrades and can unlock celebrity customers too. Sounds interesting!
Launched by Vlambeer this is an interesting fishing game consisting of different fishing locations all over the world. One gets a very nice fishing gear to complete his objective of ruining the fish population in the sea. This cruel process looks adorable in this game. Graphics are great and level grades are also not tough.
Click here for government certification in Mobile Application Development