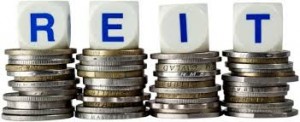 Real estate investment trusts or REITs are a specialised form of investment trust. It is made up of funds put together to invest, purchase and manage properties. Its fees and expenses are deducted from cash yields.
The Real estate Investment Trusts have some good advantages. One of them is that you can invest in real estate without buying property directly. You can own multi-property portfolios. You can diversify by selection. It is not much difficult to buy and sell the real estate investment trusts. REITs offer transparency and corporate governance. They can provide you tax-exempt income. The real estate investment trusts usually have regular cash flows. Another important advantage is that you can have capital gains from sale of real estate assets. There are some risks as well, associated with REITs. There are many factors affecting the returns. The dividends may not be paid. There's also a risk of leverage. You also may have to sell off some properties if you are unable to secure refinancing.
What should be your considerations when selecting real estate investment trusts? Do read and understand the REIT. Further, do look for information on management and trustee. The properties put in the REIT, their geographical and sector exposures, must also be taken into account. Also, you must take a note of the expected fees.
Click here for government certification in Accounting, Banking & Finance