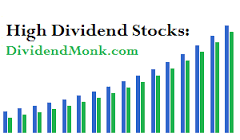 Are all high dividend stocks good investments? Most investors would usually assume that a stock with a high dividend yield is equivalent to a good stock in the long run. In truth, this question boils down to the dividend yield formula, i.e., dividend per share divided by the share price. It calculates the percentage return to shareholders for the money paid to acquire the share at a given time. For instance, company A is trading at  
100 when it announces its dividend per share of  
5. Therefore, the dividend yield is 5%. The percentage will fluctuate day to day according to its share price. In the stock exchange it is often easy to find stocks that have high dividend yields. With technology, the ratio can be automatically calculated on financial platforms like Bloomberg. This allows investors to easily find and invest in a list of high dividend yield stocks within a few mouse clicks. This is a common and sometimes, fatal mistake.
The first question that you need to ask yourself is: "Is the dividend yield return consistent?" If it ism then it means that a company consistently generates profit and positive cash flow. The stocks that fulfill this criteria are usually blue chip companies because they have stable earnings and cash flow. REITs or Real Estate Investment Trusts are also investments that offer investors a relatively high dividend yield.
If the dividend yield is not consistent, then it could mean that a company announced a sudden surge in dividend payout, usually more than its net profit, resulting in the yield going up drastically. In the long term, it's unlikely to be maintained at this rate. So, take a look at the last 3 to 5 years to see if a company's dividend payout ratio is consistent. Also, a healthy company usually keeps its dividend payout ratio below fifty percent. That means that for every 1 million rupees earned, the company will pay out less than half a million as dividends and use the rest to cover costs and grow the business.
As an investor, checking out the trends would definitely be in your favor!
Click here for government certification in Accounting, Banking & Finance