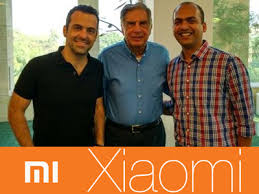 On April 23rd ,2015  first Xiaomi phone was launched by Chinese smartphone developers in the New Delhi. Three days after the launch the company won the good will of India's finest and most respected big shot Mr. Ratan Tata in the form of investment.
The news was first brought to limelight by Vice – President of International Xiaomi, Mr. Hugo Barra through his social handlers stating," We are really excited to announce our newest Xiaomi investor- Mr. Ratan Tata, Chairman emeritus of Tata Sons", on 26th of April.
The founder and CEO of Xiaomi, Lei Jun said," Mr. Ratan Tata is one of the most well respected business leaders in the world. An investment by him is an affirmation of the strategy we have undertaken in India so far. We are looking forward to bringing more products in India."
However no details as to the extent of investment has been conferred so far but the company since its inception in India last July has went on to begin fifth largest smartphone vendor and is estimated at $45 billion in its last round of funding.
Indeed this indicates that Xiaomi's venture in India would see success soon.
Click here for government certification in Accounting, Banking & Finance