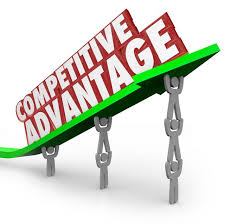 Increasingly, it is being recognised that competitive advantage can be obtained with high quality workforce that enables the organisation to compete on the basis of market responsiveness, product and service quality, differentiated products, and technological innovation. Thus in the present era of liberalisation and globalisation, a business enterprise must attain human resource based competitive edge over its competitors to ensure its survival and growth. A dynamic manager tries to achieve competitive advantage for the organisation which maybe in the form of low cost leadership in the industry or being unique in the industry along dimensions that are widely valued by the customers in general and society in large.
Of late, HR Department has undergone a drastic change and now people are talking about HR being a strategic partner providing sustainable competitive advantage to the organizations. The VRIO Framework (Barney, 1995) is one of the most significant approaches that suggests ways to achieve sustainable competitive advantage through HR. The term VRIO including Value, Rareness, Imitability and Organisation. 
VALUE: HR executives must address a primary question "How can HR aid in either decreasing costs or increasing revenues?"  HR can help a firm achieve sustainable competitive advantage by creating value. HR practices should be related to employee attitudes which would be consequently related to customer satisfaction. Example: FedEx, which are the market leaders in the courier business, believe people are the primary link in the value chain, and thus, value is created by focusing on employees first.
RARENESS: Value alone is not sufficient for attaining competitive edge over the other firms in the market. HR executives must examine the 'rare fact' where the product stands different from others. Example: Nordstrom is one of the most reputed brands in the retail sector. The recruiting process, compensation practices and culture at Nordstrom's have helped the organization to maintain the highest sales per square foot of any retailer in the nation.
IMITABILITY:The HR executives must attempt to develop and nurture characteristics of the firm's human resources that cannot easily be imitated by competitors. By restricting and developing unique culture, executives can help firms in gaining competitive advantage. Example: Even after purchasing the safety training programs,DuPont's competitors are simply unable to match DuPont's safety record. DuPont's superior safety performance stems at least partly from its unique history that competitors find impossible to imitate. Thus, DuPont has core competence in chemical technology.
ORGANIZATION: Organization requires developing the systems and practices that allow human resources characteristics to bear the fruit of their potential advantages, generate revenues sufficient to meet the firm's goal as well as achieve individual satisfaction. Example: Both General Motors and Ford recruit assembly line workers from the same basic labor market. But, Ford has been more successful at developing a cooperative, team-based culture than General Motors. Clearly the HR function, through either directly controlling or strongly influencing the characteristics of human resources in organizations plays an important role in developing and maintaining a firm's competitive advantage.
No doubt, HR function can help in achieving sustainable development and growth to the firm in the long run.