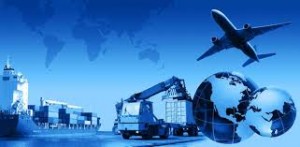 Logistics is basically the management of all operations involved in the flow of materials (physical or abstract) from the point of origin to the point of consumption as per the requirements of the customers or companies.
The operations include deploying raw materials, warehousing, inventory management, order processing, conversion of raw materials into finished product, transportation, storage and delivery of finished products to final users.
The main purpose of logistics is to make available the resources(including manpower) of the desired quality in the right quantity at the right place at the right time in the most cost-effective and efficient manner such that experience of the end-user is maximized.
The logistics functions are segemented into 2 main streams, namely inbound logistics and outbound logistics. The former contains all processes from the procurement of raw materials, information, parts to functions concerning various stakeholders such as suppliers, warehousing, retail stores till the material is held at distribution centres. The latter comprises all functions from distribution centers to meeting needs of the final users, i.e., order processing, tracking and delivery of goods/ services with the desired quality and the desired quanity (incase of goods) and judging oneself on the parameters of customer satisfaction through customer feedback.
We can understand this from a simple example of online purachase of a soccer jersey through Flipkart. The company ties up with soccer jersey sellers in the market and earns through each online transaction by getting a commission on each sale made. Flipkart provides a platform for the seller and buyer to meet at a price which is usually lesser than that available in the physical store. After receiving the order, it conveys the requirements to the seller, which inturn sells the product for the aforementioned amount. This is done after the functions of order is processed and a link is sent to the customer on his or her smartphone so that  he or she can track the order after processing. The delivery time is mentioned beforehand and the order is delivered to the customer within the stipulated time. Here, focus is on quality service and minimization of delivery time to customers for which logistics plays an important role.
Click here for government certification in Logistics & Supply Chain Management