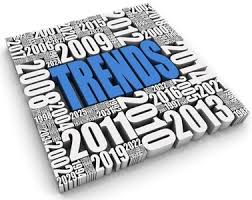 As the year 2014 just went underway, the industry came to a surprise and saw many upcoming changing trends in HR the last one year. Companies witnessed the year as the big year of innovations focussed primarily on improved productivity as well as accomplishing more with less. Not to mention, technology definitely was the driving force to achieving competitive advantage, finding skilled people was the difference in the year.
Among many trends in the year, a few to mention are:
1. MORE COACHING AND DEVELOPMENT: "The 100 best companies offer nearly double the hours of on-the-job training to employees as companies not on the list"- China Gorman, CEO of Great Place to Work. Companies who wanted to be seen as "company of employee" have started investing time and money in career development programs.
2. BETTER TECHNOLOGY FOR RECRUITMENT AND SCREENING: Bersin research tells that only 14% of the companies have taken time to use talent analytics software. Advanced software such as recruitment talent analytics and big data tools have led to top rate employees as well as unique candidates who can fill specialised roles.
3. FOCUS ON FINANCIAL WELLNESS: According to Aon Hewitt, more companies have started expanding their focus on the financial well-being of employees by them with the tools and services to help them make smarter financial decisions.
4. PREPARING FOR HEALTH REFORM: In a recent SHRM survey, 79% of HR professionals believe that the cost of health care will have a major impact on the US workplace in the next 5 years.
5. MOVING PAST THE EMPLOYEE ENGAGEMENT SURVEY: Organisations will now have to monitor engagement through continuous stream of feedback through exit and stay interviews, open blogs and communication activities.
The year has not been little than surprise and full of changes in the department, the organisation and the industry at large. These changes are definitely the beginning of evolution in the HR industry and a satisfied platform for the employees.