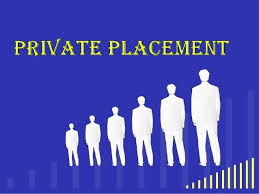 Private Placement of shares is the sale of securities to a relatively small number of investors as a way of raising capital. The investors in private placement of shares are usually banks, mutual funds, insurance companies and big businessman or investors. Private placement is the opposite of a public issue where the securities are made available everyone.As a private placement is offered to a select few it doesn't have to be registered with the Securities and Exchange Board of India. The public are usually made aware of the placement only after it has occurred.
A public offering of shares can reach an enormous number of potential investors, but you require extensive public disclosure of company information. Offering your shares in a private placement may reduce the number of investors but your potential investors will be professionals. The company will target few savvy investors who know which question to ask and what sort of information to demand. These savvy investors don't need the same level of protection as compared to other investor and hence prospectus might not be issued. The company will also not require underwriters as well.
Startups initially use private placement of share as a source of funding They can issue these to family and friends if they have adequate capital that they are seeking. This is preferred as they are new and people aren't aware about the company. They can always work hard and find institutions or people ready to invest.
Private Placements of shares are very useful if you don't want to register in the stock market and deal with a large number of investors. It can be done because of the costs involved in the reports that are to be presented each quarter. The biggest disadvantage of private placement of shares that cannot be overlooked is that investors especially buyers of large blocks of securities may not be passive. Instead, they may wish to get involved in the company's operations This is especially true when a company is not as instantly successful as expected. The choice of going public or doing it privately all depends upon preference and need of the existing members.
Click here for government certification in Accounting, Banking & Finance