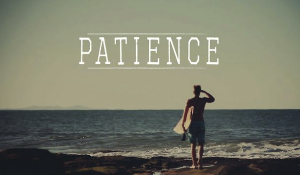 Sometimes we take some decisions in life instantly without giving any thought about the outcome which might incur. Sometimes it works in our favor and sometimes it doesn't. Sometimes it opens a door full of opportunities and sometimes it leads us to the pit of obscurity. What if we were patient enough to give it a thought of what might have been if we assessed the situation better. If we would had taken more time to decide on something. Would had the situation been different????
Yes it would had… Patience is the Key to any individuals success. One should assess and evaluate the given situation more carefully and effectively and efficiently. He/She should check the positives as well as the negatives of every situation before making any king of judgements…
For e.g If you are hardworking and you believe that you have given your  100% in each and every activity in which you were engaged in then you should have patience to wait for the outcome as hard work never fails and you should not drastically take ant such decisions which might have a negative affect on you for the rest of your life…
Hence it is a suggestion for all of you out there to have some patience in life as it will not only provide you the opportunity but also will give you the necessary weapons to take advantage of those opportunity out there….