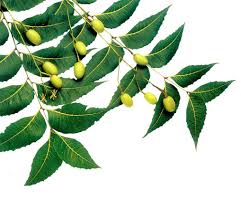 Neem sceintifically known as Azadirachta indica has been used for more than 4,500 years
and have been recognized as a divine herb due to its extra-ordinary medicinal
properties. Each part of the neem tree from root to the branches has some magical
healing property.
It has been a part of Ayurveda – the science of life since centuries due to
miraculous effects. Neem is anti- bacterial, anti- parasitic, anti-inflammatory,
anti-viral and anti- fungal, all in all it is a bundle of cure.
It is considerd to be a magic bullet for skin problems. It not even cures the skin
diseases rather multiplies your beauty by turning your skin clear and adding glow to
your beauty.If your skin turns dry then neem is a perfect fit for you because not many
people know about its moisturizing properties. It not only helps to get rid of dryness of
skin but also controls excess oils.
If you are worried about acne and pimples which appear on your face every now and then
then neem is there to help you out because it naturally treat pimples. It contains
immune-stimulating compounds and regenerative properties that help the skin to fight
pathogens below the skin surface keeping the skin soft and supple and thus delays
signs of skin ageing.
It can even cure diseases like Eczema, Psoriasis, Chicken pox and Small pox and offer
instantaneous and long-term relief from them. It also helps in  getting rid of
itchiness and irritation.
Apart from skin problems it is also known for its benefits for hair. It treats
dandruff & hair fall and reduces scalp itchiness.
An oil massage to the scalp using neem oil can increase blood circulation in the scalp
and help in enhancing rate of hair growth. It can also be used as a natural conditioner
for dry hair and even treats baldness.
It cures Asthama, heals Ulcers, controls diabetes, treats malaria, is beneficial in
Leprosy and is a blood purifier.
It enhances blood circulation & regulates hormonal levels. It even treats all kinds of
nail problems.
All in all it is a package deal of cure and treatments.
Click here for government certification in Health, Nutrition and Well-being