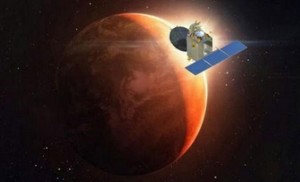 As the PM said, the mission was bound to succeed as far as Mars Orbiter Mission (MOM) was there. The cheapest interplanetary mission, with a cost of only INR 450 Cr in comparison to NASA's Maven Orbiter that costed almost 10 times, was also the one to get successful on its first attempt. The orbiter, with a payload of only 1340 kg, was the result of constant sweat and determination of 15,000 personnel and has now reached another milestone, completing its 100th orbit around Mars, a feat achieved on June 22, 2015.
Let us know briefly about the timeline of MOM :
1. 5th Nov, 2013 : Polar Satellite Launch Vehicle (PSLV) – C25 is launched from Satish Dhawan Space Centre (Sriharikota, Andhra Pradesh) carrying with it MOM orbiter's payload.
2.5th Nov, 2013 – 30th Nov, 2013 : MOM is subjected to 6 Earth Bound Manoeuvres , an important task to bring the velocity of MOM close to escape velocity of earth i.e. 11.2 km/s, by firing its propellant packs
3. 1st Dec, 2013 : MOM reaches Trans Mars Injection point whereby it reaches its escape velocity and leaves Earth's orbit.
4. 1st Dec, 2013 – 24th Sept, 2014 : MOM travels for around 300 days to reach near the orbit of Mars while covering close to 680 million kms. In between, about 3 Trajectory Correction Manoeuvres are performed to keep it on designated path.
5. 24th Sept, 2014 : MOM is subjected to Mars Orbit Insertion (MOI) whereby the speed is reduced in order to fit into Mars' orbit. Finally, the successful completion of the mission is declared by Chairman A.S. Kiran Kumar and an inspiring speech by PM Narendra Modi.
The cheapest interplanetary mission, one where even China failed to achieve success, was also the greenest (used least amount of energy, and that too eco-friendly). Now, as the Technical Objective has been achieved, the effort is focused on to the Scientific Objective i.e. to collect relevant data from Mars. For this, it has 5 essential components:
1. Lyman Alpha Photometer : to study water on Mars.
2. Mars Color Camera : to capture images, study weather and moons of Mars.
3. Methane Sensor : to do its namesake.
4. Mars Exospheric Neutral Composition Analyser (MENCA) : to study existing elements and find possibility of new elements.
5. Thermal Infrared Imaging Spectrometer (TIS) : to study surface composition and mineralogy.
A small leap of faith in the potential of our countrymen thus becomes a giant manouevre for country's progress.