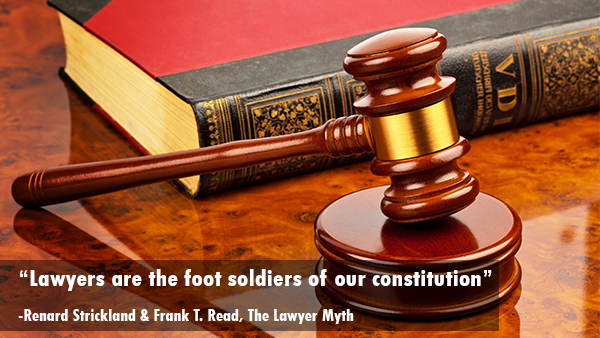 Law is a very popular career choice in any country and certainly one of the most respected profession with a wide range of career possibilities. Legal education in India has undergone a plethora of change in the last twenty years. Since the establishment of first national law school in Bangalore in 1989, at least twenty more National Law Schools have sprung up all over the country. Almost all the law graduates from National Law Universities have been placed in prestigious law firms and corporate houses.
Law is an attractive profession with lots of money and wide scope but it requires a good amount of hard work with no shortcuts. To become a successful lawyer one must possess good oratory skills and a strong command of language. Lawyers are required to communicate effectively on the negotiation table so as to convince the judge on his/her side. A career in law is not only limited to courts but various corporate houses, law firms, administrative and judicial firms are open for a very lucrative legal career .
Following are the career prospects for a law graduate & a legal practitioner:
Litigation: A litigating lawyer hears out the case, drafts it for the client and either by himself/herself or assisted with a team, fights the case in a court of law or tribunal. Also, there has been a trend towards specializing in areas like Intellectual property Lawyers, Tax Lawyers, Arbitrary Lawyers and Constitutional Lawyers.
To practice law in the court one should enroll with State Central Bar Council as per provisions contained in the Advocates Act, 1961. S/he is also required to qualify the Bar Council of India examination. An application for admission as an advocate is made in a prescribed form to the State Bar Council within the jurisdiction the applicant proposes to practice.
Indian Legal Service: There is also an option of legal service in Department of Legal Affairs and Legislative Council in Legislative Department. Law officers and legal advisors are appointed in almost all the ministries/department/undertakings of the government of India and state Government.
All these posts are generally filled up by law graduates who have to qualify the Union Public Service Commission or State Public Service Commission examination.
Besides legal advisors; members of law commission, government advocates, public prosecutors, solicitors, Attorney General of India, legal secretaries in assemblies, judicial members in CAT, sales tax, income tax excise and other tribunals are also appointed as per the guidelines. They are also recruited as commission officers in the legal branches in Indian Army, Navy and Air force to conduct court martial proceedings.
In the judiciary, lowest judicial cadre posts of magistrate or sub judge are filled by those who hold a law degree and qualify the public service examination or otherwise under the guidelines of the High Court. They can further be promoted to district and sessions judge and further as a judge of High Court or Supreme Court subject to their seniority.
Teaching & Writing:There is a wide scope for law graduates to become professors and guest lecturers in prestigious universities. If s/he have a flair for writing and are capable of understanding the intricate details of any case they can write reports, journals, books and thesis.
Legal journalism is also in vogue these days. Additionally you can also become counselors, work with NGOs, international organizations like the United Nations and its agencies as well.
Law firms: It is usually a joint organization between lawyers who have come together to offer their expertise to clients under one name. Working at a law firm involves dealing with a wide variety of problems that may or may not be restricted to a particular area of the law. There are many benefits of working in a law firm as it involves a very high salary; large, diverse client base; extensive firm resources; luxurious offices; global perspective; prestige and networking opportunities.
Fields of Specialization in law are :

Civil/Criminal Law
Constitutional Law
Administrative Law
Human Rights Law
Family Law
Taxation
Corporate Law
Business Law
International Law
Labour Law
Real Estate Law
Intellectual property /Patent Law
Law Preparation & Entrances
The Common Law Admission Test (CLAT) is the most coveted law entrance exam for law aspirants. It is conducted every year by a National Law University (NLU) and admissions are given for Bachelor of Law (LLB) five-year integrated law programmes including BA LLB, B.Com LLB and B.Sc LLB.
Another way is to go for a LLB after graduation, which is a traditional 3 year long degree and can be pursued after any Bachelors degree.
Students can prepare for law entrance exams right from class 11th or 12th standard. At present there are 15 National Law Universities throughout the country under CLAT, which are listed below :
National Law School India University, Bengaluru (NLSIU)
National Academy of Legal Study and Research, Hyderabad (NALSAR)
National University of Juridical Sciences, Kolkata (NUJS)
National Law Institute University, Bhopal (NLIU)
National Law University, Jodhpur (NLUJ)
Hidayatullah National Law University, Raipur (HNLU)
Gujarat National Law University, Gandhinagar (GNLU)
Ram Manohar Lohiya National Law University, Lucknow (RMLNLU)
Rajiv Gandhi National University of Law, Punjab (RGNUL)
Chanakya National Law University, Patna (CNLU)
National University of Advanced Legal Studies, Kochi (NUALS)
National Law University, Odisha (NLUO)
National University of Study 6 Research in Law, Ranchi (NUSRL)
National Law University and Judicial Academy, Assam (NLUJA)
National Law University, Delhi (NLUD) conducts its own paper AILET.
Other than these some universities conduct their own papers. Some of them are:-
Symbiosis Law School
IP University
Amity University
UPES Dehradun
Aligarh Muslim University
Jamia Milia Islamia College
Govt. certifications in various domains for law professionals are also available at vskills.
Some of the recommended certifications are : Business law, Contract law, Labour Law, Intellectual property rights
CLAT is the Common Law Admission Test conducted by the 14 participating NLUs in the order of their year of establishment. The paper comprises 200 objective type questions over 5 sections. Time given is 2 hours and a good score ensuring your place in top Law Schools is in the range of 155+. The subjects tested under CLAT are:-
English
Legal Knowledge
Logical Reasoning
Maths
General Knowledge
Skills required for qualifying the exam are:-
Basic English – knowledge of grammar, a good grasp over vocabulary and word usage, quick reading and comprehension.
Application of concept for Legal and Logical – basic knowledge of deductive reasoning and syllogistic application
Clear and lucid thinking.
A thorough knowledge of current affairs and trivia; heads of states/ organisation, basic Indian history/ economics/ geography/ civics.
A basic grasp of basic legal trivia; legal terms, political science.
Speed calculation; a very basic grasp of arithmetic and probability.
Free practice tests for CLAT are available here at Vskills site.
After getting into a university one should not sit down. Most of the National Law Schools offer 50 subjects over a span of 5 years and a law student has to clear all 50 subjects to get their degree, hence life in a law school is quiet rigorous. Co-curricular activities include moot-court competitions, debating, legal aid, journal work, working for the in-house law societies such as constitutional law society, international law society etc. Students are also encouraged to publish the papers in the legal journals. Such publications acts as an added bonus to the CV of law students. All these activities also help in getting scholarships, fellowships, endowments and other opportunities for further studies from national and international academic institutions and Universities. Undergraduates are also encouraged to do some internship from the 1st year itself as they get a firsthand experience of working in a real world.
Written by
Haya Wakil
Vskills intern
Lady Shri Ram College,DU