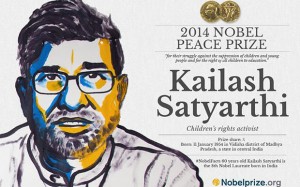 It was a moment of pride for India when a low-profile activist Kailash Satyarthi was announced as Nobel Peace Prize awardee ,2014 for his work in ending child labour in India through his NGO "Bachpan Bachao Andolan".He has been at forefront of the global movement to end child slavery since 1980.He has been recognized for his activism around the world and bestowed with various honours.Being a down-to-earth person,he leads a simple life .He left his lucrative job as an engineer at age of 26 and jumped into the fray to save lives of millions of children who are forced into slavery by powerful and corrupt business- and land-owners..His original idea was daring and dangerous. He decided to mount raids on factories — factories frequently manned by armed guards — where children and often entire families were held captive as bonded workers.
After successfully freeing and rehabilitating thousands of children, he went on to build up a global movement against child labor. Today Kailash heads up the Global March Against Child Labor, a conglomeration of 2000 social-purpose organizations and trade unions in 140 countries.
Yet even as he has become a globally recognized figure, Kailash continues the gritty work of leading raids to free slaves. He wants to focus on a range of activities — from the most grassroots to the most visionary — in order to win the fight.
Satyarthi, 60,is an ardent admirer of Mahatma Gandhi and has likewise headed various forms of peaceful protests "focusing on the grave exploitation of children for financial gain," the Nobel committee said.