Yes, there are various Selenium Certification available in the market. But, only the right certification will lead to a great career path. So, before you get stuck in this certification era, we're here to direct you in the right direction. Also, in this article we will give you an insight about the Selenium trends and market demand. Further, it will help you choose the right Selenium certification.
Top Software Testing Trends in 2020
Automation testing is taking the world by storm, and with digitization you can easily witness the vast changes in the technology world. In the same vein, the year 2020 too marks the continuation of the immense changes. Due to this, organizations are constantly innovating and reinventing themselves to go hand-in-hand with the trend. Also, Selenium has been recognized as one of the most powerful open source automation tool known for its effective delivery.
Moreover, Selenium Web Testing is one of the most essential parts of many businesses. This not a vague statement that we're putting out here. But, according to Business Wire- Selenium has rocketed and become the most popular of all web testing tools. We have witnessed a humongous 300% growth in terms of Selenium job postings during the previous 3 years.
To begin with, Selenium is recognized as a powerful open source automation tool known for its effective delivery. And with Selenium becoming the most sought after skill in the industry, people all around the globe are talking about Selenium Certification. So, before you make your choice, lets understand Selenium from the career point of view.
Selenium and its Components
As we all know, Selenium is free automated testing suitable for web applications across different browsers and platforms. Though, it is similar to HP Quick Test Pro (QTP now UFT). But, Selenium focuses on automating web-based applications. Not to mention, testing done with the help of Selenium tool is referred to as Selenium Testing. In addition, Selenium can be easily used in multiple languages including Java, Python, Ruby etc.
Moreover, Selenium is not a single tool. It has four components which are as follows-
Firstly, Selenium Integrated Development Environment (IDE)
Secondly, Selenium Remote Control (RC)
Subsequently, WebDriver
Lastly, Selenium Grid
We cannot stress more on the fact that selenium is free. Therefore, it is becoming popular around the globe. Thereby, making it trending among the candidate's to get certified. Also, it offers a friendly API that is easy to explore and comprehend. This helps to make testing easier to read and maintain.
Ever Increasing Demand for Selenium
Whenever we talk about the best automation testing frameworks, Selenium always breaks its way to the conversation. The reason behind the high demand of selenium is because it is the best automation testing framework so far.
Meanwhile, there are so many automation testing frameworks but still, Selenium is highly preferred. Why is it so?
To understand this you need to realize the advantages of the same. So, here are a few advantages of the Selenium which always keeps it in high demand.
First of all, Selenium is an Open Source Software.
Secondly, Selenium supports various programming languages to write programs
Subsequently, Selenium supports various operating systems (including MS Windows, Linux, Macintosh etc)
Additionally, Selenium supports various Browsers (like Mozilla Firefox, Google Chrome, IE, Opera, Safari etc)
Moreover, Selenium supports Parallel Test Execution.
Lastly, Selenium uses fewer Hardware resources.
Career Opportunities for Selenium Professionals
We all understand that if something is trending there is a reason behind it. With rising trends comes greater career opportunities.
Certainly, Selenium Certification is in great demand as it offers more exposure in the industry. Not to mention, most experts highly recommend Selenium as a tool. The reason being it is an open-source framework and free as well. Well, you have to agree that being free is an added bonus.
You have to agree that the digital world is rolling away from manual testing. Certainly, with new technologies coming our way, automation testing is the only key to the digital world. Moreover, Selenium is the sought after automation tool for both the businesses and young individuals for their career advancements. Not to mention, developers too are a fan of Selenium. Selenium Automation Testing has become very famous among the developers as automated testing is quickly replacing manual testing.
Do you have the Skills to become Selenium Professional?
Now make sure to keep this section very clear in your mind. Most of the people who want to shift to automated testing wish to skip the coding part. Either they don't have programming knowledge or they don't like coding.
However, one needs to be very proficient with manual testing skills to become a great automation testing engineer. So,If you are new to the testing industry, you need to have knowledge of the following programming languages – C/C++, Java, SQL, Python, Perl, XML, HTML, CSS.
Moreover technical skills you must possess to become an automation testing engineer:
Firstly, Test architecture.
Secondly, Test design.
Thirdly, Performance testing.
Subsequently, Configuration management.
Further, Manual testing agility and interaction.
Moreover, Communication between teams.
After this, Troubleshooting.
Lastly, Agile, DevOps, and continuous delivery.
So, the blend of all of these skills can help you pass through to automated testing easily and smoothly. Most importantly, the question arises given the skills and opportunities which certification will best match your requirement. The next section will help you choose the best certification to match your requirement.
Which Selenium Certification to choose?
Certifications have found it's way in almost every industry. The reason being, certifications are helpful to advance the career. Not to mention it allows candidates to evaluate their skills and knowledge. Moreover, these work as a recognition of their competency and shows your commitment towards your profession.
There are various certification bodies which offer certification in selenium. Therefore, you may find various training institutes who offer the same. However, don't get lured by them. Now, understand and keep this in mind that there are only a few who are widely accepted. So, make sure you make your choice wisely.
In order to make things easier for you, we are providing you with the list of certification bodies that we highly recommend. Let's get started then,
Vskills – India's Largest Certification Body
We highly recommend Vskills, as it is a certified Government body. But, other than that Vskills provides the candidate with each and every information. Moreover, Vskills Selenium Professional Certification can help candidates to broaden their employment opportunities with their advanced skills. Thereby, resulting in higher earning potential.
Edureka
Edureka offers Selenium training from scratch with detailed concepts of selenium. Also, these certifications acts as gateway towards your Automation testing career.
Udemy
Udemy with great market skills, is known all around the globe. We are very certain that you must have counter at least one Udemy advertisement for sure.
Simplilearn
Simplilearn is a leading certification provider. They offer training and coaching that will definitely be beneficial.
Coursera
This is an American learning platform. They do provide some free courses. Moreover, they provide professional certificates.
When there is a discussion about web testing tools, Selenium is surely one of the best in the field to help developers with automation testing. Hence, the demand for Selenium Web Testers is on the rise, and it is only going to increase in the future exponentially.
Let's Get Hired
There is a long list of firms across the globe that depends on Selenium tools for their testing needs. Not to mention, Selenium is the most desirable test automation tool by tech giants like Microsoft and Facebook. Moreover, multinational companies hire Automation Engineers with a sound knowledge of Selenium every year. So, here is a list of Top Tier Companies anyone would desire to get hired –
Wipro
Infosys
TCS
Accenture
LEI(L&T Infotech)
Cognizant
Selenium Job Roles
Now that you know, it becomes equally important to understand the career graph and job titles to make it through –
There are a lot of Selenium job roles but what is more important is, to understand the best fit for yourself. Choosing the right certification may help you become a Tester, Quality engineer, Sr. Automation engineer etc as well.
Average Salary for Selenium Professionals
Salary is the most attractive feature of the job for any applicant. Also, salary for every profile, depends on the skills and candidates' past experience. Not to mention, Selenium job opportunities got a tremendous increase and thereby has been in trend since 2016. In the same vein, while experts expected it to be just a temporary shift. But, the graph is still stabilized and even today after four years later, the opportunities only continue to grow.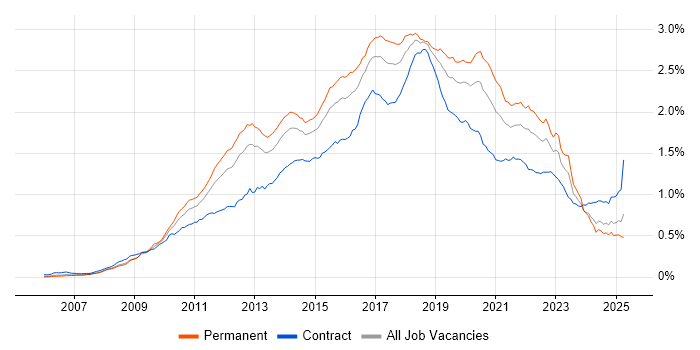 In India, the average salary of Selenium Engineers ranges from Rs. 3,50,000 to Rs. 5,00,000 P.A. However, the Senior automation engineers can earn upto salary of 7,00,000 P.A. On the other hand, in the US , the salary ranges from $40,000 to $75,000. P.A.
Moreover, Software testers enjoy other perks such as health insurance, bonuses. Further, a Senior Test Automation Engineer's average salary can be around Rs. 8 Lakhs per annum. Also, remember that the huge chances of salary hike with experience. Subsequently, a profitable career can be heralded.
Meanwhile, the global picture may not have seen dramatic growth. However, individual regions such as the US, the Middle East or Asia definitely have healthy growth. Moreover, this growth skyrocketed the very moment Selenium became a worthy name. Therefore, one can conclude that Selenium has only grown stronger and candidates have enjoyed their way ever since.
If you are into software testing and love acquiring technical knowledge then Selenium will unquestionably be a cakewalk for you. Also, anyone looking for a career in manual testing can easily excel in Selenium for professional advancement and skill enhancement. Remember, you make your own opportunities.
Become Job Ready and Upgrade your skills with Certified Selenium Professional Now!
Try hundreds of Selenium Free Practice Test and upgrade your skills for better job opportunities.