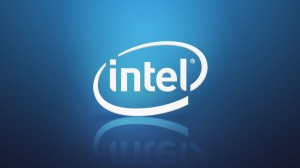 Intel has launched the first batch of Haswell processors, which deliver a significant power saving and graphics performance. It is the 4th generation of Intel Core CPUs after the Ivy Bridge (3rd Generation Core processor). Haswell is a new architecture that's built on the same 22nm process as Ivy Bridge.
The Haswell architecture is specifically designed to optimize the power savings and performance benefits from the move to FinFET transistors on the improved 22 nm process node.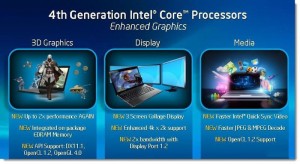 Haswell is expected to launch in three major forms:
Desktop version (LGA1150 socket): Haswell-DT
Mobile/Laptop version (PGA socket): Haswell-MB
BGA version –
47 W and 57 W TDP classes: Haswell-H (For "All-in-one" systems, Mini-ITX form factor motherboards, and other small footprint formats.).
13.5 W and 15 W TDP classes (MCP): Haswell-ULT (For Intel's UltraBook platform.)
10 W TDP class (SoC): Haswell-ULX (For tablets and certain UltraBook-class implementations.)
ULT = Ultra Low TDP; ULX = Ultra Low eXtreme TDP.
Only certain BGA versions will receive GT3 (Intel HD 5000, Intel Iris 5100), or GT3e (Intel Iris Pro 5200) integrated graphics. All other models will get GT2 (Intel HD 4X00) integrated graphics.
Due to low power requirements of tablet and UltraBook platforms, Haswell-ULT and Haswell-ULX will only be available in dual-core. All other versions will be available in dual- or quad-core variants.
Performance
Compared to Ivy Bridge (expected):Twice the vector processing performance.
A 10% increase in sequential CPU performance (8 execution ports per core versus 6).
Up to double the performance of the integrated GPU. (Haswell GT3e vs Ivy Bridge HD4000)
The mobile processors will come in four varieties, and will have different capabilities depending on their suffix.
H – The quad-core processors will have Intel's highest graphics capabilities available – dubbed Iris Pro (5200).
M – Theset raditional 2-chip models which will be available in quad-core/dual-core varieties.
U – Designed specifically for Ultrabooks – these System-on-chip (SoC) processors will available in either 28Watt or 15Watt varieties. The 28W chip will have the highest available Iris Pro (5200) graphics capabilities and the 15Watt chips will have the Iris graphics (5100).
Y – The lowest power Core-based processor will also have a System-on-chip design and will be designed for detachable products.
For more updates or resources contact us at info@vskills.in
For Government certification, visit www.vskills.in and register for exam on 13 July, 2013 now!!
Follow us on facebook visit www.facebook.com/vskills.org