It is no secret that Python is the most famous programming language all around the globe. Not only, is it evident in the number of people using but also the number of people aspiring to work with the same? You can confirm this statement if you just take a single look at the current job market. You will realise that Python market is increasing day by day. Moreover, it's no surprise, with the number of positions and locations in which Python can be used. Thus, shouts its popularity.

But, one thing that keeps coming up in discussions about Python is the Python developer salary. Are you striving for the same question? Well, then you've arrived at the right destination. In this article, we're going to answer this question very briefly. So, stay with us.
Understanding Python Programming Language
To begin with, Python is widely regarded and accepted as one of the easiest programming languages to learn. Certainly, this language is easiest if you're just beginning your career in Python. Whilst this proves its popularity as well as demand. However, this isn't something that devalues its use. Rather, Python is very interactive, compact and object-oriented.
Moreover, Python is adaptable i.e. you can easily use it for web, software and game development. This is the sole reason why there are such differences in Python developer salary. Each area makes a variation in how much does a Python programmer actually make. But as it's stated: easy to acquire, hard to master. Therefore, you must know how to comprehend Python basics so that you can land on a job with a great salary slab. But, before we begin with the different salary of Python Developers, let's look at the benefits of Python Language.
Types of Python Developers
Similar to other jobs, there are three main experience groups of Python developers. These are as follows-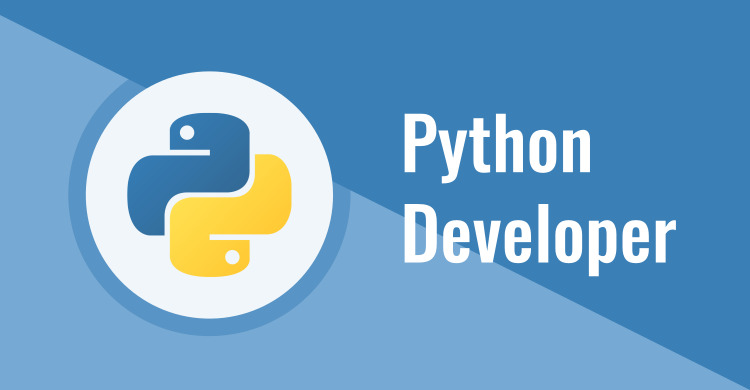 Entry-level Python developer
Junior-level Python developer
Senior-level Python developer
All three have very different requirements, assignments, responsibilities. But, most importantly, salaries. Indeed, their salaries have a huge difference.
Therefore, it's essential to discuss all the three mentioned above before we begin and start analyzing the Python developer salary. And, the moment you understand and recognize their differences, you'll easily see the reasons for their differences in pay. So, let's jump into the very first group i.e. Entry-level Python programmers.
Entry-Level Python Developers
Same as most distinct jobs out there, the entry-level Python developers are individuals who have just begin with their world of programming. And, are figuring out their position in it. Further, these individuals may include the following-
First of all, Entry-level Python Developer can definitely include fresh university graduates. Also, they can be Junior or Senior year students who received their diploma. And, are actively trying to commence their career paths as Python developers. Alternatively, talking regarding Junior or Senior year students, they might be searching for an entry-level developer's job to obtain university credit. As a result, they spend a few hours operating and practising their skills in a real organisation. However, in this case, they don't receive any actual Python programmer salary.
Secondly, these also include individuals who have no orderly higher education. But, have taken online courses in the field of Python development. Also, they may have acquired Python's knowledge through online classes or learned in any other way. And, are just trying their luck in the Python field. Therefore, these individuals try to land on an Entry-level Python Programmer job. Just, so that they can practice and become more proficient in the same.
Junior-level Python Developers
Junior developers are individuals who already have around 1-3 years of experience in the field of Python programming. And, they are mentally ready to take upon the career of a Python Programmer. Additionally, all that is left for them is to just prove to both themselves and their firm that they are determined to learn and keep on growing.
When it comes to the Junior-Level Python Developer, they are in general given some of the more experimental tasks within a company. Certainly, these tasks are fashioned in such a way that, not only it helps them but the organisation as well. Moreover, it also tests how well the Programmer knows their art.
As far as the junior Python developer salary is concerned, it's a tricky topic. Since it differs quite a lot. However, we're going to discuss their salary in the consequent sections. So, stick around peeps.
Senior-level Python Developers
Finally, we're on last i.e. the third group. When it comes to senior Python developers, these are individuals who are among the most respected soldiers of the industry. As these are individuals who are pro in their field and finally have decided to dedicate their lives to the world of computer programming. And, all this is reflected, both in their work etiquette as well as their earnings.
Needless to say, Senior programmers make the most money out of all three. These Python developer salaries are often referenced when people talk about just how much can a programmer earns. But keep in mind – that's only the most experienced developers!
Well, it's easy to talk of money, but one should keep in mind the amount and quality of work that senior developers are entrusted with. Not to mention, they are the ones who often are urged and allotted to teach companies newcomers all of the tropes. Thus, it makes all the more sense why they are provided with the highest salaries. Because they are the ones with the biggest responsibilities in the team.
Let's talk Paycheck!
Now that you're familiar with all of the three mentioned groups of Python developers. Let's talk about their paychecks. After all, we all get motivation from our paychecks.
Entry-Level Python Developer Salary
As mentioned earlier, the entry-level Python Developer is just a beginner in his or her field. As a result, they are just accredited with either a small amount of money or even free of charge. And the latter, only if they are trying to get university credits.
But, a little money is always better than no money. So, let's look at their small amount of money that they are given.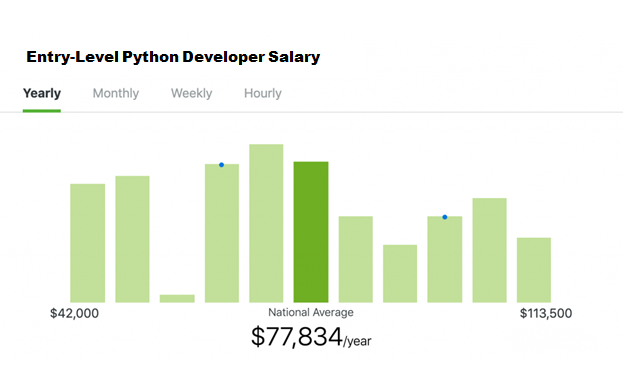 The above chart is the result of many studies conducted online. According to this, an entry-level Python programmer salary ranges somewhere around the $77,834 annual mark. Now, talk of that small amount of money, huh?
Junior Python Developer Salary
The junior group is the intermediate one between entry-level and senior developers. Since there are no accurately established limits that would distinguish the groups. However, there's always an imbalance at one point. Due to this, the junior group consists of a bulk of individuals who have just transitioned from the entry-level group. Or it might just be the opposite i.e. the majority of individuals can also be the almost-senior level developers. This is the whole reason the salary of a junior Python programmer fluctuates a lot.
So, now let's take a look at the average salary of the Junior Python Programmer.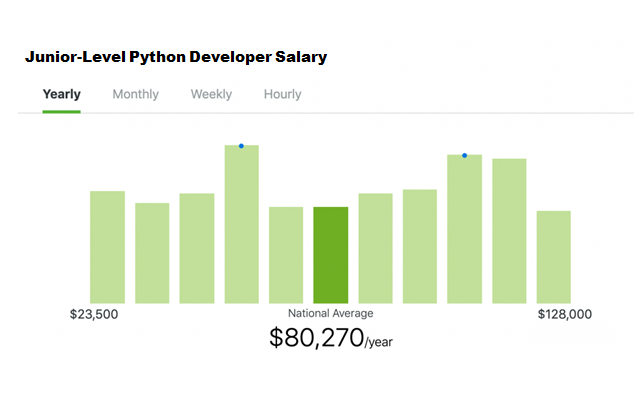 Here, you can easily view that a Junior Python Developer earns around $80,270. Though there is a slight increase, this is just an average. After all, your salary also depends on various other factors such as the organisation you're working for, your experience as well.
Senior Python Developer Salary
The information graph mentioned below is a result of various online studies. And, according to this, a senior Python programmer salary ranges somewhere around $126,751. That implies a whopping $10,563 per month. With this number in mind, it totally makes sense why individuals want to go for Python programming. As the salary is is truly something to dream for!
However, don't forget – with a great salary, comes great responsibility. It might look like a huge amount of money for someone operating in the IT Industry. But in reality, Senior Python developers contribute the large part of their life mastering everything there is to know about Python.
Something more than Salary?
When talked about the Python developer job, people only mention the salary. However, this is a flawed way of viewing things. One should always keep in mind that a decent entry-level Python developer salary isn't the only thing that creates up a job!
Not to mention, Python developers often operate in awesome greenfield project-based companies. And, who doesn't want to be a part of such a lifestyle? This type of profession is awesome because it allows a lot of room for creativity. Moreover, you can carry forth a lot of your ideas, examine various strategies and discover & progress in a creative team-based environment.
Furthermore, these kinds of jobs grant developers an opportunity to engage in various organisations, workshops, have paid holidays, birthday parties, etc. Also, you feel like much more valued and are not just another cog in an ever-churning corporate machine.
So, in case you are thinking about beginning a Python developer's career, it might be good to keep in mind the numerous other advantages, not only Python developer payroll, that such a job can offer!
Roadmap to becoming a Python Developer
Are you now intrigued with the salary and wish to start a career in Python or do you want to move up the ladder to earn more? Not to worry, we're going to lead you to the right path and discuss the certification bodies and help you with the same.
1. Join a Python Developer Society
First of all, try to join societies for python developers to help you stay on the right track. Moreover, it allows you to ask queries related to the topic you're having difficulty with. So, try and take out a few hours from your busy schedule to engage with this.
2. Join a Certification Program
Certifications have found its way in almost every industry. The reason being, certifications are necessary to improve your career. Not to mention it allows candidates to evaluate their skills and knowledge.
There are various certification bodies that offer certification in Python. So, here is a list of certification bodies-
Vskills
Udemy
Intellipat
Coursera
3. Read Python Books
Most importantly, read python books as much as you can. There are many models written for generic and particular applications of Python, which you can read to continue deeper into the certification course and objectives. And, books are perfect for pupils who desire to learn the real-world context for the skills.
Python Crash Course
Head-First Python, 2nd edition
Real Python Course, Part 1
Python Tricks: A Buffet of Awesome Python Features
Fluent Python: Clear, Concise, and Effective Programming
Effective Python: 59 Ways to Write Better Python
Python Cookbook
4. Grab good Python Tutorials
There are a number of online sources providing tutorials to promote your process of preparation. As a result, you will discover a lot of preparatory guides online that will facilitate your learning. Start Learning Now!
5. Start Practicing
Once you are done with your preparation, it's time to practice. The only way to crack the exam is to practice until you get it right. Needless to say! You will come across plenty of online resources while searching for practice test. The point here is whichever source you use, your preparation should be thorough to crack the exam in one go. Start Practicing Now!
After you complete your journey, you'll be able to work with top-notch brands. So, let's look at all the companies, with whom you may enjoy all the benefits as a python developer.
Working with Top-notch Companies
There is an infinite number of small and big organizations. And, don't forget those startups that are immensely using Python to advance their productivity and meet customer demand. Not to mention, even governmental systems are also using python to manage and add more functionality to their website.
Therefore, we have curated a list of all the top-notch companies to work with after getting certified with python-
Google
Walt Disney Feature Animation
Nokia
IBM
Roche and many more
Netflix
Conclusion
As asserted in the very start, Python is a remarkably popular programming language to learn. Its fame is only increasing further as the years go by. Being so big, it is only natural that the job market will observe a lot of competition. We cannot count the number of developers who have excellent skill and are competing to get the best job positions possible. As it can alter how much does a Python programmer make.
Most importantly, corporations demand great and professional developers now more than ever before. This, in turn, drives to an ambitious salary, awesome job profits, and a perfect working and learning environment.
With that said, whether you're preparing to commence your journey towards Python programming, then possibly this article may have you given that little bit of extra push that you required. So, work your very best and become your best version possible.
ALL THE BEST!
Make your resume stand out and become a Certified Python Developer. Try free practice tests here!