We all want a position that provides future security, and it seems that getting certified as Payrolls Managers is all that you need. But, what is essential to become a payroll manager and how to become one are the ruling questions here. Well, the answers to these questions is in this article. That is to say, you will get every way and method to become a Payroll Manager.

Nowadays, most of the companies require professionals to handle their Payroll. Therefore, this has provided them access to work in a variety of industries and companies offering payroll and human resources support. And, the professionals can also work for payroll service providers and be assigned clients they manage payroll tasks for.
In this article, we will be navigating you towards the Payroll certification, along with the right learning ways. But, before we start let's take a quick glance at the scope of payroll in India.
Scope of Payroll Management in India

In India, the Payroll system is considered as one of the confidential data for any organization. These are enabled with web payroll solutions for providing the most open, accessible and expandable option for the future. Thus, Payroll refers to the process by which employees receive their salary. And, the main task in the payroll job is to take care of wage deductions, record keeping and verifying the reliability of pay data.
Many companies in India are either outsourcing or transferring the payroll to shared services. But, still, there are companies and businesses that are confused about whether to payroll internally or use external sources. Since there is a requirement of a person who can meet the payroll needs. Therefore, this has increased the need and demand for a Payroll manager among top organizations and businesses. Having the required skills and experience in this field can provide you a good position with the highest salary pay in the market.

Understanding Role of Payroll Manager

Payroll managers often work in an office environment and are often in charge of a team for other payroll professionals. Moreover, these managers work closely with other departments that include accounting and human resources. However, a payroll manager spends the most part of the day working at a desk on a computer. And, they also attend meetings with leading training sessions and overseeing activities happening in the other parts of the office. Comin on to the requirements part.
Payroll Manager: Basic Requirements
To advance your career as a Payroll Manager you have to work on payroll compliance knowledge and skills. Moreover, it is essential to have in-depth education and relevant job experience to prepare for this role. Further, this will help you get a higher salary as per the national payroll firms. So, let's proceed with the necessary requirements that include,

Education Requirement
Employers look for payroll managers who have a minimum of a bachelor's degree in fields like finance, business management or accounting. Moreover, holding a master's degree in an area like human resources, finance or business administration can help in increasing your employability. Thus, you will be able to advance your career and possibly even increase your earning potential. However, some employers may require a master's for payroll managers for which it is needed to have many years of experience or additional qualifications.
Essential Skills
For Payroll Managers it is important to have the right skillset for handling different tasks and responsibilities. This includes the following skills and qualities: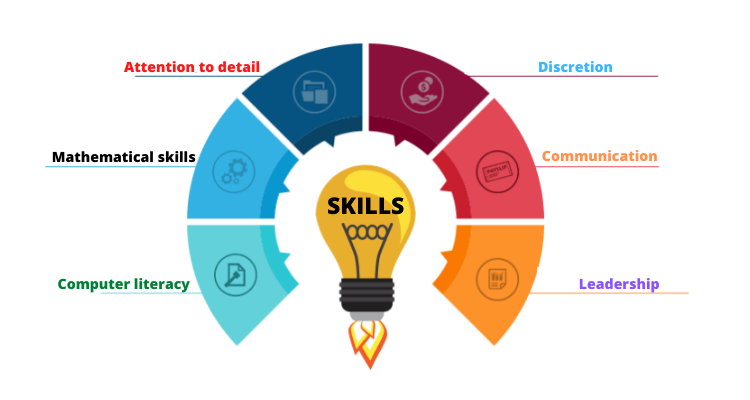 Firstly, Attention to detail. The professionals have to focus on things to ensure that the records are accurately kept and finances are balanced properly for employee pay.
Secondly, Mathematical skills. The Payroll managers are responsible for handling many important calculations by having an understanding of basic math principles and be comfortable doing simple and more complex calculations.
Thirdly, Computer literacy. Payroll managers are expected to have computer skills and a familiarity with basic payroll software systems such as ADP, SAP or Kronos. Moreover, they should also know how to use spreadsheet software, like Microsoft Excel to conduct finance tracking and create reports.
Fourthly, Discretion. Payroll managers should practice discretion and should be able to discuss matters related to taxes, finances or insurance with employees confidentially.
Then, Communication. Payroll managers need to be able to handle employee questions related to payroll, taxes and financial policies. Moreover, strong communication skills, including effective verbal and written communication and active listening, can help these professionals explain complex topics in understandable terms.
Lastly, Leadership. Good leadership skills can enable the professionals to communicate with, guide and encourage their team. And, they may also use conflict resolution and problem-solving skills related to managing teams as well as employee finances.
Now, we have familiarity with the requirements of a payroll manager. In the section, that is the most important part we will learn the different ways to become a Payroll manager.

Ways to Become a Payroll Manager
The role of a Payroll manager is to check the payroll department and also handling the activities associated with timekeeping, expense processing, and payroll. Moreover, they are responsible for maintaining and updating policies and procedures. And, they also implement an efficient workflow for employee payment processing and manage all payroll functions including tax returns and audits. For this, you should be well versed in payroll processing and vendor management systems and have experience with Kronos. Also, it is required to have several years of education and experience invested in this field. The steps given below will help you on your pathway to becoming a payroll manager.
Get a Bachelor's Degree
To become a Payroll Manager it is required to have a minimum of a bachelor's degree in a field that includes finance, accounting or human resources. Moreover, having practical knowledge in math, accounting, finance, business management, and communication can prepare professionals to have effective work experience. Further, this knowledge can provide you a lot of benefits during the preparation.
Earning Professional Experience
This can be an important thing that you have to focus on during your process. The reason is most employers look for payroll managers with several years of experience in a related role. Moreover, this may include the following job roles that you can work as for getting the required experience,
HR assistant
Office clerk
Entry-level payroll coordinator
Payroll administrative assistant
Bookkeeping processor
Entry-level auditor
Payroll clerk or Data entry clerk.
Thus, these positions can help you get familiar with many of the tasks and software systems essential to become a payroll manager.
Obtain certification
There are certifications available for Payroll Manager to increase employability and illustrate knowledge to prospective employers. However, getting Certified as a Payroll Manager will help you to examine your skills in payroll and accounting. This certification will help you a lot during the exam preparation to expand your skill set in this field. Many employers out there strongly prefer payroll managers withholding certification.
Earn leadership experience
Experience in Leadership or management is mostly preferred for a payroll manager by top organizations. Moreover, try to get involved in the leadership roles within your current organization if possible to gain experience. And, you can also sharpen your leadership skills and demonstrate some of your management potential in volunteer positions.
The question that arises here is where to get training from. So, for this below, we will talk about the top training and certification providers for Payroll managers.
Top Training Providers
Before becoming a payroll manager, the professionals have to gain several years of work experience in related positions. As an entry-level payroll clerk or associate, they receive more job training that familiarizes them with payroll software and practices. However, the Payroll managers receive minimal on-the-job training because they're expected to have a strong understanding of payroll concepts and how to handle this department. But, there can be one advantage in this that is to take the certification to get advanced in this role. These training providers will provide you study materials as well as free practice questions for the Payroll manager. Some of the top certification providers include,
Vskills- India's Largest Certification Body
Hr Certification
IPTM
NAIP
Udemy
SLA Consultant
In the section, we will understand the responsibilities of a payroll manager including pay scale.
Payroll Managers Job Responsibilities
The payroll manager refers to a business finance and human resources professional who handles all aspects of preparing and distributing employees' payments. And, this includes maintaining payroll records, calculating taxes, balancing payroll accounts and overseeing other members of the payroll staff. However, typically a payroll manager's job responsibilities include:
Firstly, directing and managing the procedures of payroll.
Secondly, preparing payroll reports that may include savings deductions, exemptions, and insurance coverage.
Thirdly, ensuring compliance with applicable laws and tax obligations.
Then, identifying the payroll liabilities by calculating federal and state income taxes, social security taxes, unemployment payments, and worker's compensation payments.
Moreover, they supervise the payroll team and provide training and guidance as required.
Lastly, processing and distributing employee payments by issuing checks, direct transfers or other payment methods.
Top Companies Hiring Payroll Managers
Individuals with having advance skills and experience as a payroll manager can get a good position in the top organizations that include,
Ernst & Young
ADP
Amazon
Aditya Birla group
Accenture
American Express
MIS & Associate
Teach for India
PayScale
The basic average pay scale of a Payroll Manager in India is ₹787,688. But, in the end, this totally depends on your skills and experience so this can increase accordingly.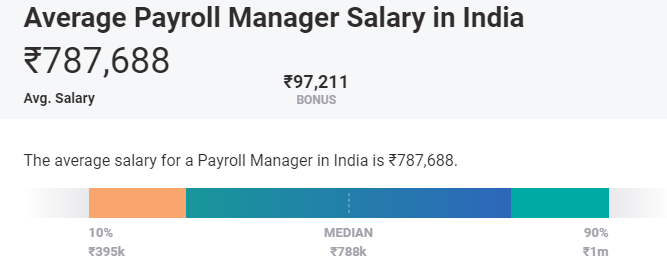 An early career Payroll Manager with 1-4 years of experience earns an average total compensation of Rs. 375,000.
However, for a Payroll Manager with 5-9 years of experience can earn an average total compensation of Rs. 671,407.
Lastly, the Payroll Manager with 10-19 years of experience can earn an average total compensation of Rs. 905,021.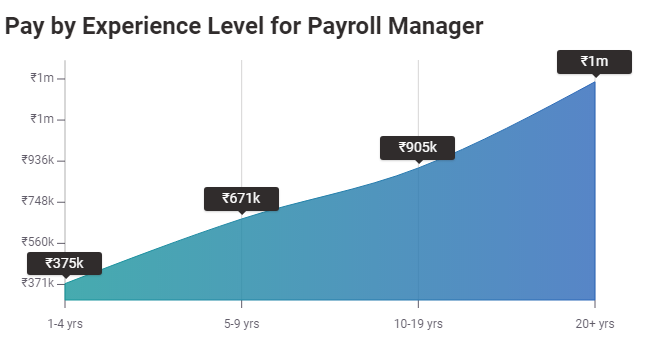 Expert Corner

To conclude, becoming a Certified Payroll Manager gives you the confidence and expertise to move up to a management position and later on the success ladder. Moreover, the certification helps you command a higher starting salary according to national payroll recruiting firms. However, becoming a payroll manager is not a breeze which is easy to achieve. Rather, it requires handwork and determination. Therefore, for your benefit, we have provided every in-depth detail in this article which will lead you to your ultimate certification.

Wishing you luck for your certification!
Learn and enhance your skills by using Online tutorials on Payroll Manager Now!