Human Resource Management Professionals are termed as the backbone of an organization. There is a huge demand for such professionals in both the public and private sectors. No matter if you're looking at startups or big reputed companies, human resources play a crucial role in the formation of a company's future. The human resources management department basically is the team that helps an organization increase productivity while also maintaining employee satisfaction.
Due to the great demand for these professionals, this is the right time to start preparing to follow your career as an HR. Human Resource managers are considered as the controllers of the human resources department. Moreover, they provide insurance for functions and tasks existing carried out by the HR team. They also serve as the link between the company and its employees. Also, their work runs from delivering consultation on strategic planning with top executives to recruiting, interviewing, and hiring new staff.
They hire the best employees in the market and assist them to work efficiently and effectively to take the company to an enormous position in the competitive market. Therefore, they hold a very important position in the firm they work in. Any changes that are to be made in the company are first analyzed by them and their approval will only allow the employees to execute the plans. Moreover, we'll discuss the future scope and opportunities of Human Resource Management in 2022.
Now, let's begin by discussing some of the major roles and responsibilities of an HR Professional!
Roles and Responsibilities
Motivate and retain the most qualified talent by directing the administrative functions of the HR department.
Ensuring that the administration, coordination, and evaluation of human resources plans and programs are realized.
Developing and administering the human resources plans and procedures related to company requirements.
Plan, organize, and control the activities and actions of the HR department.
Contribute to the development of HR department goals, objectives, and systems.
Implement and revise a company's compensation program.
Conduct annual salary surveys.
Develop, analyze, and update the company's salary budget and evaluation program.
Maintain affirmative action programs.
Control recruitment efforts for all personnel, including writing and placing job ads.
Skills Required
Must possess an excellent communication skill, interpersonal skill and an ability to convince others.
Ability to plan a program and execute that accordingly.
Ability to supervise the subordinate workers.
Guide and lead people working under his domain
Ability to take a decision in a critical situation and come up with a solution.
Target Audience
Students who are interested in the management.
Graduates with a bechelor's degree related to finance, business management, education or information technology.
Aspirants who are passionate about their work and want to keep the employee morale high.
Learning Outcomes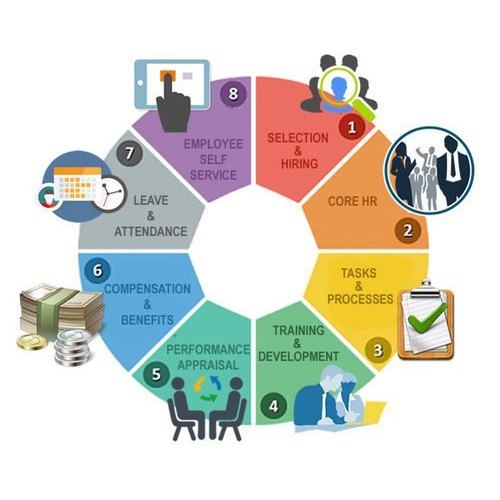 Some of the learning outcomes you'll encounter as a Human Resource Management Professional are listed below:
You will be able to conduct interview, recruit, train, and manage employees.
Manage Payroll.
Redefine/define policies and compliances.
Co-ordinate with employees.
Developing compensation and benefits strategies.
How to become an HR Professional?
Doing MBA in HR (Human Resource) will open numerous career opportunities for you. MBA is a two-years master's program that can be opted by anyone with a bachelor's degree in any stream. MBA in HR is a profitable career option for those who are good at communication, interpersonal skills, and analytical skills. MBA in HR is available in different modes. Some of them are given below:
1. Full-Time MBA in HR: This is a full 2 years professional degree course with fees ranging from INR 4 Lakhs – 25 Lakhs depending on the college. Taking up a full time MBA will definitely benefit you while looking up for jobs. Since, you'll be granted a master's degree in Business Administration. Moreover, MBA in HR Admissions takes place based on the percentile scored in the MBA entrance exam, it might be either at the National or State level. Some of the top MBA entrance exams are CAT, XAT, CMAT, GMAT, MAT, SNAP, etc.
2. One Year MBA in HR: This program is specially meant for the working professionals who do not wish to quit their jobs to pursue MBA can go for full-time MBA courses. Taking up these courses will definitely lead you to a promotion and a raise in your salary. However, one year MBA in HR fees are generally much higher. Some of the most popular institutes that offer such courses are IIM Ahmedabad, Great Lakes and ISB Hyderabad, require 2-year work experience, Kellogg one year MBA program is in abroad, for those who want to study abroad.
3. Online MBA in HR: Now many top ranking business schools have started providing online MBA program which do not require your physical presence. Moreover, minimum eligibility for online MBA programs is 50% marks in graduates and specific work experience. Some of the major institutes that offer online MBA are shiv nadar university, Assam Don Bosco University, Amity Noida, Jaipur National University, etc.
Career Prospects in Human Resource Management
Understanding the importance and the great demand of a Human Resource Manager, it is really necessary to choose the correct study path to persevere your dreams. The internet is loaded with various online certification courses but deciding the best for you that feeds all your requirements is an essential step to take. Therefore, we are here along with our experts who conduct special research and analyse data to bring you the best jobs and career opportunities in Human Resource Management in 2022.
1. HR Director
The HR director is the one who oversee all Human Resource aspects such as handling employee relations, managing budgets, assessing staffing needs, designing training programs, and developing compensation plans for a company's operation. Moreover, HR Director is rising above all jobs in the human resources field. There is always a need of data analysis, benefits creation, remote work development, and strategy building, etc. Therefore, this is one of the best career option for you.
Salary: INR 26 Lakhs per annum
2. Senior Executive HR
These professionals oversee the recruitment process, designing company policies and setting objectives for the HR team. You're ought to have good strategy making skills to attain reputation in the company and increase your market value and chances if promotion. Moreover, it is a great career. But an HR executive has many roles and responsibilities and to perform them, they also need quite a lot of skills. Therefore, you should have strong basics and a formal education from a good institution.
Salary: INR 2.4 Lakhs per annum
3. HR Administrator
HR Administrator is the person who handle all the critical role in the company and is responsible for organize and maintain personnel records, updating internal databases, prepare HR documents, like employment contracts and new hire guides. Moreover, working as a HR Administrator is a very rewarding career. As HR administrator is the first point of contact within a company for all HR-related inquiries so you're expected to have great skills.
Salary: INR 3.4 Lakhs per annum
4. HR Associate
HR associates are responsible for obtaining, recording, and interpreting human resources information within a company. They are tasked with managing corporation human resources records and assisting new employees with enrollment procedures. If you're just beginning with your career in this field then this is the best career opportunity for you to gain expertise and experience for higher posts and increase your promotion and growth chances in the future.
Salary: INR 3 Lakhs per annum
5. HR Analyst
These professionals all the tasks related to HR analytics for an organization. They identify HR related issues and work to solve them. Moreover, they are also responsible for creating organisations policies and objectives. Analysing and evaluating data and reports are their key tasks. These professionals are in great demand as they help large organizations streamline their human resource operations and play a key role in increasing the efficiency of an organization.
Salary: INR 4.3 Lakhs per annum
Now, let's look at the salary trends of various Human Resource jobs. You can see that with increase in experience and skillset the position of an HR increases and so do their salary. Therefore,if you're looking up to build a career in this field this is the right time for you to start your journey.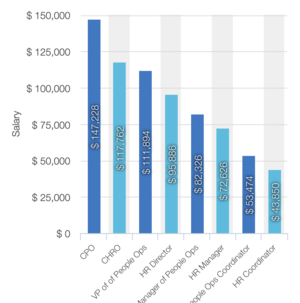 Career Path to Follow
The demand for an HR professional is growing with every passing day rather than going down. One should always remember that HR needs to adapt and be agile i.e. an HR professional must not stop learning. Therefore, even if you complete your degree and hold a position in a company you should take timely courses to keep yourself updated with all the recent trends. It is said that an HR will not be replaced, but HR professional must take up relevant courses to empower your working and be in a race.
Therefore, to solve this problem we are providing you with the best online certification courses on the web. Vskills is offering Certified Human Resource Manager online certification course that will help you begin your career in this field and will give you a clear idea of the topics that need to be covered. The best part is that this certification is recognised by the Government of India so this will add value to your resume as well. We would also like to wish you all the best for your career. Happy Learning!