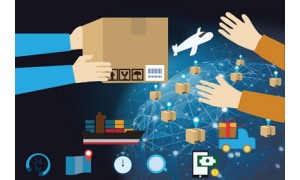 Freight Forwarder is an upcoming profession with immense job potential and career progression. Vskills launched Government certification on Freight Forwarder.
Who is a Freight Forwarder ?
A freight forwarder, forwarder, or forwarding agent, is a person or company that organizes shipments for individuals or corporations to get goods from the manufacturer or producer to a market, customer or final point of distribution. Forwarders contract with a carrier or often multiple carriers to move the goods. A forwarder does not move the goods but acts as an expert in the logistics network. These carriers can use a variety of shipping modes, including ships, airplanes, trucks, and railroads, and often do utilize multiple modes for a single shipment. For example, the freight forwarder may arrange to have cargo moved from a plant to an airport by truck, flown to the destination city, then moved from the airport to a customer's building by another truck.
International freight forwarders typically handle international shipments. International freight forwarders have additional expertise in preparing and processing customs and other documentation and performing activities pertaining to international shipments.
Certification Details
A freight forwarder is responsible for all these activities. Thus, creating huge opportunities for certified freight forwarding professionals.
Due to increased globalization and international trade, importing and exporting has become essential activities for many companies, today. But, the process, paperwork, and regulations involved in international trade may seem cumbersome.
Learn & Study
Freight Planning
Freight Transportation
Surface Transport
Containerisation
Sea Transport
Airline Transport
International Freight Transport
Integrated Logistics
Future Developments
* Certification includes 20 Hours of E-learning.
Why should I take Freight Forwarder certification?
The certification on freight forwarding not only validates your skills in freight forwarding but also enhances your knowledge in developments in freight forwarding.
Who will benefit from taking this certification?
The program is suitable for professionals, executives and managers working in logistics or supply chain related activities. The certification verifies and validates skills and knowledge of individual in freight forwarding.
The link for certification – https://www.vskills.in/certification/logistics-and-supply-chain-management/certified-freight-forwarder

Freight Forwarder Table of Contents – https://www.vskills.in/certification/Certified-Freight-Forwarder-Table-of-Contents