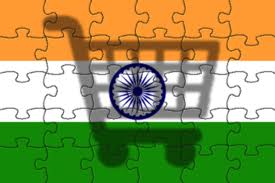 Need a new shoe?? Let's go online… A bag, a book, a gadget.. anything and everything is easily and conveniently available at our finger tips. This is the new trend rolling out in India. The shopping pattern has changed drastically in the last few years.  People instead of going out to market prefer to shop online and all this has become possible only due to e-commerce.
E-commerce is defined as any transaction taking place on online media. It includes buying, selling and marketing various products/services through online media. It can also be referred to as the conduct of business commercial communication and management through method such as electronic data interchange (EDI) and automated data collection systems.
The boon in e-commerce has come over time due to the advantages it has to offer to the world. There are numerous lists of advantages to be listed down. Firstly, e-commerce provides round the clock working. There is no time limit and thus it can be used according to the convenience of the user. Secondly, it provides a wide variety of choice to its users. The users can opt from numerous websites according to their choice and convenience. The users have easy access to all the websites online.  The advantages of ecommerce also include customer satisfaction. It also provides the benefit of personalized services to its users as the feedback process is very quick and works for till satisfaction of the customer.
The e-commerce is not left untouched with the disadvantages it has to offer but the advantages overcome its disadvantage. To list down a few disadvantages it includes lack of security as the customers are not very satisfied with the transaction process. The computer networks are also not reliable every time thus it adds to its disadvantage. Lack of customer understanding, failure of timely delivery is also few disadvantages to be added.
A mix bag of advantages and disadvantages has made e-commerce an integral part of peoples life. E-commerce has a wide scope in India for its growth and expansion. It still has a long way to go in the future. People have started embracing technology for the effectiveness and efficiency of their transactions. Thus, it can be said that e-commerce is a boon for our country and has a long growth prospective!
Click here for government certification in E-commerce and Information Technology