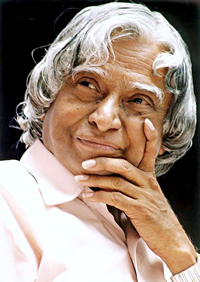 Bharat has lost a Ratna, but the light will always guide us towards A P J Abdul Kalam's dream destination: India as a knowledge lordship, in the first rank of nations. Our scientist-President, who is also known by the name Missile Man —one who was genuinely loved and admired across — never measured success by material possessions.
"You have to dream before your dreams can come true."
His character, commitment and inspirational vision shine through his life. But this person was powered by the fire of aspires. His vision for the nation was bonded in freedom, development and strength. Given our history, we had freedom in political context of course; but it also included freedom of the mind. He wanted India to rise out of the under-developed trench, and eliminate the curse of poverty through economic growth in India. Wisely, he also told that politicians in India spend only 30% of the time on politics and 70% on development. The third pillar that is strength was not formed of aggression, but of understanding. An insecure and unsure nation will hardly discover the route to prosperity and growth.  Strength commands respect. His contributions in our nuclear and space achievements to our nation have given us the strength and power to be confident at our place in the region and the world.
His memories are best honoured by the creation of new institutions of nurture science and technology, which enables us to find a equation with the power of nature. Too often, greed makes us predators of our environment. Kalamji saw poetry in a tree, and energy that could be harnessed from water, wind and sun. We should learn to look our world through his eyes, and with the same missionary zeal.
For him, the contradiction to poverty was the wealth of knowledge, in both its scientific and spiritual phenomenon.We can shape our lives through will, persistence, ability courage. But we are not been given the right to script that where we are born and when we die. However, if Kalamji would had been offered this option, this is how he would have chosen to say goodbye: on his feet, and in front of a classroom of his beloved students. As a bachelor, he was childless. But that is wrong. He was a father to every Indian child, teaching, clearing darkness wherever he found it with his right vision and his passion. He saw the future, and showed the way.
He had a special love for children and for India and fought to constantly inspire the youth of our country
"In his passing away, we have lost a great son of India who dedicated his entire life to the welfare of his motherland. Dr Kalam was a people's president during his lifetime and will remain so," the President said.
Click here for government certifications