Do you want to work in a highly technical environment? Would you like to have a competitive edge over the ones you are trying to beat in the next job interview? Then, the simple answer is to learn Cloud Computing.
Over the past few years, Cloud computing has become an integral part of the IT infrastructure for many companies worldwide. According to a survey, almost 69% of the business is already using cloud technology. As more and more enterprises turn to the cloud, the need for experts in the cloud computing industry has never been greater.
If you're willing to make a career in this industry, there's no better time than now. But because it's one of the most lucrative industries today, you need to validate your skills and expertise to achieve the best results. Therefore, before you break into the realm of cloud computing, we provide you with fundamental information about the industry in this blog.
Cloud Computing Overview
Cloud computing is the delivery of on-demand computing services from applications to storage and processing power typically over the internet and on a pay-as-you-go basis. The Cloud services offer easy, scalable access to applications, resources and services. These services can be managed by a cloud services provider. Moreover, cloud-native computing has become the core of the IT industry. This includes top public cloud providers like AWS, Microsoft Azure, and Google Cloud Platform. Cloud Computing helps in increasing productivity as well as simplifying the many operations and processes in the IT sector.
Benefits
Cloud computing has earned good popularity over the last few years. With the increase in the use of data in the 21st century, it is becoming difficult to store all information and programs. The solution to this problem is Cloud computing. As it will help you in providing access to all features and files of the system without having to keep the bulk of that system on the computers. From a proactive and adaptive management perspective, cloud services allow organizations to access software, storage, computing, and other elements of the IT infrastructure without the need to maintain and upgrade them. Let's explore more about its advantages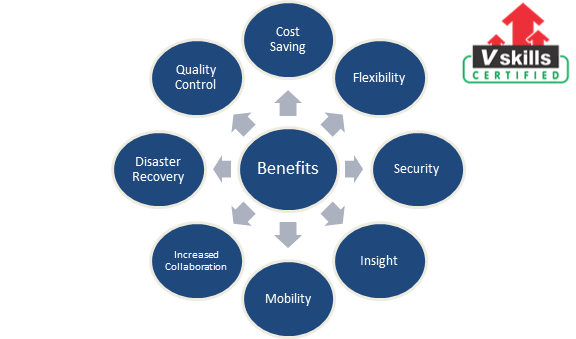 Cost Saving
Cloud computing can save time and money in project startups. In Addition, it provides pay as you go services. Pay-as-you-go system also applies to the data storage space that is needed to service stakeholders and clients. Eventually, you will get exactly as much space as you want.
Flexibility
The cloud offers businesses more flexibility than hosting on a local server. Also, if extra bandwidth is required then, a cloud-based service can meet that demand instantly, rather than undergoing a complex update to your IT infrastructure. This improved flexibility can make a significant difference to the overall efficiency of your organization.
Security
Organizations face security issues when it comes to protecting files, programs, and other data. Cloud hosts carefully monitor the security that is significantly more efficient than an organization that divides its efforts between IT concerns and security. According to RapidScale, 94% of companies showed a good security improvement after switching to the cloud.
Insight
Cloud-based storage solutions offer integrated cloud analytics to overview your data. However, with your information stored in the cloud, it's easy to implement tracking mechanisms and create custom reports to analyse the information. From these insights, efficiencies can be increased and action plans are built to meet organizational goals.
Mobility
Cloud computing provides mobile access to corporate data using smartphones and devices globally. Moreover, staff with busy schedules, or who live far away from the corporate office can use this feature to keep instantly up to date with clients and co-workers.
Increased Collaboration
Cloud computing makes collaboration much easier. There's no need for a team to be in the same location to work together. All a group of users need is an internet connection to log into a common platform where changes are saved at one place.
Disaster Recovery
Cloud based services offer fast data recovery for all kinds of situations or emergencies that can be natural disasters or power outages. This helps prevent situations where downtime in services result in lost productivity, revenue, and reputations.
Quality Control
In a cloud-based system, documents are stored in a single format and in one place. So with everyone having access to the same information, you can maintain data consistency, avoid human errors, and have a clear record of all reviews or updates.
Why Learn Cloud Computing?
The demand for professionals with Cloud Computing skills has sky rocketed. Moreover, the market demand for cloud engineers has not met the availability of cloud engineers. Such and unmet skill gap has caused the job to become one of the highest paying work today. Therefore learning Cloud Computing will definitely help you advance you career prospects. Other reasons for you to start learning Cloud Computing are:
To begin with, the Cloud Computing industry offers competitive Salaries. With the immense growth in this industry, cloud computing skills are highly sought after by employers. This has led to impressively high salaries waiting for you
Also, Cloud computing offers a multitude of career paths. You can chose from an array of options.
Moreover, Cloud Computing is a Growing Sector. The sector is expanding rapidly, with companies spending more on cloud computing each year. Learning Cloud Computing is a smart choice.
Moreover, it offers you a secure job. As Cloud services have rapidly reached mainstream usage it is here to stay. Companies big and small rely on cloud services to access the software they need to function.
Skills Required in the Cloud Computing Industry
As the demand for skilled cloud computing professionals has increased you will have to be equipped with the industry relevant skills to make it big in this industry. Here are some must-have skills:
Firstly, proficiency in several programming languages such as SQL, XML, R Language, Python, etc. to build and deploy cloud-based applications
Then, skilled knowledge of Web Services & API for working on Cloud Architectures development.
Further, you must have specialization in cloud security skills.
Also, Machine Learning and Artificial Intelligence (AI)
Furthermore, Knowledge of HTML and computing fundamentals
Moreover, knowledge of Cloud Migration and Deployment within Multi-Cloud Environments
Additionally, you should be skilled in Serverless Architecture
Finally, expertise in Linux
Employers are seeking professionals who not just possess the required technical skills, but also possess soft skills and problem solving skills along with a sound knowledge of business operations. Thus, for any candidate to pursue a career in cloud computing, overall knowledge is important
Career Prospects
Are you excited to learn about the career prospects of cloud computing. Without further adieu lets discuss.
Cloud computing spans across a wide variety of IT related fields including, data storage and use, cloud network infrastructure, applications scaling, operation and maintenance of cloud based services. In today's IT scenario Cloud Computing is one of the most demanding and rapidly growing career domains. You can opt for various roles and designations. These include-
Cloud Administrator
Cloud administrators help maintain the cloud systems an organisation is using. They use problem solving skills to troubleshoot when problems occur and ensure that the cloud systems continue to meet the needs of the business. You must have deep knowledge of system management, troubleshooting and virtualization to become a Cloud administrator.
Cloud Architect
Cloud architects help businesses plan, set up and manage their cloud architecture. They help organizations identify the right combination of cloud services to address their needs. Also, set up the architecture needed to support these. Being a cloud architect involves working with front end platforms, servers, networks and storage.
Cloud Application Developer
A cloud application developer designs and develops software applications that are deployed through the cloud. Their applications run on virtual systems. As software development demands integration tasks, Application Developers must know the back-end system integrations with the major Cloud platforms.
Cloud Engineer
Cloud engineers in an organization are responsible for the technical duties associated with Cloud computing. From designing cloud software and systems to executing and maintaining them is done by a Cloud Engineer. Moreover, Cloud Engineers fulfil vital services for their companies
Cloud Security Professional
Cloud security professionals protect a company's data from cybercrime. They work hard to understand the latest cyber threats affecting the cloud and innovate solutions to make the cloud more secure. A Cloud security professional designs implements and maintains security strategies. They must have deeper knowledge of compliance issues and IT governance related to the Cloud.
Cloud Product Manager
A Cloud Product Manager is responsible for performing product planning for Cloud-based offering product concept and strategy documents. They also identify product positioning and allow sales processes.
Cloud Sales Manager
A Cloud Sales Manager develops and builds an outsourced Cloud business with C-suite executives within mid-size and enterprise-level customers. You must have an understanding or experience in forming strategic partnerships with all-sized corporations to become a Cloud Sales Manager.
Earning Potential
Cloud Computing has been one of the most flourishing and advancing fields. With the rise in companies adopting cloud and virtualization, it is not much of a surprise that the salary treads are really high. As per a report, the average salary of a cloud engineer in India is Rs 7,51,756 per annum. This is expected to increase in the coming years given the exponentially increasing demand and lack of supply for cloud computing professionals. Top recruiters in this industry are Google, HCL Technologies, Microsoft, Adobe, Accenture and Cognizant. Also, greater experience in any field is valued.
A Cloud Computing Professional with 0-3 years of experience can expect to earn an average total compensation (includes tips, bonus, and overtime pay) of ₹12,41,000
A Cloud Computing Professional with 4-6 years of experience can expect to earn an average total compensation (includes tips, bonus, and overtime pay) of ₹17,44,817 to ₹19,00,369
Ways to Level up your career in Cloud Computing
As discussed the remarkable growth of the Cloud Computing industry has opened new opportunities for people entering in the field. Whether you're planning to enter this domain or looking to grow your cloud computing career, a certification will help you gain the most recent skills and contribute to your organization's business. A certification in cloud computing validates your skills and helps you grow your knowledge. Moreover, it shows that you can work on complex procedures and handle cloud deployment in an enterprise. Professional certifications give your career a boost as they increase your credibility. Additionally, these certifications are your entrance ticket in this crucial IT service. Here is a list of some top-ranked certification that will help you differentiate among your competitors: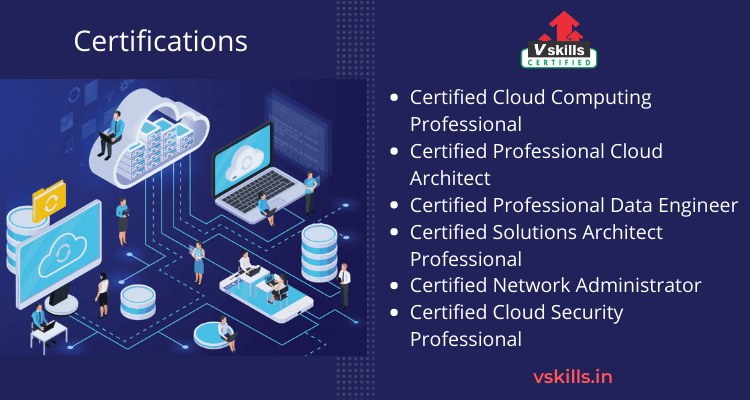 Top Certification Providers
After getting to know about various operations and supply chain management certification, the next thing that comes in mind is to prepare for that. There are various certification providers out there that provide training with expert assistance. The certification providers include,
Vskills – India's Largest Certification Body
Udemy
Edureka
Coursera
Simplilearn

Cloud Technology Is The Past, Present, and The Future
Cloud computing as a term has been around since the early 2000s. Moreover, what is mind-boggling is that computing-as-a-service has been around for even much longer, as far as the 1960s. However, Cloud computing still remains at a relatively early stage of adoption in spite of its long history. In the current cloud market the benefits of leveraging the infrastructure of a large cloud provider can be beneficial in many ways. The cost structure works like a utility which provides for an operating expense model with no upfront infrastructure costs. The future of cloud computing will most likely represent a combination of cloud based software products and on premises compute. This will create a hybrid IT solution that balances the scalability, flexibility, security and control of a private data center. There are thousands of possibilities beginning to form as the future of is very bright.
Expert's Corner
Things to remember before venturing into any industry you need to know all the facts to feel secure about your decision. Here are a few points to remember:
Firstly, to ace the cloud computing world, you must get your basics right. Learn cloud computing concepts to get the knack of the intricate nature that the on-demand cloud environment has. Once you have mastered the basics, you are good to enter this field.
Secondly, do gain hands-on experience. Gaining fundamental knowledge about cloud computing will not ensure success in the field – getting practical experience will. You should be familiar with the use of some of the platforms offered by the leading cloud providers
Further, learn new skills and technologies. You must keep learning to advance your knowledge and move up your cloud computing ladder. Also, you should acquire skills that can help you be a pro at what you want to do.
Moreover, get expertise in analysis. As an expert cloud professional, you will have to analyze a project's performance, scalability, availability, and security. Therefore it is important to raise your game by becoming familiarising with analysis.
Finally, improve Your Communication Skills. As a cloud computing professional you will be engaged in meetings and problem-solving discussions. Moreover, you will be dealing with vendors, and possibly be involved in negotiations with them. Therefore brush up your communication skills as well.
Conclusion
In a nutshell, Cloud computing is the technological development that has the potential for a great impact on the web world. It comes with various benefits for both its users and enterprise. This industry offers outstanding career opportunities. Learning this skill will definitely make your resume shine. Moreover, the cloud technology is here to stay and with years passing by its demand is only going to increase. It will revolutionize the future. So brush up your knowledge with online tutorials and Learning Resources. Also, you should take up professional certifications to excel in this field.