In almost every industry there is a need for goods to be procured, stored, and dispatched as per the requirement. And, for getting better outcomes in this, logistics and supply chain management has proven to be the best resource. The growth of SCM and logistics is rapidly increasing with providing efficient and effective management of all functions. This, as a result, has given a big push to the career opportunities in the Logistics and SCM sector by providing new opportunities in bulk.
Experienced and certified Individuals with good knowledge in the logistics and supply chain sector are proven to be strong in the job market. That is to say, almost every retail organization has a supply chain department. So, this can provide multiple opportunities for employment. However, to understand this even better, in this blog we will talk about the basics of logistics and SCM including the top reasons to start a career in this.
Logistics and Supply Chain Management: Overview
For having a good understanding of logistics and supply chain management let's separate these terms. Firstly, Logistics refers to the activities that occur within the boundaries of a single organization. This includes traditional logistics that mainly focus on activities like procurement, distribution, maintenance, and inventory management. On the other hand, Supply Chain refers to the networks of companies working together and coordinating their actions for delivering a product to market. However, Supply Chain Management (SCM) acknowledges all of traditional logistics. It also includes activities like marketing, new product development, finance, and customer service.
Taking this further, Logistics is concerned with both materials flow and information flow. In which the materials flow from the supplier to consumer and the information flows the other way. Moreover, it also covers inventory and resource utilization, customer response. In short, logistics is a link between the manufacturing and marketing operations of a company.
Further, there are concepts related to Logistics and SCM that are basically major areas. Check the below section to understand this better.
Basic Concepts of Logistics and SCM
The main concepts or the functions areas of logistics and Supply chain are:
Inventory Planning
Inventory planning refers to the process of determining the optimal quantity as well as timing, with aim of aligning plans to produce and make sales in organizations. Every organization wants to minimize the inventory levels because of its linear relationship with the cost.
Transportation
Transportation refers to the key logistics function of supply chains used for running processes from suppliers through to customers or stores. It involves the movement of the product including service/transit time and cost. Moreover, it also impacts the movement of information and integration within and among suppliers, customers, and carriers.
Packaging
Packaging protects products from damage and allows for their efficient distribution. This helps in communicating to the consumers and is considered one of the major product promoters in a competitive marketplace. However, in order for achieving successful supply chain management, packaging systems should have aspects of marketing, logistics, production, and the environment.
Warehousing
Warehousing Is a part of the logistics management system which refers to a large, spacious place used for the storage or accumulation of goods. This is basically a back-end building for storing goods. This includes inbound functions that assist in preparing for storage. And, outbound functions which pack and ship orders, resulting in benefits for both the business and customers.
SCM and Logistics: Basic skills and knowledge
Before entering into the scm and logistics world, you should understand the basics knowledge and skills for getting advantage. As this can help you in establishing a good career. Some of them are:
Firstly, as a logistics manager, you must have the ability to think one step ahead. These skills will help you to see risks that may arise, and then develop contingency plans for problems accordingly.
Secondly, for a good SCM/logistics manager, it is essential to have strong numerical and analytical skills. This will help in reading and analyzing data, and even make interpretations that are useful to the company.
Thirdly, you must gain extensive industry knowledge by learning about all the latest happenings and trends in the supply chain.
Next, there are various companies in the supply chain. You will have to review and keep tabs on these so that the process runs smoothly.
Lastly, you must have good interpersonal skills as this work requires dealing with people from different departments. So, a little miscommunication can affect the whole process.
Above, we have understood the basics of logistics and supply chain. Now, coming on to the important section of the blog that is " Why to go with Logistics and SCM?'. To get an answer to this, check below!
10 Reasons to puruse a career in Logistics and SCM

The first thing everyone checks for before starting a career in any area is the job value. Talking about the logistics and SCM, the job growth rate is constantly expanding and this field has now become even more promising. As SCM and logistics are getting linked up the IT and various trending services to provide better outcomes.
The second important point is about stability and salary. To define this, you must know that logistics and SCM will provide you various job opportunities according to your area of interest with high pay. And, talking about stability, the logistics industry is considered as the pillar of the country. That is to say, a career in logistics will set you up with a stable career and the ability to enjoy a level of certainty and security.
Thirdly, the logistics sector is an area of progress so opportunities for career advancements are always available. Withholding a certification is SCM and logistics can help you get more advanced to have higher-level positions.
Next, logistics and SCM are good for both professionals with advanced degrees as well as individuals with graduate degrees. That is to say, there are roles in which the only graduation is required. But, to increase your level it is advised to hold a certification or post-education in logistics or SCM.
Coming on the fifth point, that is logistics and supply chain department is expanded globally. So, you end up with jobs that will provide frequent international travel. However, these trips focus far more on work than sightseeing but it will offer an array of opportunities for breaking into the field of international business.
Next, the field of logistics and SCM provides professionals to pursue various specializations in sub-sectors like wholesaling, warehousing, and postal services. So, you can select and prepare according to your field of interest.
We all know that due to the increase in competition it is difficult to find a good job. So, there are companies offering paid internships for those with good knowledge or SCM or Logistics certification. This will help you to enter into the industry and further, provide more opportunities.
Coming on the next point, with a rapid growth rate of SCM and logistics, many top companies are applying and using the latest technologies like Artificial intelligence and others. This itself increases the productivity and demand for skilled professionals.
Next, there are many logisticians who remain in the field for decades, but some with the skills move into other fields. However, there are transferable skills fostered in the field of logistics that are forecasting, workflow optimization, general management, and financial planning.
Lastly, most individuals look for steady employment with high pay jobs but on the other hand, there are some who find their work in logistics so rewarding. That is to say, individuals choose logistics as a career to have a deeply rewarding career.
Now, we have good reasons to go with logistics and SCM. It's time to make this stronger. That is to say, what makes any field future proof is the job market value and roles which we can apply for. So, in the below section we will learn about the market value of logistics and SCM with trending certifications and job roles.
Market value: Logistics and Supply Chain Management
With having a good value in the market, Supply chain management software provides a real-time analytical platform to industries to manage the flow of products and information across the supply chain network. This has further increased growing awareness among companies from IT globally making it one of the fastest-growing segments in the information field. According to a report, the market size for supply chain management is expected to reach $22.7 billion by 2024 globally.
However, to enter into this emerging field, you can take the certification for knowledge advancement as well as for getting a high paying job.
Top Logistics and SCM certifications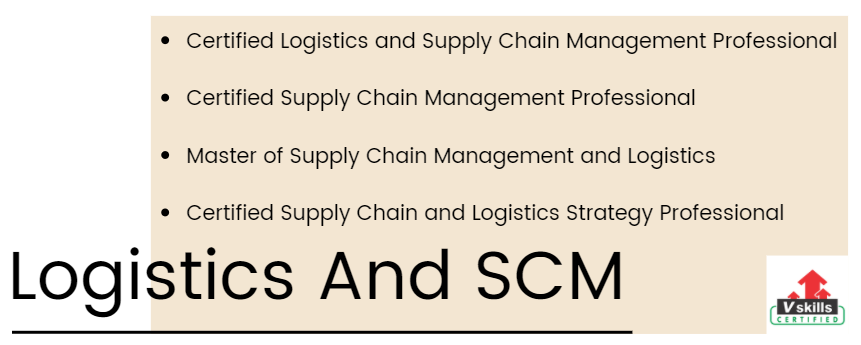 After knowing about the various certifications, the next thing that comes to mind is to get the best certification provider and available venues to help learn better. This will help you a lot during the preparation time as well as enhance your skills. However, there are various certification bodies that can help you in becoming a Professional in logistics and SCM. But, in the end, you have to select the certification provider that matches your hopes. The certification providers include,
Coming on to the trending job roles that can take your career to the next level.
Trending Job Roles: Logistics and SCM
Purchasing manager
Individuals in the roles of a purchasing manager are involved in organization's operations from product development to comparing supplier costs to strategic planning to production. They are responsible for creating strategic purchasing processes and manage all the vendor and supplier relationships.
Average salary $116,243
Logistics manager
A logistics manager is responsible for planning and overseeing logistics policies, goals and initiatives. They also develop procedures for logistics management for enhancing product workflow and reducing costs. And, also ensure customers get their products on time.
Average salary $112,209
Supply chain manager
A supply chain manager's task is to oversee and manage the company's overall supply chain and logistics operations with aim to increase efficiency and productivity. They work with managers from across the company for planning and executing its supply chain strategy. 
Average salary $111,424
Production manager
A production manager's task is to plan production schedules and ensure that the production process is accomplished on budget and on time. They also analyze production processes and recommend strategies for improving those processes.
Average salary $103,581
Strategic sourcing manager
A strategic sourcing manager manages the organization's purchasing spend balances with taking care of cost-effectiveness. They do the research for driving the company's purchasing decisions and analyzing new business opportunities.
Average salary $92,141
Procurement manager
A procurement manager is the contact between a business and its suppliers. They have analytical skills for identifying and evaluating possible suppliers. Moreover, they also do the negotiation for favorable payment terms with potential suppliers.
Average salary $81,655
We are now familiar with the logistics and supply chain major areas and top reasons to go for this career. But, what makes this career more demanding is that it is future proof. That is to say, it has growing networks with emerging technologies. Let's take a look at the sections below to understand it better.

Future Prospects: Logistics and Supply Chain
As we are well familiar with the growing rate of logistics and supply chain. But, what makes it more effective are the technologies for boosting productivity.
Firstly, as we know mostly everything is working on digital platforms. And, now with artificial intelligence businesses have become more forward by creating better-demand forecasts with predictive analytics. This has increased the level of decision-making as well for identifying risk in supply chain management.
Secondly, the entry of the Internet of Things in the supply chain sector has increased the productivity level. As using the IoT devices and sensors, it is easy to manage assets and people more productively.
Thirdly, supply chain management is complex, and tracking the movement of goods across multiple companies is a major challenge. So, here blockchain technology sorts out all the data/documents/communication exchanges happening within the supply chain ecosystem.
Next, modern logistics practices focus on the circular supply chain concept which involves the use of previously used products as raw materials. This helps companies to reduce administrative and transportation costs and results in achieving higher sustainability, better customer service.
Lastly, warehouse managers can start using wearables for fast, accurate collection of inventory data. This also helps in keeping track of manufactured, stored, and distributed products.
Final words
As we have understood, the logistics and supply chain management departments are loaded with a bulk of opportunities. This even provides you with different areas in which you can apply according to your interests. Most importantly, logistics and supply chain provides you a chance to learn things with the presence of various emerging technologies ( AI, IoT, blockchain). But, we cannot ignore the fact that this has made the job market competitive. So, you have to prepare really hard to get a good position. For this, you can take help from various training providers that will provide you with good study resources and online tutorials for SCM. 
Enhance your SCM skills using Expert tutorials on Certified Logistics and Supply Chain Management Professional