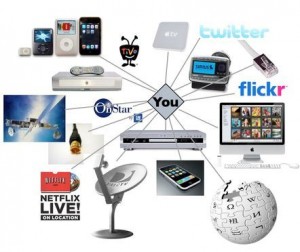 The mediascape has been witnessing massive changes in the last 20 years or so. From being dependent on 'Traditional or Old Media', we've shifted to the use of 'New Media'. Whereas the traditional forms like print, films, TV, and radio constitute Old Media, New Media primarily includes computer technology, the Internet and smart phones.
Here are the key differences between the two
From Consumer to "Prosumer"
The older forms of media forced the audiences to be passive consumers of the content provided to them, in the sense that there was only so much that they could do.
The new forms of media allow the audiences to not only consume content, but also produce content. Therefore we're becoming Prosumers: producers+consumers. Earlier the audiences could only read or watch news. Today they can produce news through blogs, social media or Citizen Journalism portals.
The Use of Multimedia
Print media for example, only uses text and still images. Electronic media uses a number of codes, still and moving images etc., but New Media (online medium) trumps both of these with its use of multimedia. Text, images, hyperlinks, videos..a single page online can make use all of it.
Multiplicity of Delivery Platforms
Unlike old media, new media can be delivered on flexible formats – smartphones, tablets, laptops, PC etc.
Interactivity
New media allows for greater interactivity among both producers & consumers- audiences can give instant feedback to reporters, news channels through their Facebook page, twitter etc; and consumers & consumers- through comment feeds, social media interactions.
Scope and Reach
Newspaper circulation is bound to a certain physical space, and TV content, unless uploaded on the internet, remains within the viewership of their country's audience. Therefore, older forms of media are limited in their scope and reach.
New media on the other hand, is far wider in it's reach and scope. Once, anything goes on the net, it becomes accessible for almost anyone with a computer and net connection. However, questions of "digital divide" make this argument skeptical. A vast majority of the population still doesn't have access to smart phones or the internet.
This increasing interactivity and greater scope of reach has eventually lead to the formation of a "Global Village" – an interconnected community that is not bound by space or borders. This is just taking forward the concept of "Imagined Communities"- a term that was coined by sociologist Benedict Anderson, who felt that people reading the same news in different parts of the country, far away from each other, felt connected, and part of the same community.