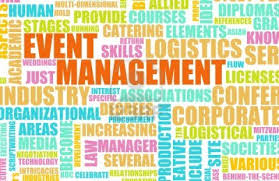 Hey, have you attended Mr. Sharma's wedding ? What was the decor , the food yummy. I can't resist myself to think about it. This is what happened when we attend someone's event of wedding, birthday party, conference or anything. The first question arises in our mind is that who managed that event ?
Event management is the process of planning and executing corporate, associations, non profit, govt. and social events.
It is the coordination and planning of all the people and teams that come together to create every kind of event. Now a days, it is needed everywhere. Have you seen the grand success of Olympics that's all because of the proper event management.
Today, people are pursuing event management courses. It is fast- paced, varied and highly employable field. Event management is a multi- dollar industry which is growing at the rate of 150% per annum with events being hosted daily.
From engagement to reception, birth to birthday parties, kitty party to karaoke nights, conference to DJ nights, Everyone wants a perfect event that would be memorable. At school and college level as well if someone is organizing any event in class or in department, first they make organizing committee for that event so that their event happen without any trouble. That's why people hire event managers or planners for organizing events. It is the career which demands lots of hard work. An event manager should be capable of working round the clock. He or she should has high degree of energy, flexibility, motivation, good communication skills, strong networking, excellent public relations, Patience and most importantly tons of creativity.
" They are the in charge of thinking things before people know they need them."
It is loaded with responsibilities. One has lots of work from coordination to execution. Team work matters a lot. That can happen through good leadership skills only. One should be able to know how to take work from other team members.
It is such profession where failure has no hiding place. No matter how much confidence you have and how efficiently you work. If you commit mistake, people will notice you. Work efficiently. Make the most basic decisions about the event, its aim, time and venue, financial expenditure and then make teams accordingly. Events become feelings and feelings become events. Always remember,
" Everything depends upon execution; having a vision is no solution."
Click here for government certification in Life Skills