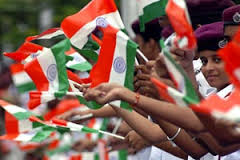 India known to be a developing country, is a land of cultures, traditions and values, however it is a prime area for sexual harassment to occur. Around 5 lakh children face sexual abuse every year. Young girls are sold as objects to become sex slaves and even forced into prostitution. 12 lakh children are tranferred , transported or received for the purpose of sexual exploitation all over the world, most of whom are Indians. Is this what we call a developing country?
The present condition has been worsened by the introduction of oxytocin injections in the market. This drug serves the continued propagation of species. Helpless, poor girls who are victims to child trafficking are being injected with this drug to make them mature before age.
Not just in India, it is prevalent in other countries like Singapore too. In today's world, girls facing exploitation are more in number than boys. This gender gap might be because of higher victimization of girls, lower willingness of boys to disclose abuse or both.
In a poor country like India, it is not shocking to see people selling their kids off to be sexually abused, just to acquire basic necessities of life. Lack of employment, economic loss, no job security, lack of human rights are some of the many reasons of child trafficking.
Poor families sell their children off to gangs to make money. Another cause of sexual exploitation is that people around the world find pleasure in the outcomes of this abuse.
Had our government been more concerned to provide employment to poor people,give them job security apart from planning great pension schemes for themselves, I wonder how different the situation would have been!
Had the laws been implemented instead of just being on papers, then surely people would have said with conviction that 'India is developing',