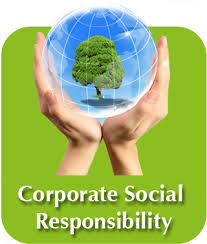 What is common to Sundesh (Dabur), PURA (ONGC), Nanhi Kali (children initiative project by M&M), Dil se dua (Dabur)?
These are names of the few projects undertaken by various corporates under the corporate social responsibility (CSR).
The United Nations Industrial Organisation defines corporate social responsibility as
"a management concept whereby companies integrate social and environmental concerns in their business operations and interactions with their stakeholders."
In India, corporate social responsibility means that companies having net worth above Rs.500 crore or more,or an annual turnover of Rs.1000 crore,or net profits of Rs.500 crore have to earmark two percent of average net profits of three years towards corporate social responsibility.
The concept of CSR is exercised by clause 135 of the Companies Act, 2013. Under the new rules applicable from fiscal year 2014-15 require companies to set up a CSR committee consisting of their board members and including least one independent director.
A company balances economic, social and environmental activities through CSR.For a company in a society which is doing business and making profits for its stakeholders, spending on CSR is a way of giving back to that society
CSR can include a variety of strategies like giving a portion of a company's proceeds to non profit organisations, to giving away a product or service to a worthy recipient for every sale made.
Key CSR issues:
environmental management such as reducing carbon footprints
eco-efficiency
responsible sourcing
stakeholder engagement
labour standards and working conditions
employee and community relations
social equity
human rights
good governance
anti-corruption measures
Promotion of education
Eradication of extreme hunger and poverty
Reducing child mortality and improving maternal health
Combating HIV-AIDS, malaria and other diseases
Gender equity and women empowerment
Social business projects
Contribution to Prime Minister's relief fund and other such state and central funds
Employment enhancing vocational skills
A number of benefits can be contributed to the society if CSR is properly implemented such as increased sales and profits, better decision making, increase in brand image and reputation, operational cost savings.
Click here for government certification in Accounting, Banking & Finance