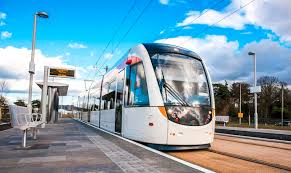 City developing in the sustainable manner – economically, ecologically and socially – is the most competitive when it takes care of residents demands. It turns the most attractive shelter for life and work for residents. In the meantime, building an efficient place that meets the needs of city residents is a troublesome task for local governments. Firstly to distinguish, and secondly to satisfy the citizens' continuously changing needs. One of the most straight forward methods to help understand the resident's requirements can be crowdsourcing utilization. However the most challenging task is to manage traffic by the city logistics infrastructure designed to eliminate congestion problems within existing city spatial and, in the meantime, to flexibly reply on transport changing demands. Therfore response to those challenges facilitating future Smart City logistics advancement is interoperable IT system usage based on cloud computing model. Also, cloud computing, by its design and characteristics, is particularly interesting for the public sector aiming to reduce costs and improve flexibility in operations. The collaborated computing model gives special and unique opportunity to design city logistics infrastructure in the way that it is easily adaptive to changing transport demands. The fundamental goal of the article is to present Smart City logistics on the cloud computing model (Cloud Smart City logistics) as the concept of citizens demand-driven flexible logistics infrastructure performance for the sustainable city of the future which is available for any city government interested in sustainable development.
City logistics can contribute to establish a more efficient and environmentally friendly urban freight transport systems. Moreover, the application of innovative technologies of ICT (Information and Communication Technology) and ITS (Intelligent Transport Systems), that bring change in mind-sets of logistics managers, and public-private partnerships can improve, promote city logistics policy measures. The procedure of urban freight transport management is described, which is an adaptive management system that uses the PDCA (Plan, Do, Check, and Act) cycle. Joint delivery systems with urban consolidation centers are also highlighted in particular focusing on the benefits and problems, the role of municipalities, the success factors and the transfer ability to other areas.
Three elements are essential for promoting city logistics:
(a) Application of innovative technologies of ICT (Information and Communication Technology) and ITS (Intelligent Transport Systems)
(b) Change in mind-sets of logistics managers
(c) Public-private partnerships.
Click here for government certification in Logistics & Supply Chain Management