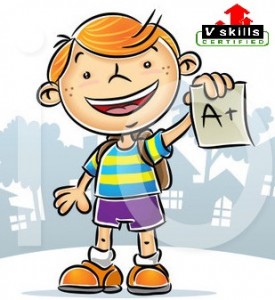 Congratulations !! to all candidates who cleared the Vskills Assessment exam held on 21st Nov and 22nd Nov 2015.
The result for Vskills Certification examination held across India on 21st Nov and 22nd Nov 2015 has been declared and certified candidate have been updated in Vskills Alumni list (http://www.vskills.in/certification/Vskills-Alumni).
Details on steps to tagging and highlighting of CVs of certified candidate will be sent by e-mail to all certified candidates.
Details of Certified Candidates of Vskills Assessment Exam held on 21st Nov and 22nd Nov 2015 are also listed below –
| Name | Certification | Exam Date | City |
| --- | --- | --- | --- |
| Anton Myburgh | VS-1124 Certified Cordova Developer | 20-Nov-2015 | Online |
| Johanna Kiran | VS-1002 Certified Human Resources Manager | 21-Nov-2015 | Bangalore |
| Dileep Kumar .P | VS-1008 Certified Purchase Manager | 21-Nov-2015 | Kochi |
| Shajan C George | VS-1008 Certified Purchase Manager | 21-Nov-2015 | Kochi |
| Dhanraj Kalimuthu | VS-1016 Certified Treasury Market Professional | 21-Nov-2015 | Coimbatore |
| Prashant Gupta | VS-1023 Certified Software Testing Professional | 21-Nov-2015 | Pune |
| M.S Sree Kumar | VS-1024 Certified Logistics and Supply Chain Management Professional | 21-Nov-2015 | Delhi |
| Abhishek Pandit | VS-1061 Certified Django Developer | 21-Nov-2015 | Bangalore |
| N V N Bhavanishankar | VS-1067 Certified Cloud Computing Professional | 21-Nov-2015 | Bangalore |
| Sakthivel Pavalam | VS-1067 Certified Cloud Computing Professional | 21-Nov-2015 | Bangalore |
| Niharika Panda | VS-1074 Certified E-Governance Professional | 21-Nov-2015 | Bhubaneswar |
| Lalit Kothari | VS-1079 Certified Project Management Professional | 21-Nov-2015 | Delhi |
| Vijaya Kumar Bommasamudram | VS-1083 Certified Selenium Professional | 21-Nov-2015 | Chennai |
| Yatin Kanekar | VS-1083 Certified Selenium Professional | 21-Nov-2015 | Goa |
| Bhavin Panchal | VS-1083 Certified Selenium Professional | 21-Nov-2015 | Pune |
| Pritam Kadam | VS-1083 Certified Selenium Professional | 21-Nov-2015 | Pune |
| Megha Rajopadhye | VS-1083 Certified Selenium Professional | 21-Nov-2015 | Pune |
| Vaibhav Singh | VS-1083 Certified Selenium Professional | 21-Nov-2015 | Pune |
| Varun Wadhwa | VS-1092 Certified AML-KYC Compliance Officer | 21-Nov-2015 | Delhi |
| Prakhar Bhatia | VS-1093 Certified Commodity Trader | 21-Nov-2015 | Mumbai |
| Kamlesh Jha | VS-1103 Certified Six Sigma Green Belt Professional | 21-Nov-2015 | Patna |
| Prashant Saindane | VS-1103 Certified Six Sigma Green Belt Professional | 21-Nov-2015 | Pune |
| T.R.L.Rao Siddani | VS-1108 Certified Maintenance and Reliability Professional | 21-Nov-2015 | Hyderabad |
| Faried Ebrahim | VS-1124 Certified Cordova Developer | 21-Nov-2015 | Online |
| Thobani Mngoma | VS-1124 Certified Cordova Developer | 21-Nov-2015 | Online |
| Xolisa Moyeni | VS-1124 Certified Cordova Developer | 21-Nov-2015 | Online |
| Anthea Taitz | VS-1124 Certified Cordova Developer | 21-Nov-2015 | Online |
| Tanya Wilke | VS-1124 Certified Cordova Developer | 21-Nov-2015 | Online |
| Yazeed Adams | VS-1124 Certified Cordova Developer | 21-Nov-2015 | Online |
| Philip Lainis | VS-1124 Certified Cordova Developer | 21-Nov-2015 | Online |
| Mbuso Sithole | VS-1124 Certified Cordova Developer | 21-Nov-2015 | Online |
| Nathaniel Joka | VS-1124 Certified Cordova Developer | 21-Nov-2015 | Online |
| Lungi Zungu | VS-1124 Certified Cordova Developer | 21-Nov-2015 | Online |
| Tefo Seleka | VS-1124 Certified Cordova Developer | 21-Nov-2015 | Online |
| Ishmael Shadrick | VS-1124 Certified Cordova Developer | 21-Nov-2015 | Online |
| Prakhar Bhatia | VS-1136 Certified Options Trader | 21-Nov-2015 | Mumbai |
| Prakhar Bhatia | VS-1137 Certified Futures Trader | 21-Nov-2015 | Mumbai |
| RaghuRam Jandhyala | VS-1166 Certified Business Analytics Professional | 21-Nov-2015 | Hyderabad |
| Madhavan Selvaraj | VS-1170 Certified Digital Marketing Master | 21-Nov-2015 | Chennai |
| Nikhil Waradkar | VS-1170 Certified Digital Marketing Master | 21-Nov-2015 | Mumbai |
| Rohini Rego | VS-1170 Certified Digital Marketing Master | 21-Nov-2015 | Mumbai |
| Kannu Priya Rawat | VS-1170 Certified Digital Marketing Master | 21-Nov-2015 | Mumbai |
| Cynthia Vincent | VS-1170 Certified Digital Marketing Master | 21-Nov-2015 | Online |
| Shashwat Chauhan | VS-1176 Certified Payroll Manager | 21-Nov-2015 | Kanpur |
| Asha Jyothi Sathenapalli | VS-1186 Certified Training and Development Manager | 21-Nov-2015 | Bangalore |
| Vijaya Kumar | VS-1199 Certified Planning and Scheduling Manager | 21-Nov-2015 | Online |
| Anil Kumar | VS-1204 Certified Supply Chain Management Professional | 21-Nov-2015 | Chennai |
| Upendra Kushwaha | VS-1204 Certified Supply Chain Management Professional | 21-Nov-2015 | Mumbai |
| Vidhi Shah | VS-1247 Certified Digital Citizen | 21-Nov-2015 | Online |
| Syed Azharuddin | VS-1003 Certified HR Staffing Manager | 22-Nov-2015 | Indore |
| Md Fahim Akhtar | VS-1004 Certified Compensation and Benefits Manager | 22-Nov-2015 | Bangalore |
| Venugopal R | VS-1004 Certified Compensation and Benefits Manager | 22-Nov-2015 | Delhi |
| Kaushal Shrivastava | VS-1004 Certified Compensation and Benefits Manager | 22-Nov-2015 | Faridabad |
| Ashish Vats | VS-1005 Certified Merger and Acquisition Analyst | 22-Nov-2015 | Delhi |
| Amit Kumar Jha | VS-1008 Certified Purchase Manager | 22-Nov-2015 | Kolkata |
| Kumar Shishir | VS-1008 Certified Purchase Manager | 22-Nov-2015 | Thane |
| Prakhar Bhatia | VS-1009 Certified Technical Analyst | 22-Nov-2015 | Mumbai |
| Prakhar Bhatia | VS-1010 Certified Equity Research Analyst | 22-Nov-2015 | Mumbai |
| Shreyas Joshi | VS-1023 Certified Software Testing Professional | 22-Nov-2015 | Mumbai |
| Aarti Kargutkar | VS-1051 Certified Talent Manager | 22-Nov-2015 | Mumbai |
| Sankarraman Venkatasubramanian | VS-1055 Certified Python Developer | 22-Nov-2015 | Chennai |
| Mohan Karambelkar | VS-1074 Certified E-Governance Professional | 22-Nov-2015 | Pune |
| Pulkit Bansal | VS-1075 Certified Business Intelligence Professional | 22-Nov-2015 | Chandigarh |
| Suresh K | VS-1079 Certified Project Management Professional | 22-Nov-2015 | Bangalore |
| Samar Singh | VS-1079 Certified Project Management Professional | 22-Nov-2015 | Mumbai |
| Pravin Maruti Jadhav | VS-1079 Certified Project Management Professional | 22-Nov-2015 | Pune |
| Subash Talatam | VS-1079 Certified Project Management Professional | 22-Nov-2015 | Vizag |
| Udanka HS | VS-1083 Certified Selenium Professional | 22-Nov-2015 | Bangalore |
| Sai Medha Thummalakunta | VS-1083 Certified Selenium Professional | 22-Nov-2015 | Mumbai |
| Vinay Shewate | VS-1092 Certified AML-KYC Compliance Officer | 22-Nov-2015 | Pune |
| Ambarish Bhardwaj | VS-1098 Certified Marketing Manager | 22-Nov-2015 | Delhi |
| Mrinmoy Rakshit | VS-1101 Certified Fitness Trainer | 22-Nov-2015 | Bangalore |
| Pravasa Ranjan Tripathy | VS-1103 Certified Six Sigma Green Belt Professional | 22-Nov-2015 | Online |
| Tarun Gajjar | VS-1103 Certified Six Sigma Green Belt Professional | 22-Nov-2015 | VADODARA |
| Jitender Verma | VS-1104 Certified Six Sigma Black Belt Professional | 22-Nov-2015 | Chandigarh |
| Vijay Shiradibaba | VS-1120 Certified JMeter Tester | 22-Nov-2015 | Bangalore |
| Thobani Luthuli | VS-1124 Certified Cordova Developer | 22-Nov-2015 | Online |
| Vuyo Soci | VS-1124 Certified Cordova Developer | 22-Nov-2015 | Online |
| Lindiwe Magaga | VS-1124 Certified Cordova Developer | 22-Nov-2015 | Online |
| Simlingene Sotyingwa | VS-1124 Certified Cordova Developer | 22-Nov-2015 | Online |
| Ramprakash Singh | VS-1127 Certified GAAP Accounting Standards Professional | 22-Nov-2015 | Delhi |
| Anup Ganguly | VS-1170 Certified Digital Marketing Master | 22-Nov-2015 | Bangalore |
| Mishal Nagdawane | VS-1170 Certified Digital Marketing Master | 22-Nov-2015 | Thane |
| Jennifer Ann Joy | VS-1176 Certified Payroll Manager | 22-Nov-2015 | Trivandrum |
| Rajesh Kolhe | VS-1180 Certified ERP Manager | 22-Nov-2015 | Secunderabad |
| Santanu Chatterjee | VS-1185 Certified Market Research Analyst | 22-Nov-2015 | Kolkata |
| Anoop Kumar Singh | VS-1195 Certified Corporate Social Responsibility Professional | 22-Nov-2015 | Delhi |
| Anoop Kumar Singh | VS-1244 Certified Organizational Behavior Professional | 22-Nov-2015 | Delhi |
| Yunus Arnold | VS-1124 Certified Cordova Developer | 23-Nov-2015 | Online |
| Lazola Sifuba | VS-1124 Certified Cordova Developer | 23-Nov-2015 | Online |
| Vapi Njamela | VS-1124 Certified Cordova Developer | 25-Nov-2015 | Online |
-Team Vskills