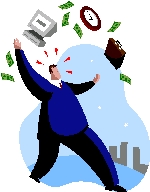 Priorities should be set for various tasks to be completed but how to finish them is also an challenge for most of us. A 3 step approach for fulfilling various jobs and managing this challenge is as
1. Try to do the most difficult jobs (and jobs you don't enjoy) when you have the most energy- usually at the beginning of the day and the beginning of the week.
2. Break large jobs into smaller parts and do one part at a time.
3. Even jobs that seem impossible can be successfully completed with method.
4. Allow for the unexpected – According to some experts, 25-50% of your time may be spent on handling unforeseen problems. You need to flexible, but be sure that something which seems urgent really is urgent before you let it pull away form more important work. Remember to update your "planners" and "to-do list" as needed.
Click here for government certification in Life Skills