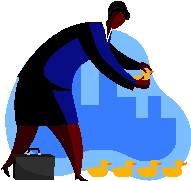 Being organized helps individuals to graduate to next level in their careers or achieve aims set-forth. Importance of being organized can be gauged by two factors which are
1. Do you find yourself
Working longer hours than other in similar positions?
Feeling constant pressure to get things done?
Spending most of your time on the less important jobs, leaving little time for jobs with higher priorities?
Feeling overwhelmed once in a while comes with the job. But if working at a frenzied pace with little sense of progress has become the norm for you it's time to make some changes.
2. Being organized puts you in control
When you're well organized, you won't feel you're always trying to catch up. You'll know what's important and you'll have a plan for getting it done!