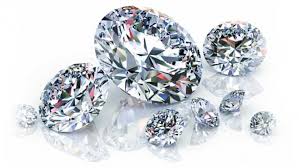 Are you ready for the world's first physically settled diamonds trading exchange? This is being set up in Singapore. But you gotta wait till September-the month when it will first go live. Earlier, there was no organized place for diamond trade as it was done bilaterally. Retailers and jewelers bought it from those who polish it while final customers bought it from the retailers.
Alain Vandenborre who is also the co-founder of Singapore Freeport has set up this SINGAPORE DIAMOND INVESTMENT EXCHANGE PTE LTD (SDiX).This entrepreneur also has a controlling stake in SDiX. Jim Rogers and Hsieh Fu Hua are the angel investors in exchange. Vertex Venture Holdings and International Enterprise Singapore (the govt. agency that promotes International trade) have equity investments in SDiX.
This exchange is a marvelous opportunity for investors to invest in diamonds with transparent pricing. SDiX will be the first of its kind. It is a business to consumer (B2C) platform for physically trading in diamonds. The diamonds on the exchange will be standardized and will be graded by the Gemological Institute of America (GIA). Malca-Amit (a global wealth management company) will provide the custodial services with United Overseas Bank as the approved settlement bank.
Latika Kundu will be the chief operating officer of SDiX. Estimates show that the turnover in the first year would be 250 million dollars. SDiX also plans to launch trading and futures trading in diamonds two years from now.
Around 25 large Indian Diamond Companies will also take part like-Paragon Diamonds, Rosy Blue e.t.c. Most of these companies would be suppliers. So who would be the buyers? The jewelers, retailers and even investors having high net worth. Everyone will have the benefit of buying diamonds from the exchange at a wholesale price.
THE TRADING PROCESS-
Get your diamonds graded and certified by GIA and deposit them according to standardized lots-one operated by Malca-Amit in Singapore Freeport and one within the Bharat Diamond Bourse at BKC Mumbai. Brokers will be keeping the security based on which the trading limits will be decided. They are also responsible for collecting money from buyers and depositing it with exchange. There will be T+3 Settlement (3 business days after the date of transaction). Initially, the trading window will be open for 4 hours and it will be Asia Centric.
Click here for government certification in Accounting, Banking & Finance