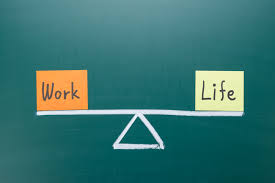 Work life balance in simple words means maintaining a balance in the work i.e. career, ambitions and giving the best performance to reach at the top of attaining self satisfaction at work and in the personal life style i.e leisure, family, health, enjoyment, trips, etc .It implies managing the work in such a way that one's lifestyle doesn't get affected by professional burden or we can say a win-win balance is to be maintained between both.
According to a major Canadian study conducted by Lowe (2005), 1 in 4 employees experience high levels of conflict between work and family, based on work-to-family interference and caregiver strain. If role overload is included, then close to 60 percent of employees surveyed experience work-family conflict.
An important aspect of work-life balance is the amount of time a person spends at work. It has been surveyed that long working hours may impair personal health, jeopardise safety and increase stress. That is it will not only hampers ones productivity at work but also affects the personal lifestyle and increases health risk such as excess alcohol consumption, weight gain and depression of the person or less time is left for enjoyment or for leisure.
Other reasons may include: job security, work demands or overload, work-role conflict, job dissatisfaction, poor working conditions and extensive use of communication technology that blurs the boundaries between home and work. Work-life conflict is a serious problem that impacts workers, their employers and communities. This problem is increasing over time due to high female labour force participation rates, increasing numbers of single parent families, the predominance of the dual-earner family and emerging trends such as elder care and because of the globalisation. Because of this rat race and these issues employees are unable to maintain a balance between their work and life.
But this will prove fatal not only for employees personal life but also for the organisation resulting in poor health conditions of workers at work resulting in low productivity, absenteeism, less punctual employees etc. Hence it is necessary to maintain a proper work and life balance
Therefore companies should ensure work time flexibility, have supportive managers, flexible corporate culture etc. and also employees should ensure self management and should strive for managing the stress and time to be effective at maintaining balance between work and life.