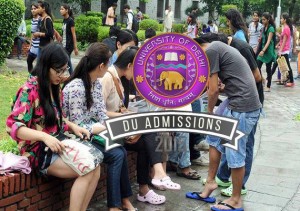 Admission season is at it's peak and students are striving to get admission in Delhi University, University which is known for it's high standards in teaching all over the country. At present, around 79 colleges are affiliated to Delhi University.
This year around 3.2 lakh students applied for admission in DU. However, the number of seats available are 54000 which means that 2.66 lakh students would not get admission in any of the colleges of DU. Also the present scenario is that many students who somehow managed to get admission in DU, have somewhere compromised with the course they opted for.
Is this an ideal situation for any country which aims to progress? Is 85% marks too less to get admission in a college of DU? Do those 2.66 lakh students have no right to be admitted in a good college?
A student with 85% marks not getting admission in SRCC is justifiable but he, not getting admitted to any of the colleges is completely unfair.Doesn't he have a right to quality education?
People say it's competition that has led to this scenario but according to me it's lack of resources! Competition arises when there is lack of resources. So the need of the hour is to add more colleges to DU with the increasing population of students.
Not just that , it is the responsibility of every state government to come up with new colleges which will provide quality education to students of their respective states. This will also prevent migration of people from their home towns or cities to metro cities. In a poor country like India, not every parent can afford to send her/his child to a private college.
This earth has enough to fulfill everybody's need but not enough to fulfill one person's greed. When a parliamentary panel can put forward a view of hiking salaries, constituency allowance and office allowance of MPs by 100%, when the government can spend crores on their security, when our government officials can travel in air conditioned railway coaches and fly first class in planes all with the public money even when they are not on official duty then surely our government can afford to set up good colleges in a country for its it's welfare.