Wondering if FRM even pays off well? Will pursuing a career as a Financial Risk Manager even worth it?
While salary and motivation are often interlinked. One has to agree that salary does drive attention to particular job roles. As one aspires to become better with the tremendous bank balance, fair salary is the key aspect while choosing a career path. And, we understand your concern, therefore, in this article, we're going to discuss the salary of a certified FRM.
In the last two years, the demand for Certified FRM has increased by 63%. With the financial industry growing rapidly, associations are looking for Certified professionals.
More and more associations are in competition with each other for hiring Certified FRM. Thereby there is a huge shift in salaries, which are now being called a competitive salary. And, when all of this happening, who's the one enjoying benefits? Yes, it's you!
So, a certification as FRM will not only increase your potential to compete for a better job prospect than any other candidate but also help you improve your skills and knowledge. As a result, you becoming certified will be the right choice for a better future.

So, let's not start daydreaming right away. Instead, let's dig deeper and understand what really FRM is and understand the certification bodies and learning resources to become a certified professional. Since it's a long road to go, hence we're going to talk you through one by one.

What is FRM?
The very first question one must be clear about is what really is FRM. Well, some of you must know the full form and that's very obvious. But, for individuals who are new to this field and are really hoping for a career as a Certified Financial Risk Manager, we've got you covered. No worries.

First thing first, FRM also known as Financial Risk Manager is a qualification for risk management professionals. These especially are the ones who are concerned with controlling, analyzing, or evaluating possible credit risk, liquidity uncertainty. Also, market risk and non-market associated financial risks. Moreover, FRM holders conduct a wide variety of functions associated with risk management. Further, these include asset management firms, investment banks, government agencies and corporations.
A career as a financial risk manager is for individuals who have the sense to take calculated risks on a regular basis. They usually work under extensive pressure and undertake great monetary transactions. In addition, they must be able to practice financial applications with ease. They must have a great understanding of the state of affairs of the market as well as the condition of industries in the region where they work.
What does a Financial Risk Manager do?
Here is a list of responsibilities a Financial Risk Manager undertakes on a daily basis.
FRM professionals identify and analyze the warnings to the assets, earning capacity, or success of the business
Secondly, they also analyze the data, financial markets, and world events to determine changes and trends that can impact a business.
Also, they even suggest and implement strategies for protection.
But, what actually catches the eye, it's the sudden popularity of FRM designation. So, let's move and understand the reason behind the popularity and demand of certified Financial Risk Manager.
The popularity of Certified FRM
Indeed, the FRM designation is globally recognized as a gold standard for risk professionals. With increasing enrollments in certification programs years after years, FRM designation has swiftly grown in popularity.
The early 21st century has witnessed many inappropriate approaches regarding the potential market and credit risks. Eventually, it has led to to a huge demand for qualified risk professionals who can define a firm's risks clearly and precisely. As a result, Certified Financial Risk Manager designation is often viewed as the most qualified in the industry, thereby leading to various certification programs from various certification bodies.
But, have you ever wondered, which certification course to go for? Can't make a choice? Since the market is cluttered with so many online as well as offline courses, hence the confusion to choose the right one is obvious. But, not to fret! For your convenience, we're going to jot down the top certification bodies with which you can enrol without having a second thought.

Certification: the ultimate key to grab
Ups and downs are part and parcel of life, but why wait for destiny to knock on your door to that? When you are the writer of your life, then why leave it in the future? Well, certifications are the ultimate key for you to grab to attain that height and enjoy certain benefits that you've always dreamed of. So, here are a few benefits, you'll definitely enjoy after getting certified.
Stand out to employers and set yourself apart
Develop your knowledge and expertise
Join an elite group across the world
Demonstrate your leadership at work
Confirm your achievements through real-world experience
Enhance your reputation
Grow your global networking connection
Increase your opportunities across the globe
So, now that you understand all the benefits you'll enjoy. Now, its time for you to choose the right certification body.
Which Certification Body to choose?
Choosing the right certification body can be a little troublesome. While choosing the right certification, one must tick the following boxes before making a choice-
First of all, make sure that the certification body you're choosing is an already existing one. In a world, where anything and everything is possible, make sure not to get conned. So, make sure to do a background check beforehand.
Secondly, whatever course you're choosing, make sure sure that the certification course does include all the skills and experience for the job.
Thirdly and most importantly, make sure that your certification is a value for money. Whatever, you're paying for the certification exam, it must include all the learning resources or tutorials for the same.
Now, that we have made the process of choosing the right certification body very easy, let's look at the top certification bodies that our experts have picked out.

Top Certification Bodies
After going through various surveys and reviews, our expert's consider the following FRM Certification Bodies to be the best. Therefore, we've arranged all the certification bodies according to various scale. These include candidate's friendly, value for money, government certification provider and lastly providing all learning resources. So, we're going to start with the best certification provider and then work it down as we go.
Vskills- India's Largest Certification Body
Garp
Educba
Simplilearn
So, these are our top listed certification body to go for. And, if you still to wish to for some other certification body, make sure to tick those boxes we've mentioned above.
Career Prospect
It goes without a doubt that FRM is a highly recognized risk management designation. Not only does it helps in acquiring essential skills and knowledge of risk management in specific areas. But also, makes the candidate proficient in this specialized nature of the designation that is rewarding in terms of financial growth. Not to mention, it presents the candidate with a network to connect with the world's prominent financial risk management professionals in their career.
Speaking of which, it does present with diverse career options in Risk Management, Trading, Structuring, Modeling, etc. Nonetheless, a certified FRM candidate can even acquire a position as a Chief Risk Officer, Senior Risk Analyst, Head of Operational Risk, and Director, Investment Risk Management, and many more. So, let's look at the industries who demand certified FRM's.

Industry employing certified FRM's
Candidates for the FRM designation work in any number of industries, including:
Banks
Investment banks
Asset management firms
Corporations (including non-financial corporations)
Consulting firms
Hedge funds
Insurance firms
Credit agencies
Government/regulatory agencies
Risk and technology vendors
Popular Job Roles
Some of the popular professional's roles fit for FRM certified professionals are as follows-
Financial Manager
Risk Qualification Manager
Corporate Risk Director
Risk Management Analytics Consultant
Regulatory Risk Analyst
Analytics Client Consultant
Operational Risk Analyst
Credit Risk Specialist
Enterprise Risk Manager
Large Enterprise Commercial Risk Manager.
Each of these career roles offers diverse work opportunities. However, growth prospects might differ significantly. But again, a lot depends on the employer and what sort of growth prospects are available to an individual. Next, we will look at the top-notch companies looking to hire certified FRM.

Top Companies
The companies which are looking FRm includes,
ICBC
Bank of China
HSBC
Agricultural Bank of China
Citigroup
KPMG
Deutsche Bank
Credit Suisse
UBS
PwC
From the salary point of view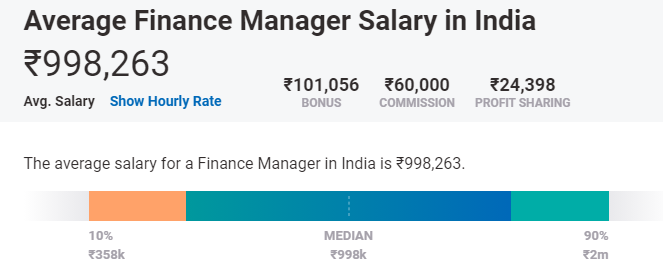 The average salary of a certified FRM professional in India is ₹900,000. However, the amount of money a financial risk manager earns depends primarily on various factors. These include-
Firstly, the level of experience a financial risk manager has.
Secondly, the level of academic qualification.
Lastly, the company a professional work for.
Pay by experience
No matter what job field you're in, the experience is one of the key factors on which the salary prospect depends. The figure below will give you a clear view.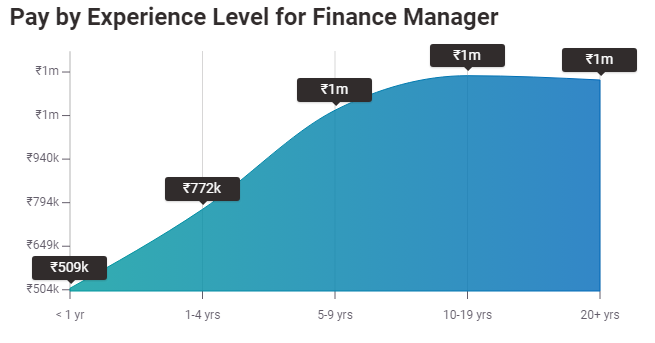 An entry-level Finance Manager with less than 1-year experience can expect to earn an average of ₹509,193.
Whereas, an early career Finance Manager with 1-4 years of experience earns an average of ₹772,248.
A mid-career Finance Manager with 5-9 years of experience earns an average t of ₹1,102,432.
An experienced Finance Manager with 10-19 years of experience earns an average ₹1,217,738.
In their late-career i.e. 20 years and higher, employees earn an average ₹1,203,381.

Pay by location
In a developing country like India, location also pays off a huge difference in salary prospect. The image below will throw some limelight on this prospect.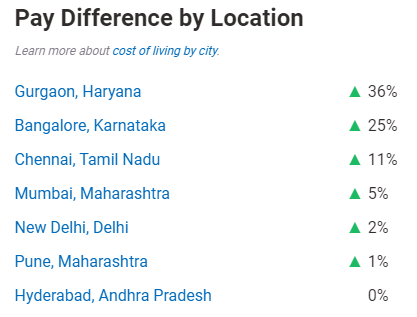 Now that, you understand that salary depends on various factors, but we still have one other factor left to talk about. To increase your skills and knowledge one must know what are the learning resource to become a certified FRM.

Learning Resources to Excel
There are various resources while studying for certification exams. So, we're listing a few important learning resources that are a must to go through before getting certified.
Understand the Study Guide
A study guide is the most important learning resource to go through. This must be your very first step before you begin with your preparation. A study guide will provide you with a clear view and a deeper understanding of each topic of the certification exam. This will help you validate skills and knowledge.

Tutorials are a must!
There are a number of online sources providing tutorials to promote your process of preparation. As a result, you will discover a lot of preparatory guides online that will facilitate your learning. Start Learning Now!
Study the traditional way: Books
Most importantly, read books as much as you can. Since books are perfect for pupils who wish to learn the real-world context for the skills. So, here a few books you must go through-
Firstly, Risk Management in the Polish Financial System by Marian Noga
Secondly, Risk Management by IIBF
Subsequently, Risk Management and Financial Institutions BY John C. Hull
Why not join an online Study group/forum?
Ever thought of joining Study groups or Online Forums? Joining these groups/ forums will allow you to ask queries related to the topic you're having difficulty with. So, try and take out a few hours from your busy schedule to engage with this.

Last but not least- Practice Papers
Once you are done with your preparation, it's time to practice. The only way to crack the exam is to practice until you get it right. Needless to say! You will come across plenty of online resources while searching for practice test. The point here is whichever source you use, your preparation should be thorough to crack the exam in one go. Start Practicing Now!

At last, we've come to the end of this article, hopefully, all the information provided here will help you attain the credentials of a Certified FRM Professionals. Lastly, we would like to say, prepare well because nobody is going to handle your credentials on a silver platter. You yourself have to work through your journey and with all the learning resources provided, we're sure it will be easier to follow.
Learn and enhance your financial risk management skills. Become a Certified Financial Risk Manager Now!