The European Union was formed with the aim of ending the frequent and bloody wars between neighbors, which culminated the 2nd World War, after which, European integration was seen as an antidote to extreme nationalism which had devastated the continent where Belgium, France, Germany, Italy, Luxembourg and Netherlands were the six founders.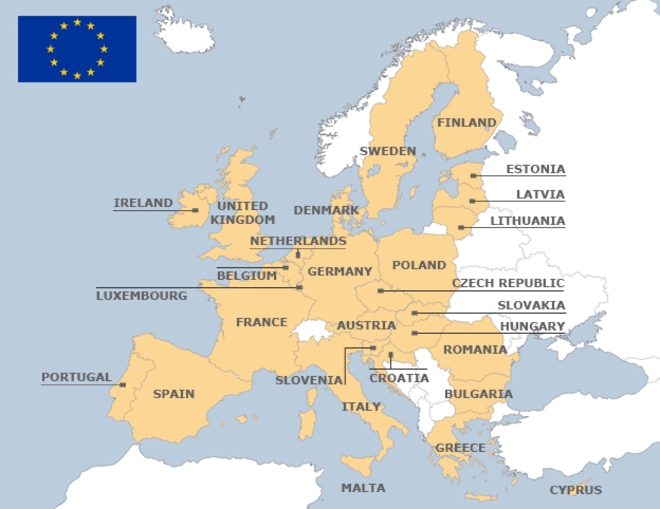 The European Union has developed an internal single market through a standardized system of laws that apply in all member states. It is currently composed of 19 member states that use the euro as their legal tender and of 28 member states in total that are located in Europe. Covering 7.3% of the world population, the EU in 2014 generated a nominal gross domestic product (GDP) of 18.495 trillion US dollars, constituting approximately 24% of global nominal GDP and 17% when measured in terms of purchasing power parity.
The euro is the second largest reserve currency as well as the second most traded currency in the world after the United States dollar.
EU accounts for 16.5% of global trade, and is therefore, world's largest trading block. It is the largest trading partner for over 80 countries with Britain being the 2nd biggest economy in the Union.
Britain had joined EU primarily since it was perceived to be a way of stopping their economic recession, which it did.
Some significant arguments for Britain wanting to leave the EU was
The EU threatens British sovereignty and overrides national laws. That is, over the past decades a series of EU treaties have shifted a growing amount of power from individual member states to the central EU bureaucracy in Brussels. Especially, EU's executive branch, European Commission which is not directly accountable to the voters in Britain nor anyone else.
It is argued that that EU's burdensome regulations cost the British economy "$880 million every week" approximately and that EU rules are sometimes ludicrous and infuriating. Therefore, EU is entrenching corporate interests and prevents radical reforms being anti-democratic
The global recession that began in 2008 was bad around the world, but it was much worse in countries that had adopted Europe's common currency, ir, euro. The unemployment rate shot up above 20% in countries like Greece and Spain, triggering a massive debt crisis. Even now, the countries are still suffering believing euro to be the primary culprit.
Many economist believe that deeper fiscal and political integration will be needed for the eurozone to work properly. Europe needs a common welfare and tax system so that countries facing severe downturns – like Greece and Spain. But that makes Britain's continued inclusion in the EU awkward. Britain is unlikely to go along with deeper fiscal integration, but it would also be unwieldy to create a set of new, parallel euro-zone specific institutions that excluded the UK. Therefore, UK leaving EU would clear the path for the rest of the EU to evolve more quickly into a unified European state.
Whereas the emotional case for Brexit is heavily influenced by immigration since EU law guarantees citizens of one EU country the right to travel, live and take jobs in other EU countries. Because of this, in the 2008 financial crisis, workers from eurozone countries flocked to the UK in search of work. This has depressed the wages of native-born British workers. This has also led to the concern regarding immigrants using scarce public services. Therefore, UK could have a more rational immigration system outside the EU.
The EU doesn't have the power to directly collect taxes, but it requires member states to make an annual contribution to the central EU budget, which is $19 billion per year, in UK's case, ie, $300 per person in UK. While, much of this money is spent on services in the UK, Brexit supporters still argue that it would be better for UK to keep the money and have the Parliament decide how to spend it.
UK referendum(voting): David Cameron, leader of the Conservative Party and Prime Minister since 2010, announced support for a referendum on Britain's EU membership in 2013 in response to his own Conservative MPs and UK independence Party (UKIP), who argued that Britain had not had a say since 1975, when it voted to stay in the EU in a referendum.
He said that the country would hold the vote before 2017 if the Conservatives were re-elected in the May 2015 general election. They were, and Cameron pursued a re-negotiation of the terms of Britain's membership, to be followed by a vote on Brexit.
Cameron supports the "remain" side (sometimes dubbed "Bremain"), arguing that the renegotiated terms he secured with European Council President Donald Tusk are favorable to Britain.
The terms Cameron secured with the EU, includes exemption from the principle of "ever-closer union," enhanced recognition for the pound, a four-year "emergency brake" on in-work benefits to EU migrants and a "red card" system that would allow a bloc of EU parliaments to block legislation from Brussels. Most supporters of the "in" camp base their opinion on the largely unforeseeable economic consequences of exit, rather than an emotional attachment to the EU.
Whereas, supporters of Brexit base their opinion on a variety of factors from the global competitiveness of British businesses to concerns about immigration. Britain has already opted out of the EU's monetary union (meaning that it uses the pound instead of the euro) and the Schengen Area (meaning that it does not share open borders with a number of other European states). "Out" campaigners argue that Brussels' bureaucracy is a drag on the British economy and that EU laws and regulations are a threat to British sovereignty. If Britain leaves the EU, it may cause the remaining member states to take the next steps to create a more perfect union integrated politically as well as economically.
Finally, on 23 June, Leave or Brexit won by 52% to 48%, forcing David Cameron to resign in the coming October.

Now, to leave the UK needs to invoke an agreement called Article 50 of the Lisbon Treaty and take the next 2 years to negotiate the terms of their withdrawal.
IMPACT: the British pound dropped to a 31- year low of 1.35 against the US dollar with voting on the BREXIT referendum leaning toward Britain leaving the EU. This came after less than 24 hours after the Pound rose to the highest value of $1.50 in 2016. Notably, the drop in the British currency marked its biggest intra-day fall in history.UK and Britain has a very strong financial centre. Global banks and institution are heavily invested in UK, therefore, UK is not expected to lose its financial status.
Investors' wealth in stock market took a hit of nearly 1.8 lakh crore, feeling the heat of Brexit with the benchmark Sensex plunging over 600 points- its worst performance in over 4 months. Fall in the stock market was so widespread that 23 Sensex stocks closed in the red, including Tata Motors, Tata Steel, L&T and ICICI Bank crashing by upto 7.99%. At one point, all 30 Sensex stocks were in the red. Realty suffered most, followed by capital goods, banking and auto and IT.
At the BSE, 1,868 stocks declined, while only 655 advanced and 156 remained unchanged. Domestic stocks recovered some losses on value-buying in pre-close session and talking-up by influential policy makers.
Indian fundamentals are strong and Brexit is expected not to have a long term effect on India, except for those Indian companies manufacturing in UK will feel the impact.
Whereas, US stocks opened sharply lower on 24 June, reversing recent gains in global risk-off trade after Brexit. Sterling hit its lowest since 1985. It was the repricing of risk with heightened uncertainty causing this. DOW dropped 500 points and S&P had its worst open since 1986.
The US Stocks surged into the close 23 June amid increasing expectations that Britain would vote to stay in the EU. As of the close 23 June, the major US stock indexes were tracking for a weekly gain of nearly 2% or more.
After the overnight result showing the result, Global stocks had plunged.
– Adwiti Agarwal