Heard about the Six Sigma Black Belt Certification but have no idea about what it is? Not to worry, you have landed at the right destination. In this article, we're going to explain to you all about the Six Sigma Black Belt Certification. So, without a further due let's dig in.

Six Sigma is a solid and proven way for businesses and organisations to reduce reckless spending and streamline their processes. Six Sigma certification training is divided into several categories, including Green Belt, Black Belt and Master Black Belt. There is also the opportunity to pursue healthcare-specific Six Sigma training.
Nowadays, an increasing number of organizations whether small or big searching for Six Sigma professionals as permanent employees or consultants. Moreover, there are a number of satisfying career paths worth exploring once you have completed your Six Sigma certification. Therefore, there is a buzz all around among candidates to get Six Sigma Black Belt Certification.
But, before we understand all about Six Sigma Black Belt exam, let's understand is this certification right for you or not.
Is Black Belt Certification right for you?
To become a successful Black Belt one needs a devotion for quality improvement. Also, he/she must have an inherent ability for statistical tools and technologies. In addition, Six Sigma Black Belt certification offers a good knowledge of the most widely used six sigma tools, techniques and skills to succeed. Not to mention, Black Belts roles include leader, Business Strategist, Communicator and Change Agent.
Six Sigma Black Belt certification: Overview
The Six Sigma is a robust methodology and data-driven approach that consists of tools & techniques for removing the defects in any process. The Six Sigma Black Belt certification helps candidates for upper-level management roles.
The Certified Six Sigma Black Belt is for the candidate who can demonstrate Six Sigma philosophies and principles, including supporting systems and tools. Moreover, a Black Belt should exhibit team leadership, understand team dynamics and assign team member roles and responsibilities. And, is competent in locating defects in a business process and further removing them.
Expectations from Six Sigma Black Belt Certified Professionals
Six Sigma Black Belts professionals are full‐time/part-time project leaders of the six sigma projects. Certainly, they are responsible to execute specific projects and ensure the specific outcomes are apprehended. Moreover, here are a few expectations from the Six Sigma Black Belt Certified candidates, which are as follows:
Firstly, demonstrate the Six Sigma methodologies and principles.
Secondly, a basic understanding of measurement systems, probability concepts and distributions.
Further, they must know how to execute a project.
After this, able to find customer requirements based on customer feedback.
Moreover, defining benchmark, various financial and performance measures.
In addition, performing statistical and process capability calculation.
Also, knowledge of related components and techniques used in managing teams.
Now that you know the responsibilities of a Six Sigma Black Belt certified professional. Let's move on to Six Sigma Black Belt exam details.
Exam details
Whenever you're preparing for any exam, exam details are the most crucial aspect to know beforehand. So, let's get you familiar with all the details so that there are no surprises later to freak you out.

As mentioned above, Black belts have an accurate understanding of all aspects of the define, measure, analyze, improve and control (DMAIC) model in accordance with Six Sigma principles. Also, they have a basic understanding of lean enterprise concepts, with which they identify non-value-added elements and activities with the help of specific tools.
Basic details
So, to become certified each candidate is required to pass an examination for obvious reasons. The exam consists of multiple-choice questions that measure comprehension of the Body of Knowledge.
Computer Delivered – The CSSBB examination is a one-part, 165-question, four-and-a-half-hour exam and is offered in English only. 150 questions are scored and 15 are unscored.
Paper and Pencil – The CSSBB examination is a one-part, 150-question, four-hour exam and is offered in English, Spanish, and Mandarin in certain locations. View available translated exams, dates and locations here.
Most importantly, all examinations are open book. Not to mention, each candidate must bring his or her own reference materials. Moreover, the use of reference materials and calculators is explained in the FAQs. So, make sure to go through them.
Recertification Policy
To maintain the unity of your Six Sigma Black Belt certification, ASQ demand that you recertify every three years.
Course outline
Now that you're equipped with all the exam details. A candidate must also go through the course outline. A course outline provides with all the topics covered in the examination. So, if you wish to increase your chances of getting certified, make sure you're well equipped with all the chapters in the course outline. So, without wasting any more time, let's start.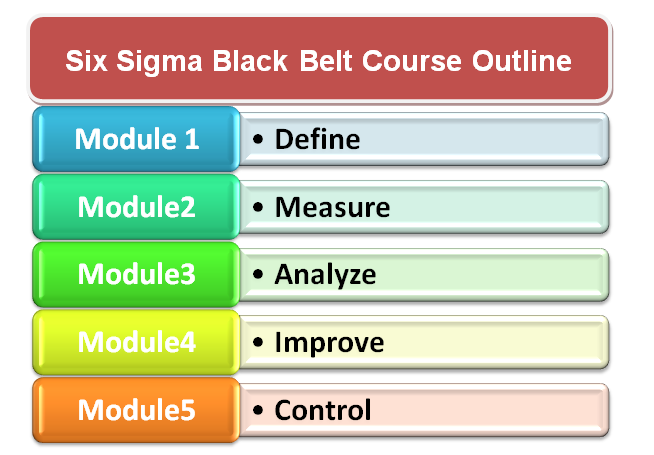 Module 1: Define
Introduction to Six Sigma
Voice of the customer (VOC)
CTx (quality, time, cost)
Converting VOC to CTQs (critical to quality)
SIPOC (supplier, input, process, output, customer)
Pareto analysis
Project charter
Stakeholder analysis
Module 2: Measure
Process mapping
Fishbone diagram
Graphical tools
Basic statistics and probability
Process distributions
Lean concepts
Sampling and data collection
Process capability
Measurement system analysis
Module 3: Analyze
Failure mode and effects analysis (FMEA)
Multi-vari analysis
Inferential probability distributions
Hypothesis testing
General ANOVA
Correlation and regression
Multiple regression
Binary logistic regression
Design of experiments (DOE) strategies
2k full factorial DOE
DOE centre points, blocking, covariates
2k fractional factorial DOE
General full factorial DOE
Central composite design
Module 4: Improve
Innovative solutions (brainstorming, etc.)
Selecting a solution (Pugh matrix)
DOE multiple response optimization
Response surface methodology
Evolutionary operation (EVOP)
Lean tools
Queuing theory
Improve techniques
Implementation and verification (piloting, etc.)
Module 5: Control
Statistical process control
Control plans
Action plan
We understand this is a long list of modules. But, not to worry. Below in this article, we have provided with the learning resources as well as practice papers that will help you qualify the exam with flying colours. But before, that, let's go through a quick tour of all the benefits you will enjoy after the Six Sigma Black Belt Certification.

Benefits of Black Belt Certification
Six Sigma certifications are a great way to improve your abilities as a leader in your organization. It helps in renovating your business processes.
This certification is the most sought‐after because it is not easily attained. So, here are a few benefits that you will enjoy after being certified.
First thing first, the career advancements.
Secondly, helps nourish management and leadership ability.
Subsequently, helps in improving business processes and maintain quality improvement.
Further, an excellent salary.
In addition, relevance across Industries.
Moreover, gain hands-on experience in quality management.
Last but not least, organizational growth.
Now let's move on to the learning resources to help you qualify the exam.
All Learning Resources
Learning resources are the most important part while preparing for GST certifications. So make sure you go through all the tutorials and forums
TUTORIALS: while preparing, tutorials play an important role. Each and every tiny detail is mentioned in tutorials. Not to mention, each and every topic is explained with various examples. So, make sure to check out tutorials on Six Sigma Black Belt certification.
TRAINING: training also plays an important role in preparation. Candidate's experience the real-world experience with this.
Most importantly, Certified Six Sigma Black Belt Certification Preparation Virtual, Classroom, or Web-based.
BOOKS: after tutorials, don't forget to check out books on Six Sigma Black Belt Certification. As books are a liable resource to rely on. So, here are a few books to check out-
Firstly, the Certified Six Sigma Black Belt Handbook, Third Edition
Secondly, the ASQ CSSBB Study Guide
Thirdly, the ASQ Pocket Guide for the Certified Six Sigma Black Belt
Moving on, statistics for Six Sigma Black Belts
Further, the ASQ Pocket Guide To Statistics for Six Sigma Black Belts
The best part about all the mentioned books is that you can easily find these on the official website. So, make sure to check them out.

The Best Six Sigma Black Belt Certification Available Online
Now, understand and keep this in mind that there are only a few certifications bodies that are widely accepted. So, make sure you make your choice wisely. In order to make things simpler for you, we are providing you with the list of certification bodies that we highly recommend. However, when we talk of the best, the only that rings the bells is Vskills. But, we will provide you with a list of certification bodies to choose from. So, let's start-
Vskills: We highly recommend Vskills, as it is a certified Government body. But, other than that Vskills provides the candidate with each and every information. Moreover, Vskills Professional Certifications is a win-win for everyone. Certainly, there is no denying of the fact that certification improves an individual's marketability, as well as the earning potential. Furthermore, many research reveals that individuals who hold a Vskills certification usually have a higher salary slab than those who do not.
Udemy: Udemy with great market skills is known all around the globe. Certainly, you must have a counter at least one Udemy advertisement for sure.
Simplilearn: Simplilearn is a leading certification provider. Also, they offer training and coaching that will definitely be beneficial.
Coursera: This is an American learning platform. They do provide some free courses. Moreover, they provide professional certificates.
Now moving on, let's understand the career opportunities after Six Sigma Black Belt Certification.
Career Opportunities
There are various career opportunities that you may encounter after getting certified. Six Sigma Black Belts professionals are effectively trained on improving results for the organization. Hence, they have a very profitable career path covering from business analysts to process improvement experts. So, here are the job titles associated with Six Sigma will vary depending on the organization's requirements. Some of these positions may include:
First of all, Six Sigma Analyst
Secondly, Six Sigma Black Belt
Thirdly, Six Sigma Consultant
Subsequently, Director of Operational Excellence
Further, Functional Project Lead
In addition, Senior Project Manager
Moreover, Six Sigma Projects Manager
After this, Business Process Manager
Last but not least, Lead Analyst/Project Manager
The above-mentioned job titles usually refer to a Six Sigma professional who has completed their Black Belt certification.
Salary Expectation
Great Career opportunities lead to a good salary. Certainly, it also helps the professionals to get a promotion. So, we have mentioned below the salary package levels for Six Sigma Black Belts.
Also, the most popular companies that hire and are looking for Certified Six Sigma Black Belts to fill a variety of positions are.
Conclusion
To conclude we will once again mention, Six Sigma considerably improves a business's performance. Above all, Six Sigma professionals remain the shining stars for many firms seeking to improve their products, processes and customer experience as well.
We have provided you with all the information regarding the Six Sigma Black Belt Certification. And if you still have a query related the same, make sure to leave a comment down below.
Make your resume stand out and become a Certified Six Sigma Black Belt Professional. Try free practice tests here!